As per our promise to keep Latitude readers informed when we learn that there have been violent narco incidents that might even tangentially have affected cruisers south of the border, we have two more reports from the last two weeks, both from the north shore of Banderas Bay.
The first took place one morning about two weeks ago when two gunman shot and killed a rival gang member in front of the La Cruz Salud (Health Clinic), which is just off the main road in La Cruz about 3/4 of a mile from the Marina Riviera Nayarit and about 10 miles from both Nuevo Vallarta and Punta Mita. No innocent bystanders were hurt.
The second incident took place at 10:30 a.m. on Monday, when narco gunmen battled it out with some other narcos in a white Lincoln with California plates in the parking lot of the popular Mega store — similar to Costco — in Bucerias, which is about six miles from La Cruz, six miles from Nuevo Vallarta and about 21 miles from Punta Mita. One man, who had an AK-47 and two grenades, was killed, while another man was shot but managed to get away. Once again, nobody else was hurt, although several other cars and a bank office were hit by bullets.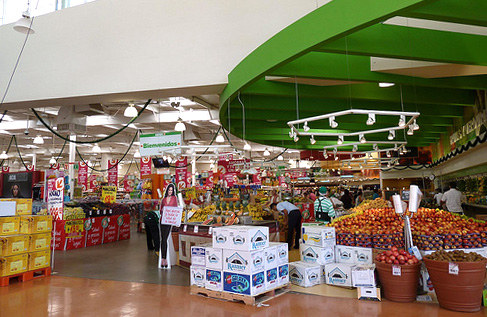 While these are again strictly cases of narcos going after other narcos, it's nonetheless disturbing that they did so in places frequented by the Mexican public and lots of cruisers. We're not sure how it's going to affect other cruisers, but Doña de Mallorca tells us, "It was just one of those random things that happens in the States and in Mexico, so when we provision for the Bash later this week, it's going to be at Mega." But that's just one opinion from one person.
We haven't seen reports in the U.S. press on either of these recent incidents. While some people would like us to keep our mouths shut about them because they were strictly narco-on-narco, we feel it's our journalistic responsibility to report them. And in the interests of full disclosure, we have both strong emotional and financial interests — Doña rents out condos — in the Punta Mita area of Riviera Nayarit.
You can bet your sweet bottom that these incidents are of enormous interest and concern to the Mexican government and the innocent people of Mexico. For one thing, the Riviera Nayarit area has been home to the highest private investment in Mexico in recent years, mainly in luxury hotels, resorts and vacation homes. Secondly, Riviera Nayarit is adjacent to Puerto Vallarta, which is rated by TripAdvisor as the best destination in Mexico and the 9th best beach destination in the world. Thus far Puerto Vallarta has enjoyed a golden reputation when it comes to safety. Since Mexico lives on tourism, it would be economically disastrous if the reputations of the Riviera Nayarit and Puerto Vallarta were tarnished.
Remember that Mexico votes for a new President on July 1. The winner will almost certainly be Enrique Peña Nieto of the PRI party which, up until 12 years ago, ran the country for 71 years. Historically, the PRI has been known for being somewhat corrupt and authoritarian — which a lot of people seem to think might be just what's needed to end narco violence. We don't know if that's true, but Nieto, who appears to have an insurmountable lead, has already said that he, unlike current President Calderón, will not go after the narco trade. His emphasis will be on other kinds of violent crime and general public safety. We wish him luck.
And we'll keep you informed if there are more incidents.
Receive emails when 'Lectronic Latitude is updated.
SUBSCRIBE