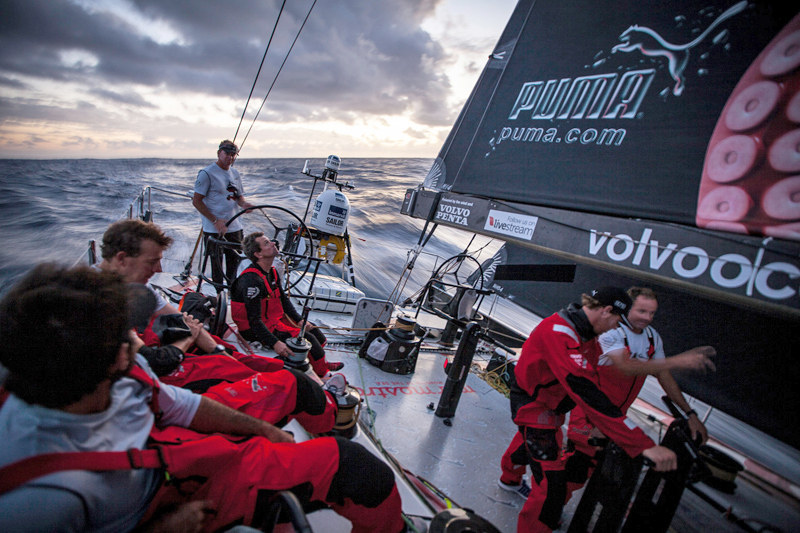 The Volvo Ocean Race grind continues with Leg 6 from Itajaí, Brazil, to Miami, a run north to trade winds and sunshine. "It looks like we might get some downwind sailing out of Itajaí, we might get some nice trade wind sailing, and maybe some consistent wave patterns," said a hopeful Kenny Read, skipper of Puma. Right now the boats are trying to negotiate a light wind section before hitting the trades and faster boat speed.
Although Team Telefónica is leading overall by sixteen points, the fleet have only raced about 70% of the total distance and there are plenty of opportunities for the other teams to catch up. At one time early in the race and on previous legs, it looked like Telefónica was going to be unbeatable with great boat handling. But they had a hiccup in the in-port race in Itajaí, going around the wrong leeward mark, which caused the team to finish last and lose precious points. "I am very disappointed because this is the first time in my whole life that this has happened," lamented skipper Iker Martinez back at the dock. Really? We amateurs seem to do that often.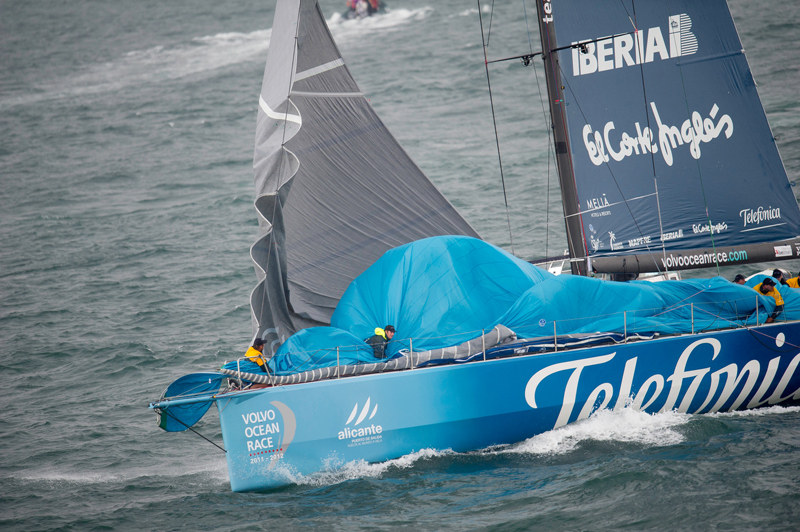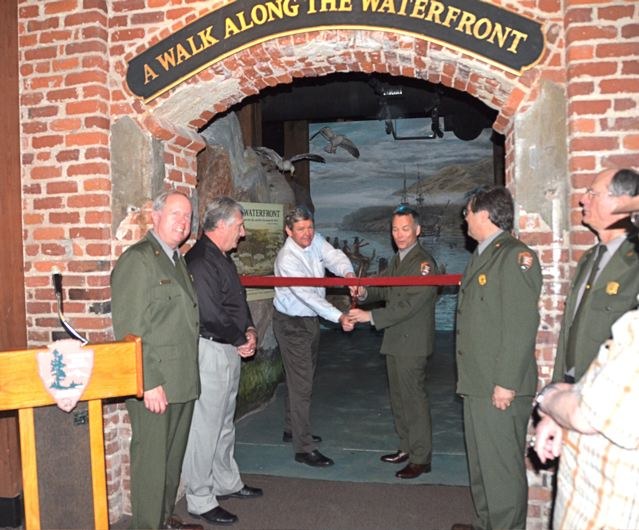 Nautical history buffs have a new place to explore the treasures of San Francisco's seafaring past. The San Francisco Maritime National Historical Park's Visitor Center recently opened a new exhibit called 'The Waterfront'.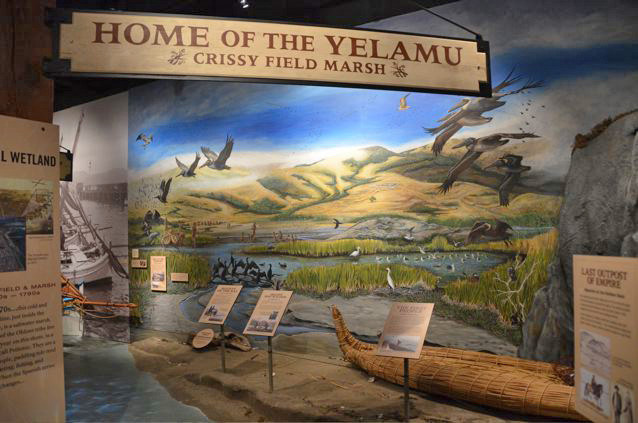 After nearly four years of research, design and construction, park staff are proud to present an interactive visitor experience that defies a typical museum. You can feel history come alive as you stroll through the early days of Fisherman's Wharf, imagine getting shanghaied in a bawdy Barbary Coast pub, see a replica of a fully loaded hay scow, view unearthed timbers from a Gold Rush ship, observe a replica of a native Yelamu tule reed canoe and much more.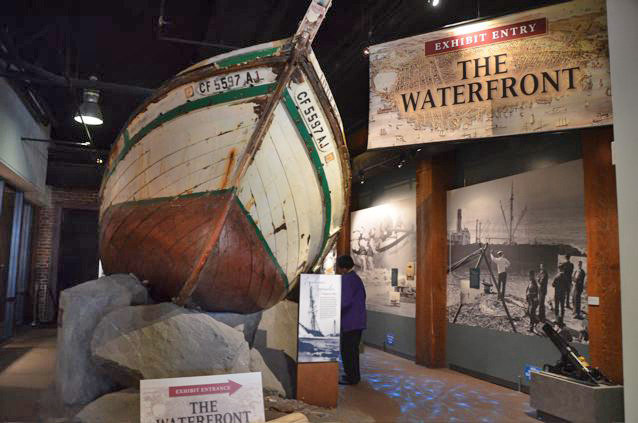 The visitor's center is located at Hyde and Jefferson Streets, in the Argonaut Hotel, open daily from 9:30 a.m. to 5:00 p.m. and admission is free!
The park is holding its annual fundraising gala this Friday (April 27) starting at 6 p.m. at the Argonaut Hotel to support youth education programs, such as overnight hands on classes on the square-rigger Balclutha. For information and tickets, email or call (415) 561-6222.
A growing — and to us disturbing — trend has been the increasing number of places that require cruising boats to pay to anchor. For instance, we recently took 'ti Proflgiate to the Dutch side of Sint Martten, where upon checking in we were assessed a fee of $47. When we explained that we'd only be there one night, the woman — who it must be said was very pleasant — explained no matter if we stayed one night or seven nights, it was still $47. Geez, that would be close to $200 a month. And to the best of our knowledge, we got no services, showers, water, garbage disposal, or security in return for our fee.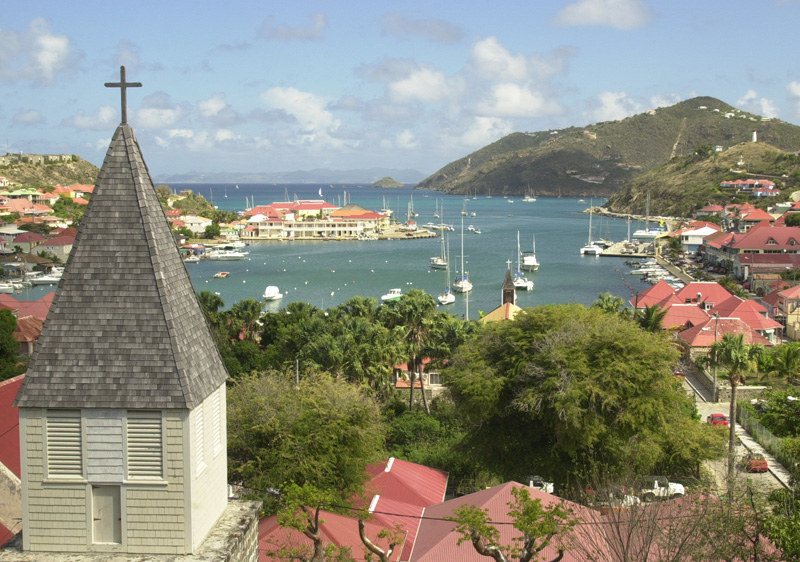 We've been paying $300 a month to anchor our Leopard 45 cat 'ti Proflgiate in the port of Gustavia in St. Barth. For that we get showers, toilets, dinghy docks — and the good humor of the great guys in the port captain's office. Water, however, is extra — as in about $20 for every 300 gallons. But the fee is $300 a month only because we're on a three-month — the minimum period — contract. Lake Tahoe's Greg Dorland told us that because he's not on a contract, he was paying $1,000 a month to anchor out his Catana 52 Escapade. By the way, in St. Barth, boats are charged based on a formula that includes both length and width, so cats don't get a bigger bang for their buck than do monohulls.
The odd thing about St. Barth is that if you anchor just outside port district boundaries, you can anchor for free. Based on the number of very large yachts we saw anchored just outside of the port district boundary, even one-percenters — or their captains — like being thrifty. Those willing to anchor a mile or so away in Columbie, which is accessible only by boat or trail, can even use a mooring buoy for free.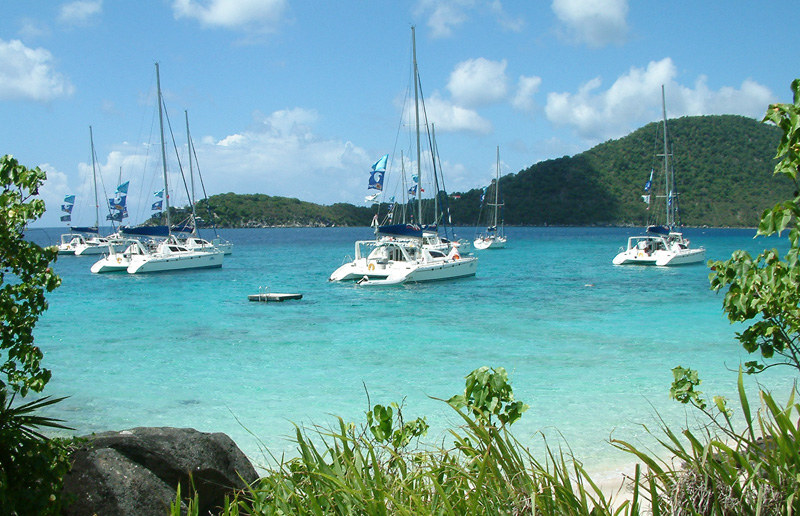 Boats can anchor most places in Mexico for free, the usual exception being in places where the API — i.e, port district — has made improvements and charges a fee. The last time we came through Cabo, Profligate was charged about $15 a night. Since we don't think we got anything in return but being buzzed by Jet Skis, it seemed a little on the steep side. We don't mind paying our share, but $450 a month seemed a little excessive to us. Needless to say, we didn't stay long.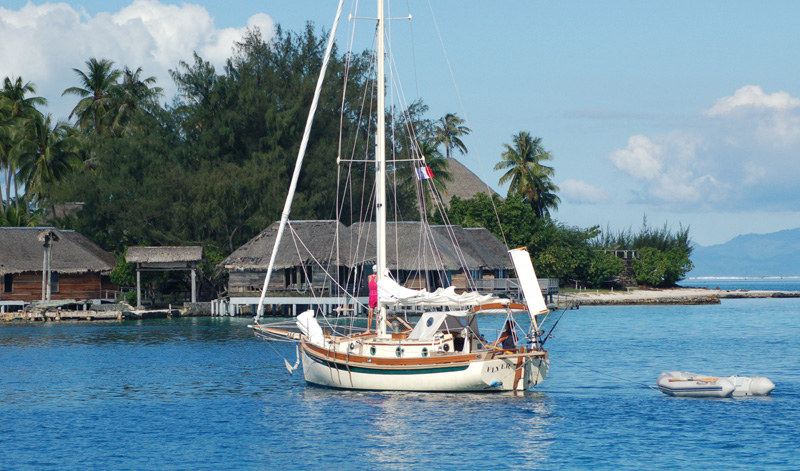 If you have an example of fees for anchoring, or thoughts on the subject, we'd like to hear about them.
Receive emails when 'Lectronic Latitude is updated.
SUBSCRIBE