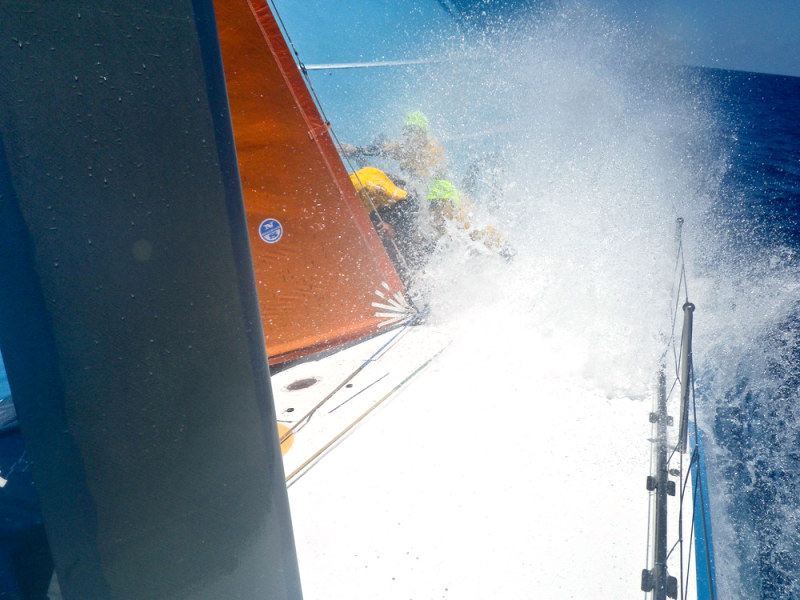 In Monday's 'Lectronic Latitude, we told you about Franck Cammas' and Jean-Luc Nelias' big gamble to get around the trough that plagued the Volvo Ocean Race fleet for the better part of three days. Their big southerly move took them farther away from their destination — the undisclosed safe haven port — than they had been at the start in Cape Town. But sailing all those extra miles has turned up roses for Cammas' Groupama 4, which used a favorable breeze angle to effect an end-around on the fleet. The crew has rocketed into an 80-mile lead while consolidating their gains by positioning themselves in front of the rest of the pack. With the doldrums looming, that may all change, but for now, Groupama is looking pretty fly.
Coinciding with the doldrums is the "stealth zone," an area where the weather overlay will be removed from the tracker, and the field of view will not zoom out large enough to ascertain the fleet's whereabouts. In this zone lies the safe haven port, which, judging by the boat's tracks. will likely be somewhere in India. At the safe haven port, the boats will be loaded on an armed ship bound for the Persian Gulf, and a restart about a day's sail from Abu Dhabi. Thankfully, one thing that won't be blacked out is the great video coming from the race, such as this one:
Meanwhile, in the Pacific Ocean, Loïck Peyron's 131-ft monster trimaran Banque Populaire V has slipped considerably from her once-astounding lead of 2,300 miles against the reference time of Franck Cammas' Jules Verne Trophy-holding 105-ft Groupama 3. Upwind conditions in the Southern Ocean, icebergs, and a trough not unlike the one encountered by the Volvo Fleet have stalled the massive tri, reducing her lead over the reference time to a mere 625 miles. The weather outlook to Cape Horn looks pretty good, so don't be surprised to see that margin increase.
Receive emails when 'Lectronic Latitude is updated.
SUBSCRIBE