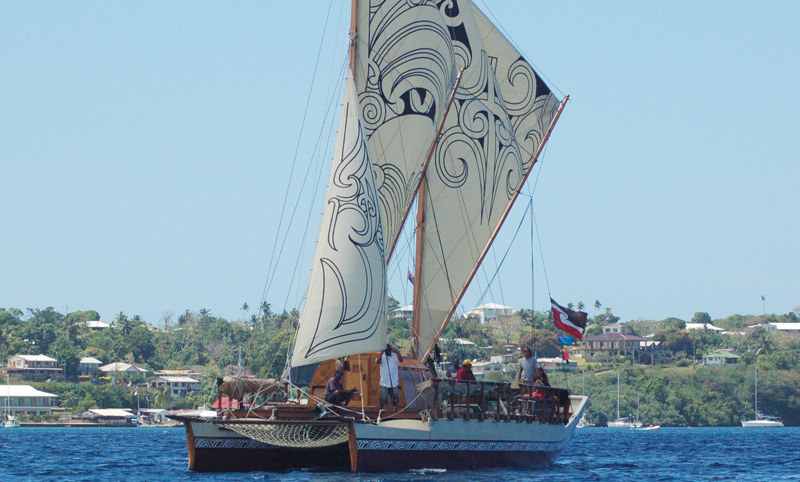 Every day of the year a wide variety of vessels enter San Francisco's Golden Gate, but none are quite like the Polynesian 'vakas' which will soon make their debut here. Constructed along the lines of traditional voyaging canoes from centuries past, this fleet of seven similar replicas left Kauai Monday, and is expected to arrive here around August 8.
Each of the double-hulled, two masted sisterships was constructed in a different Polynesian nation and then have only recently come together as a group to complete an ambitious goodwill voyage dubbed Te Mana o Te Moana, meaning The Spirit of the Sea.
These voyages will celebrate the ancient wisdom of Polynesian navigators who followed their routes using information supplied by stars, ocean swell patterns, ocean-borne vegetation and sealife. In addition, participants hope to heighten public awareness of the current challenges facing the world's oceans due to pollution, acidification, and warming.
(The above video is of the Cook Islands' vessel, one of seven sisterships.)
Although the complete activites schedule of these visiting craft has not yet been published, we understand they will be based at Treasure Island during their one-week stay. We had the pleasure of visiting the Tongan vaka first hand last year, and we can confirm that these finely constructed vessels are both beautiful and well-suited to the rigors of offshore sailing. We encourage you to check them out during their stay. You'll likely come away with some new insights about the time-honored wisdom of the ancient navigators, plus a renewed concern for the state of our oceans.
Although their timetable is changeable, the tentative schedule has them leaving San Francisco for Monterey on August 14; leaving Monterey for Los Angeles August 19; and leaving L.A. for San Diego August 29. See additional details on upcoming events and the sponsoring Pacific Voyagers organization here.
Receive emails when 'Lectronic Latitude is updated.
SUBSCRIBE