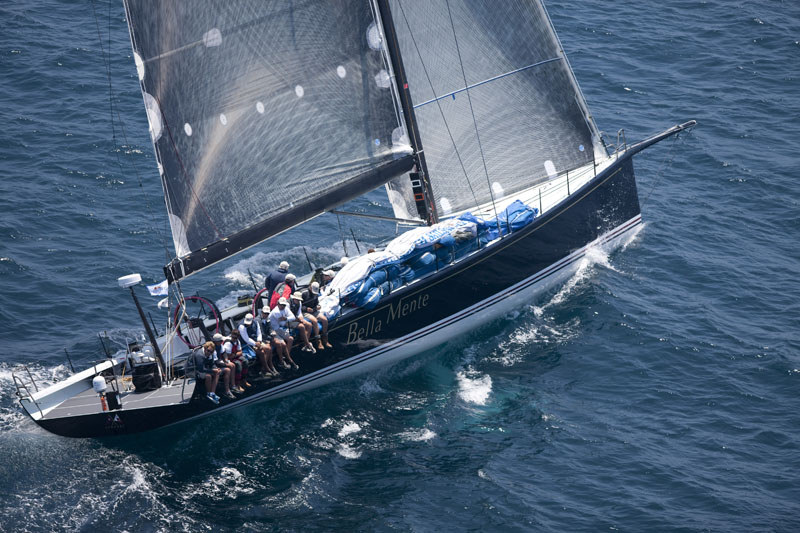 The big boats in the 46th TransPac are smoking down the course, having put up some big numbers since their start on Friday afternoon. Hap Fauth's R/P 74 Bella Mente, which counts Volvo Ocean Race-winning skipper Mike Sanderson in the crew, is currently leading Division 1. Hot on its heels for elapsed time honors is Doug Baker's Andrews 80 Magnitude 80, but it's Lorenzo Berho's Puerto Vallarta-based Kernan 68 Peligroso which threatens Bella Mente on corrected time, only 1.5 hours behind. After a 395-mile Day 2, and a 349-mile Day 3, Bella Mente is currently positioned right in the middle of the north-to-south spread in the division, and already passing some of Monday's starters on the way to what looks like a Thursday evening finish and new Barn Door record.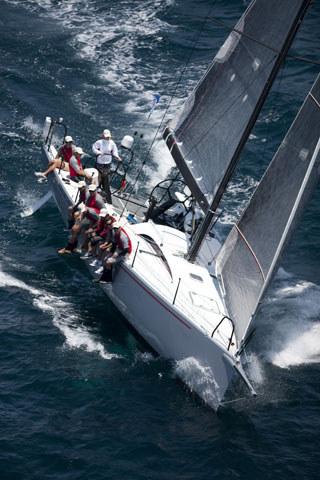 There's a heated battle at the top of Division 2. Laura Schlessinger's brand new Kernan 47 Katana has vaulted into the lead, reveling in the power reaching conditions of the first 36 hours. In that same time period, Chip Megeath's Tiburon-based R/P 45 Criminal Mischief experienced rudder bearing issues that forced them to throttle back for a 6-hour period before effecting repairs and deciding they could carry on. Engine trouble which nearly saw them run out of juice has also hampered the Criminals' effort so far, and had dropped them to third behind Katana and Jorge Ripstein's Acapulco-based R/P TP 52 Patches — with the Bay's Skip McCormack aboard — as of this morning. But with only 8 hours separating them all on corrected time, this one is far from over, especially as there's currently a 120-mile north/south separation between Patches/Criminal Mischief to the south, and Katana, which is only about 20 miles south of rhumbline. The weather forecast seems to indicate that the southerly boats might enjoy a little more pressure and a better angle in the next couple days, but if Katana navigator Eric Bohman has called this right and is able to cut the corner on the high, Katana looks primed to make mincemeat of this Division.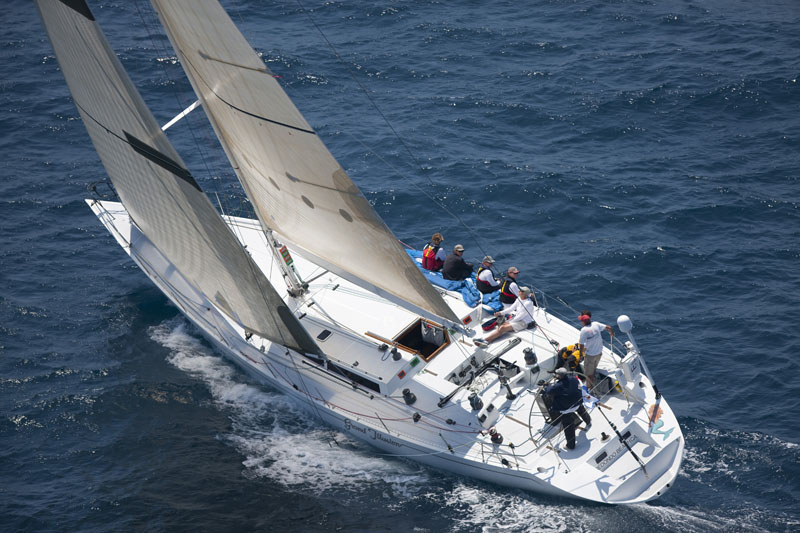 In the Sled division, James McDowell's SC 70 Grand Illusion has regained the lead after three days in which the corrected time deltas have been incredibly small. Only three hours separate the top-three boats, and GI — which counts the Bay's Will Paxton aboard — is in a good position as the southernmost boat in the division. Paul Casanova's Flaca has been holding onto the lead in the SC 50 division for a couple days, with Jack Taylor's Horizon about 3.5 hours behind about 30 miles to the south. Although less than the lateral separation of Division 2's leaders, the difference may prove frutiful for Taylor and navigator Jon Shampain.
In Division 4, Rick von Heydenreich's SC 52 Paranoia is the northernmost boat and currently leading, with '09 divison winner Tom Holthus J/145 Bad Pak just two hours behind on corrected time and 20 miles to the south. The lone Bay Area entry, Andy Costello's Pt. Richmond-based J/125 Double Trouble retired from Division 4 on Saturday with rudder damage and, as of last night, had reached Long Beach. Watch Captain Pat Whitmarsh reported that one of the struts that stabilize the rudder post inside the boat broke. "It was wobbling back and forth and letting water in, which wasn't very confidence-inspiring," he said. The breakage was a repeat of the one that forced he and Costello to retire from the Doublehanded Farallones in April and had since been repaired.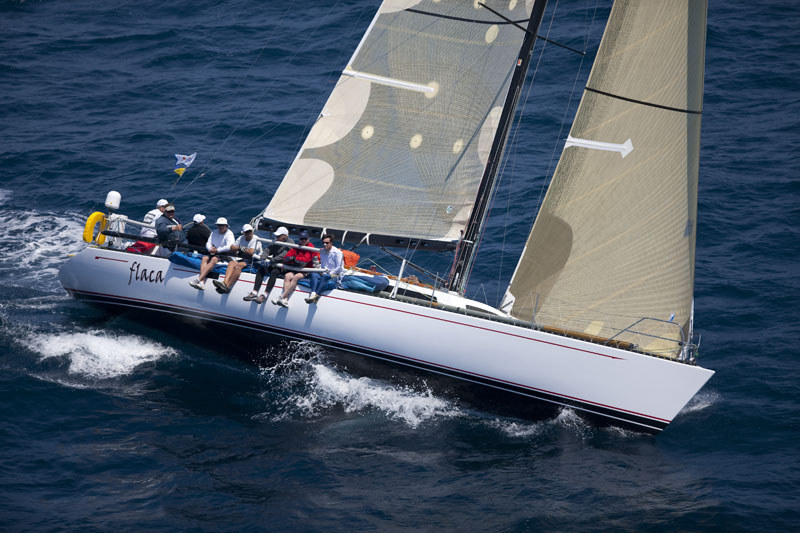 Monday's starters were finally been able to get going over the last few days, and Simon Garland's Hobie 33 Peregrine is having a Hobie day(s), stretching out to a 3-hour lead on corrected time. Early leader Celerity — Harry Zanville's SC 37 — inexplicably sailed as far as 150 miles north of rhumbline when there was no one else in the division even more than 50 miles north of it, and has tumbled all the way to the cellar, putting up a 166-mile day to Peregrine's 210-miler. Ross Pearlman's Jeanneau 49.5 Between the Sheets has a pretty big lead in the Aloha division for the cruisier boats.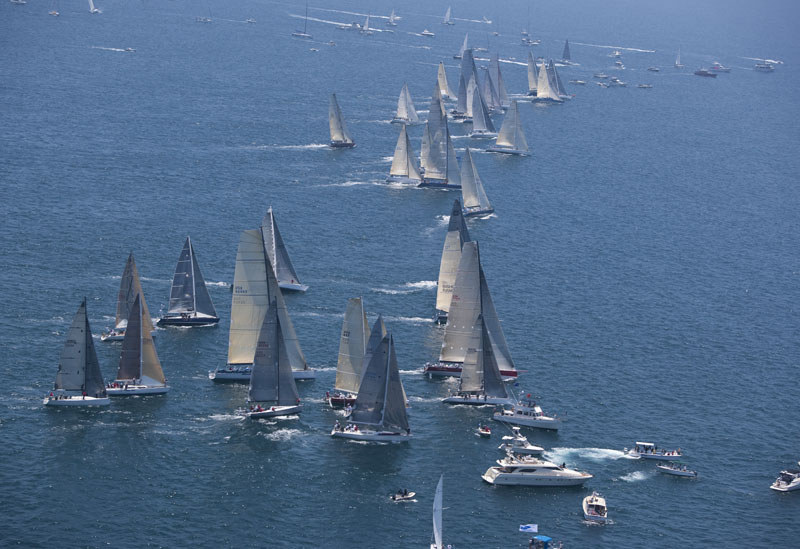 Many of the boats are already in kites and bombing down the racetrack after the requisite first day of jib reaching. The overall honors will be going to one of Friday's starters for sure. What's not so certain is from which division the winner will come. Right now, the top-four Sleds hold the top four corrected-time slots, with Flaca in 5th. Between days two and three though, Divsion 2 moved up into the top ten, and with waterline becoming less important as the wind goes aft, the overall picture could change significantly in the next couple days. The cool thing is that every one of the faster boats will be racing for those honors from some measure of an equal footing, having sailed in relatively similar conditions given the new two-day start format. The race's tracker is pretty darn good, with all kinds of neat tools to play with. The "leaderboard" feature seems a lot less reliable than the daily position reports though, regardless of the tracker's 6-hour delay, and for now, we're working off the latter. One thing is for sure, this race has already been a hell of a lot of fun to follow.
We'll get to the local action on Wednesday, with an update on Bob Johnston's impressive win in a gnarly LongPac, plus the Island YC's Silver Eagle race and other assorted goodies.
Receive emails when 'Lectronic Latitude is updated.
SUBSCRIBE