Pedro Fernandez de Valle, whose dream was to build the 400-berth Marina Riviera Nayarit in La Cruz, says he now has a much better understanding of his customer's wants and needs. This after doing the Puddle Jump from Mexico to the Marquesas and Tahiti as one of an all-Mexican crew aboard his uncle Enrique Aldrete's Jeanneau 54 Sans Souci II.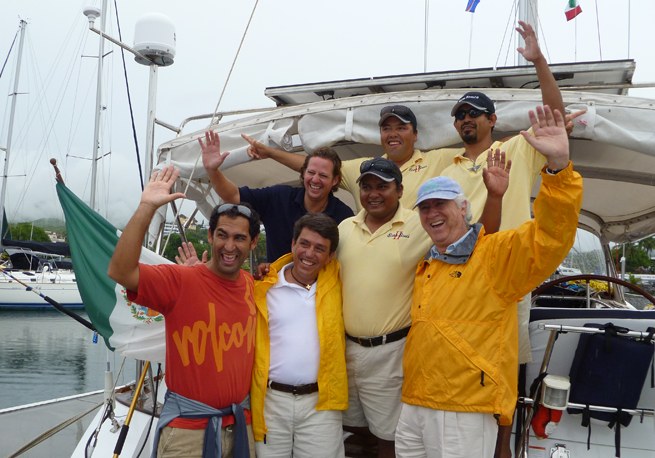 "We left April 3 and arrived 20.5 days later in the Marquesas," Pedro said during an interview at the marina's yacht club. "It was nice downwind sailing all the way, although we did have a gust as high as 35 knots and seas as big as 15 feet. Our biggest problem was with our furling mainsail. Halfway across, one of our crew had to go aloft to try to fix it. Thanks to the rolling sea, he got beaten like a piñata!" Pedro laughed in sympathy.
"The crossing was a very special experience for all of us," continued Pedro. "In addition to adventure, it gave us all time to think about ourselves and what we were doing with our lives. It also gave us energy to come back and continue our path in life, although each of us was coming back a little different than when we had left. As for myself, I didn't want to come back so soon. I wanted to continue south."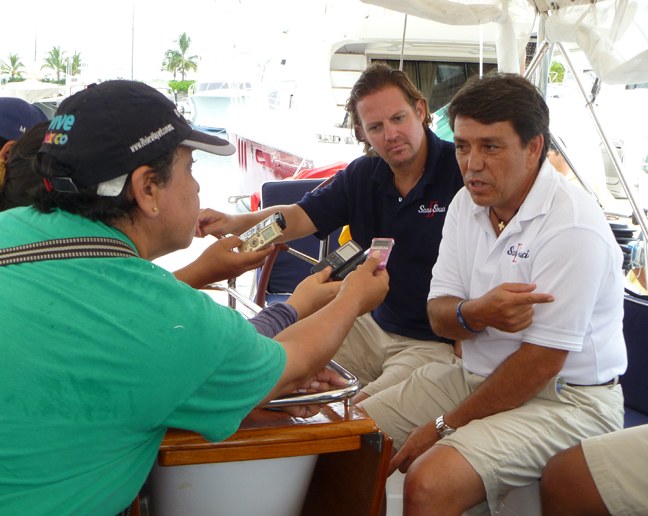 "And as a marina owner, I also found it very helpful to experience things from a boatowner's perspective. After being away from land for a week or so, I now appreciate how important it is to be able to hit land and find the things you need. For example, nice bathrooms and showers, groceries, laundry service, a bank and the internet. You've been out of touch, and you want to get back in touch. And," he laughs again, "you want to do it the 'American way', which is right now."
Since the Marina Riviera Nayarit opened a few years ago, tenants have been clamoring for a pool to jump in after sailing or working on their boat in the warm tropical conditions. Pedro totally gets it now. "By the time the winter season starts in November, we'll have a pool at our little beach club next to the water's edge. We'll also have a very casual place for cruisers to eat, drink and watch the sunset next to the pool and the ocean."
Of course, not all places — such as the remote Marquesas — are able to provide all these amenities. "There was no marina at Nuku Hiva," says Pedro, "and while the officials were very friendly, services were few and far between. For instance, we arrived with U.S. dollars, figuring we'd be able to exchange them for Central Pacific Francs. It turned out that the only place we could exchange money was at the Chinese market, where we'd have to buy small items with big bills to get some Central Pacific Francs back." As one might assume, the exchange rate wasn't the best in the world. "It was a Chinese market," Pedro laughs.
The traditional path back to the West Coast from the Tahiti is to the north and over the top of the Pacific High, which owner Aldrete figured his crew could take. But his skipper decided to try the direct route, despite the fact it would be 3,000 miles mostly on the wind. It took the crew of four eight days to get back to the Marquesas, then a combination of six days of motoring and 22 days of sailing to reach Cabo San Lucas. While it was a long and hard sail, they still figured it saved them a month over the more traditional route. Did we mention the last month of it was without the use of their autopilot?
Big events are coming to Banderas Bay. For example, in October, the sailing portion of the 28-country Pan American Games will be held out of the Vallarta YC in Paradise Marina. Graziano, who built the resort and marina from nothing, will actually be carrying the torch, which will have come from Mexico City to Guadalajara to Nuevo Vallarta, part of the way to Puerto Vallarta. We've also learned that the last really big shindig of the Calderón Administration will be the the Copa de Mexico Regatta out of Marina Riviera Nayarit next March. The last time they held the event, big bucks were spent, including painting most of the houses on the main street of La Cruz. Even more money is expected to be spent next time around. Fortunately, all of this sailing fun is going to be taking place just before or after the Banderas Bay Regatta for cruisers.
By the way, avid sailor Calderón's term ends next year, and there is already speculation about what the future holds for Mexico when the next president is elected to a six-year term. And there seems to be more than a little cautious optimism. For one thing, the Mexican economy is already doing quite well, thank you. In fact, there have been several mainstream stories in the U.S. press about how most Mexicans are now seeing a brighter future at home rather than in the United States. It's also believed that the next administration is likely to have a more accommodating rather than combative relationship with the narcos who fulfill the nearly insatiable American demand for illegal drugs. If the drug wars subside, it's expected that tourism, one of the two main engines of the Mexican economy, will soar once again. Indeed, a friend who sells real estate out at Punta Mita reports that after going nearly eight months without a sale, he's done five moderate-to-high-end deals in the last two months, and has two more pending. Most of them are Mexicans investing in their own country.
Receive emails when 'Lectronic Latitude is updated.
SUBSCRIBE