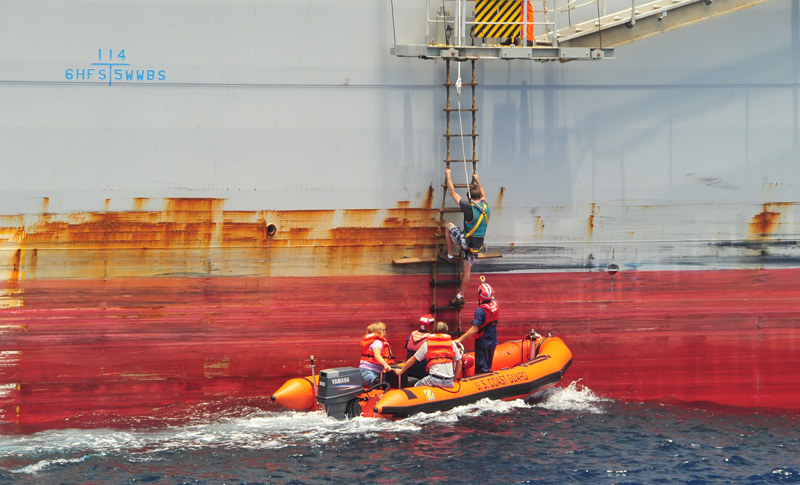 After three years of cruising the Sea of Cortez out of San Carlos, Oregonians Doug Merrell, 52, and Trisha Kelsoe, 53, were sailing home from Cabo San Lucas via the clipper route when they lost steering and had to be rescued from their Bayliner Buccaneer 30 Ka-Em-Te. On June 27, the couple, along with Doug's sons Donald, 22, and Jonathon, 31, felt and heard the boat come into heavy contact with a submerged object. They checked for damage and leaks but everything seemed fine.
Over the next few days, they began having trouble with their steering. At first they believed their autopilot was malfunctioning, so they replaced it with a spare, but then that one also had trouble steering the boat. After discovering that three high-pressure systems had cut them off their planned NW course, the crew turned Ka-Em-Te, now becalmed, north and cranked on the iron genny. A 20-knot easterly piped up, but the little boat had trouble maintaining course.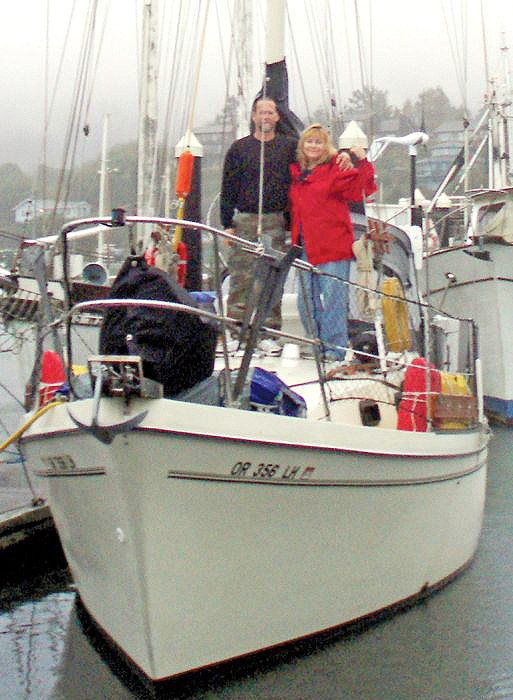 "When the wind came up we noticed the steering problems were worse," noted Trisha. "Hand steering the boat and holding a steady course was very difficult. As we put up sail, we were shocked to find the only way we could somewhat balance the helm was to run a 130 jib and a double reef in the mainsail. Steering became progressively worse."
Around 3 a.m. on June 30, Ka-Em-Te's steering failed altogether. While setting up the emergency tiller, the crew found the rudder shaft tube was cracked and leaking. "Upon inspection of the quadrant, we noticed a 1/2-inch play in the 12 inches of exposed rudder shaft," recalls Trisha. "Steering got progressively worse and each time we checked the rudder shaft, it was getting worse in play and cracking around the area. Play in the rudder shaft was now one inch and water was leaking a bit faster — still slow but faster."
An hour later, the crew, realizing they would not be able to effect repairs mid-ocean — they were about 650 miles SW of Pt. Conception — made the decision to call a pan-pan over the VHF. Their call was answered almost immediately by the Chinese freighter OOCL Guangzhou, which was a mere 20 miles away. A short time later, Guangzhou's captain had maneuvered his ship to windward of Ka-Em-Te in relatively calm conditions and lowered two engineers who confirmed the damage could not be repaired while the boat was in the water.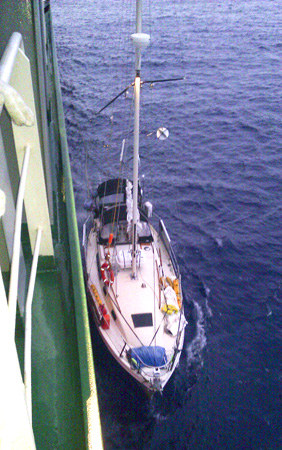 It didn't take long for Doug and Trisha to realize they'd have to abandon their home of 11 years, so they grabbed what they could — including boat cat Dinky Dink — and climbed the rope ladder to safety. Three days later, they were deposited in Hawaii and flew back to Portland, where they're staying with family. Trisha says that, though Ka-Em-Te was severely damaged during her short time rafted to a 853-ft container ship and she surely sunk, their one regret is that during the excitement, they forgot to cut a water line so she'd sink quickly. "I hate to think she may have been a hazard to navigation even for a short time," she said.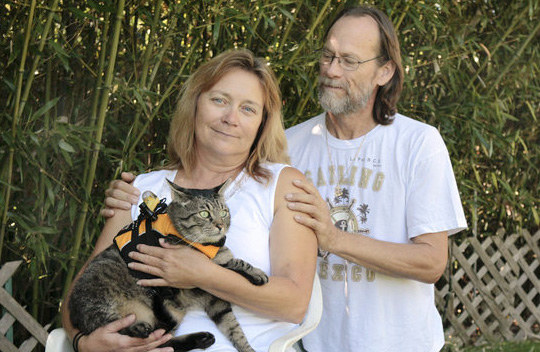 Sadly, Ka-Em-Te was not insured. During their stay in the Sea, doctors discovered that Doug had an 8-lb tumor so all their savings went to his cancer treatment. In fact, the couple were on their way back home to earn money for more treatment. Trisha says the cruising community in the Sea was very supportive, as are their friends and family back home, and she and Doug are forever grateful. We wish nothing but the best for the couple and hope for Doug's speedy recovery.
It's amazing how a relatively minor accident can gain quite a bit of attention when a video camera happens to catch it. That's what occurred on July 1 when Richard Parasol, 75, and James Whitbread, 60, were scooting around Richardson Bay in a Lake LA-4-200 float plane — some have surmised they were showing off a little for the crowd gathered for the Friday Night Jazz & Blues Concert Series in Sausalito's Gabrielson Park — and caught a boat's wake, resulting in a spectacular nose dive just off Horizons Restaurant. The men weren't injured and a Good Samaritan boater plucked them from the wings of the sinking plane. Within hours, news stations were showing footage caught by Mill Valley resident Leif Christiansen. In fact, we'd be surprised if you missed it, but just in case, we'll buy into the media hype on this amazing video, which you can see below. But the next time you think about doing something stupid, remember that nearly every cellphone out there is also a video camera and you might just become the nation's next unwilling media darling.
Ad: Northstar Risk Management
Receive emails when 'Lectronic Latitude is updated.
SUBSCRIBE