The Russian stock market is back big time, and thus the megayacht-loving Russian oligarchs are back in the Caribbean. You just can't miss them.
Two nights ago we were anchored just a couple of hundreds yards away from the narrow entrance to Gorda Sound, preparing for an always-dreaded crossing the following day of the Anegada Passage to St. Martin and St. Barth. About two hours after nightfall, we noticed what appeared to be a rather large yacht and some smaller, perhaps scout boats, very slowing beginning to negotiate the pass. Not only is it a very narrow pass, but the reefs that frame it — one coming off Prickly Pear Island and the other coming off Mosquito Island — are wicked and have both claimed many boats.
As it was a calm night and there are other great anchorages just outside the sound, it seemed inexplicable to us that they wouldn't just anchor until they could see the reef clearly the following morning. The yacht turned out to be A, the singularly distinctive 394-ft motoryacht owned by 38-year old Russian Andrey Melnichenko. Readers might remember she was a hit while making a tour of the West Coast last year. Thanks probably to multiple forward and sideways looking sonars, and god knows how many thrusters, A made it into the anchorage safely. She looked pretty cool, too, with a string of white lights at deck level along her length.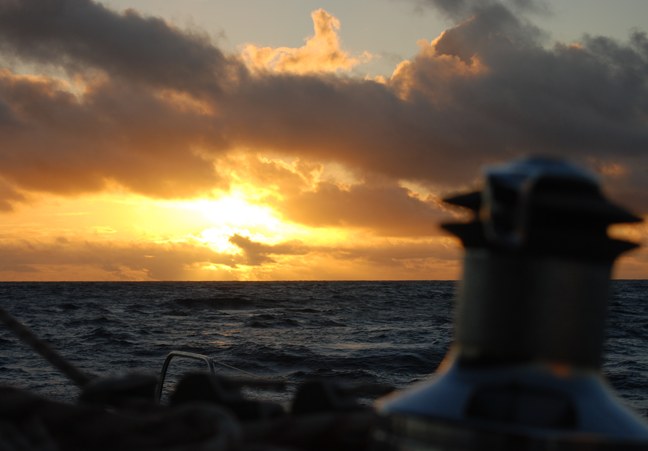 We got up before the sun the next morning to try our luck with the Anegada Passage. For the second year in a row, we lucked out with light winds and relatively flat — although sloppy — seas, and managed to cover the 77 miles to St. Martin in just 12 hours, and the remaining 20 miles to St. Barth in three more hours. Not only that, we did it without having to wear anything more than a pair of shorts.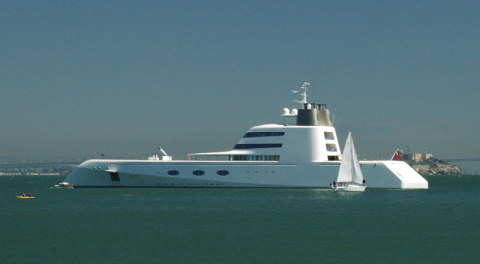 Near the end of dusk, while approaching St. Martin's Simpson Bay, we spotted what looked like a cruise ship on the hook. Knowing full well that cruise ships at St. Martin call a few miles up the coast at Phillipsburg, and that they always dock instead of anchor out, we realized it had to be a mega — perhaps giga — private motoryacht. Could it be Russian Roman Abramovich's just launched 536-ft Eclipse, now the largest private yacht in the world?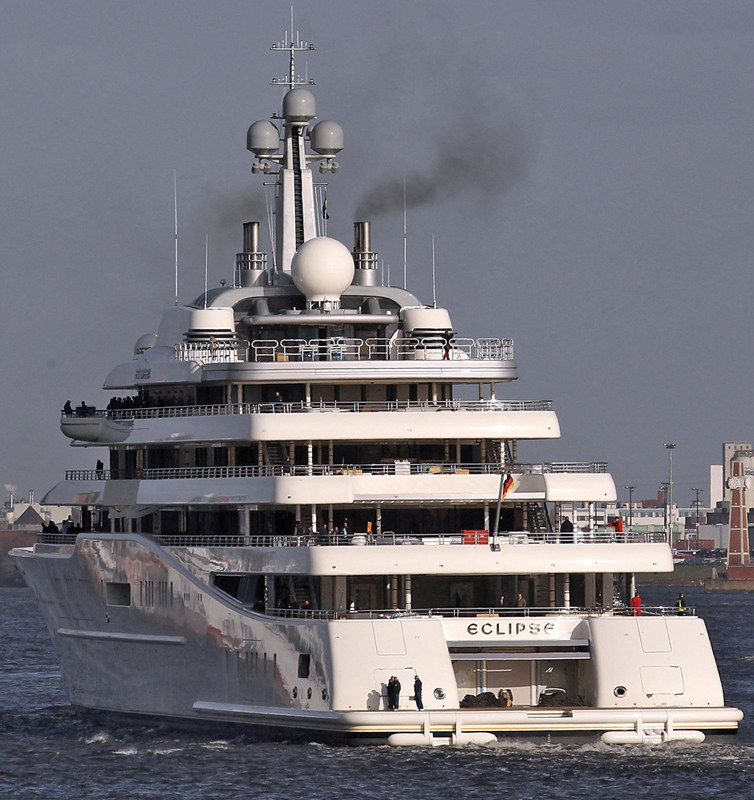 Indeed it was. It's hard to imagine that any private yacht could make the 453-ft Rising Sun, formerly owned by Larry Ellison and now owned by David Geffen, small, but the 83-feet longer Eclipse certainly made Rising Sun seem smallish by comparison. What's more, the interior volume of Eclipse is absolutely staggering by comparison. And keep in mind that Rising Sun has something like 86 staterooms. Perhaps the most remarkable thing about Eclipse is that she's a very well-proportioned and good-looking yacht. She's not cutting edge gorgeous like A, but she's a beauty in the more classical sense.
Sorry we didn't get any photos of either yacht, as on both occasions it was too dark. But we've including some of the little motoryachts in St. Barth right now.
And that, we hope, is our last mega motoryacht report of the year.
Receive emails when 'Lectronic Latitude is updated.
SUBSCRIBE