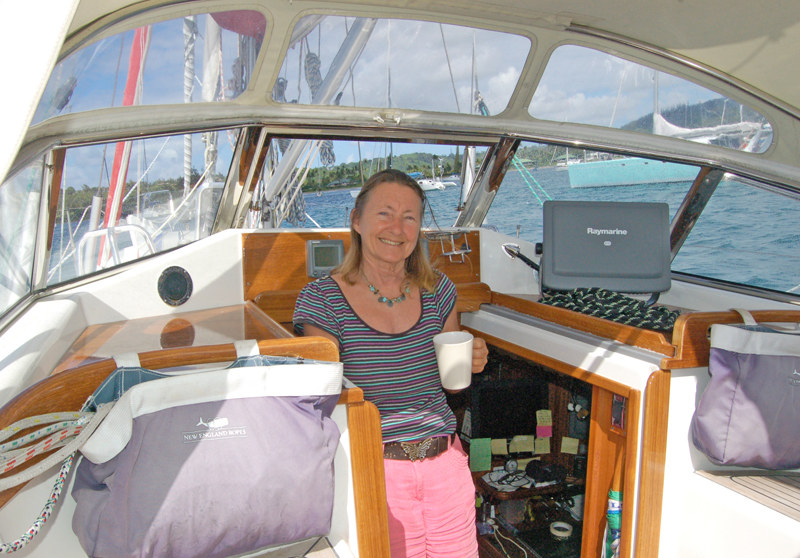 Jeanne Socrates, the 68-year-old grandma who was attempting a nonstop solo circumnavigation aboard her UK-based Najad 380 Nereida, reports that a knockdown near Cape Horn resulted in serious damage to Nereida and has effectively ended her record bid. Socrates says that on Wednesday afternoon, conditions deteriorated enough to cause her to heave to.
"By midday, with occasional waves hitting us and washing the decks, I was beginning to feel decidedly concerned, with the wind back up to 35-37 knots and forecast to increase, and big seas to match. We hove to with triple-reefed mains'l and stays'l. I changed the running backstay over and centred the mains'l. We were well heeled, and there were plenty of big seas, then suddenly, near 2:30 p.m., while I was fortunately leaning against a wall in the head, all hell let loose. Everything that could move was relocated to the starboard side of the cabin. Water was pouring in from under the sliding hatch and there was chaos everywhere."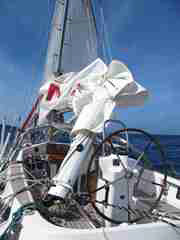 Socrates went on to report that, after Nereida righted, she found the instruments were dead and she couldn't budge the main companionway hatch. She climbed out of the aft cabin companionway only to find that the boom had been broken in half and the entire hard dodger had been washed away. A bag of wet halyards lying on the hatch was removed and entry into the main cabin was restored.
"We were still beam-on to oncoming seas . . . not good. Was another knockdown imminent? I tried eveything to get us to head downwind — a bit of genoa plus some stays'l, downed the remaining main and tried to tie it but that got dangerous in the big seas running, so was forced to abandon that. Later, I decided to reduce all sail since the series drogue shouldn't need any. The furling line on the stays'l broke. The sail unfurled totally and flapped madly and violently — the whole boat shook with the violence. Had to lower it and keep it inboard and low and together in the strong wind — not easy. As it flapped, it caught the pole and broke it in half. Things were going from bad to worse!"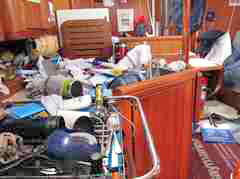 Socrates contacted the Chilean Navy and Falmouth Coast Guard to inform them of her situation. The fishing vessel Magellanes III arrived on scene to offer assistance, but Jeanne was ultimately able get everything aboard Nereida stabilized enough to start her engine. (An overboard line that she was suspected was wrapped in the propped turned out to be a non-issue.) She should round the Horn today in much calmer conditions on her way toward the Beagle Channel, where she's expected to stop in Puerto Williams to effect repairs.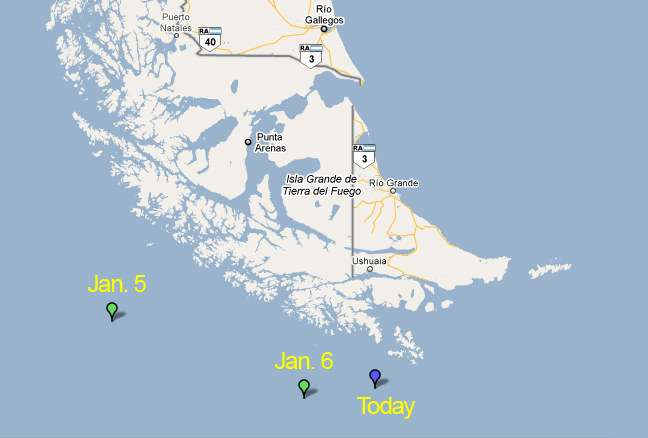 Receive emails when 'Lectronic Latitude is updated.
SUBSCRIBE