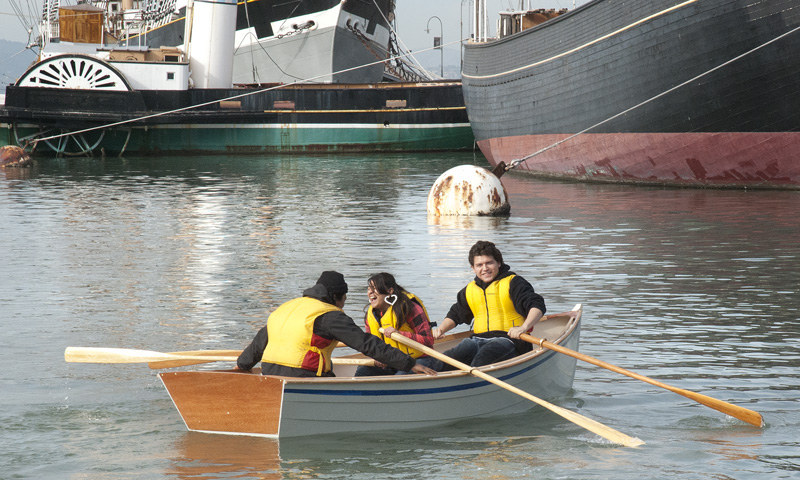 In an era when many California schools have eliminated practical, hands-on 'shop' courses, the San Francisco Maritime National Park Association has been quietly offering boatbuilding courses to disadvantaged youth for the past five years, that teach marketable skills, build self-esteem, and sometimes give participants a whole new direction in life.
Last week the tangible result of the Association's current Boat Building Program was launched at San Francisco's Aquatic Park, adjacent to the nonprofit's facility at Hyde Street Pier. The carefully crafted, John Atkin-designed skiff is a thing of beauty from stem to stern, which every young apprentice can be proud of. Named Edna, she will be put into service aboard the 82-ft sail training schooner Seaward.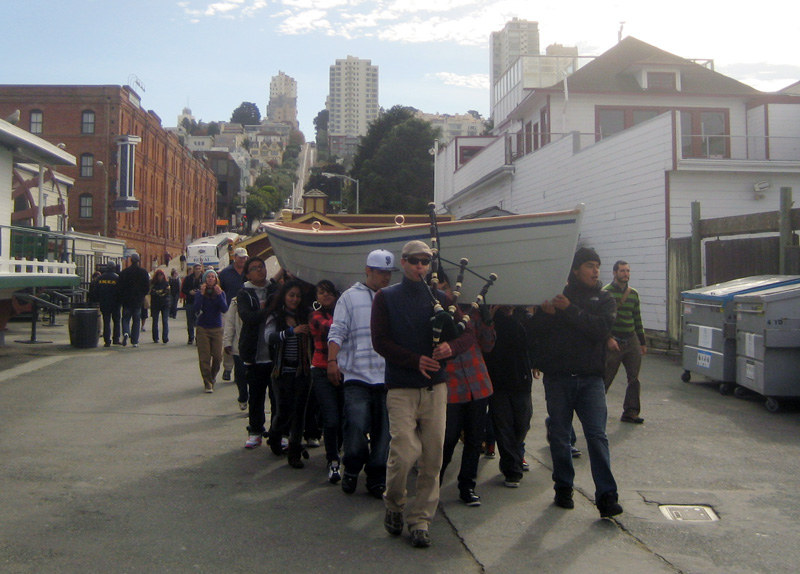 During each eight-week training session, students from diverse racial and socio-economic backgrounds become totally immersed in the boatbuilding process, experiencing every step, from measuring and cutting the structural hull elements to assembly, painting and varnishing. According to the program's director, Seth Muir, those who complete their stint with him graduate high school at a higher rate than their peers, and some program graduates have been inspired to attend Cal Maritime in pursuit of professional maritime careers. To learn more about the Maritime National Park and this program, check out the website, or contact Seth by email. And if you'd like to own one of these hand-built skiffs, were certain that Seth will be happy to take your order.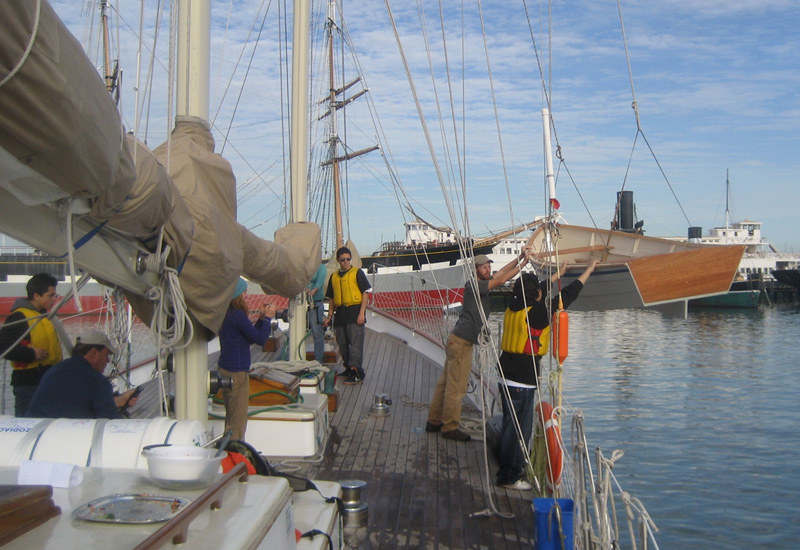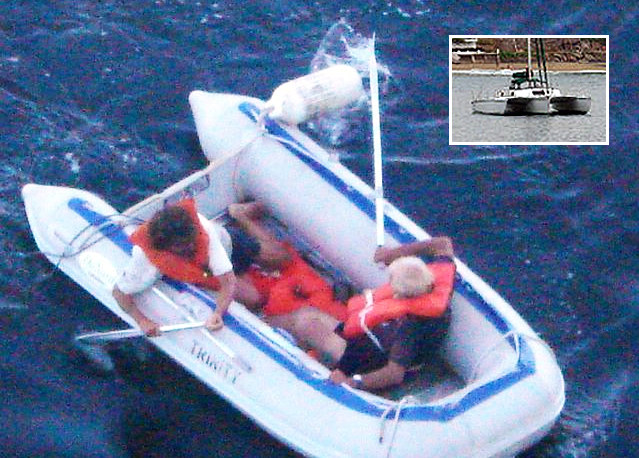 Last Saturday, Canadians John Davidson, 65, and Jud Baker, 47, were rescued from their inflatable dinghy after Davidson's 42-ft trimaran Trinity sank in rough weather about five miles off Costa Rica three days earlier. The friends, who were bound for Nicaragua, had started their cruise from Mexico, according to an interview with Davidson's son, as a pre-retirement dream cruise. But the trip ended abruptly last Thursday when, according to reports from the pair, high seas ripped off one of Trinity's amas and her mast came down. Davidson and Baker apparently had just enough time to grab a handheld EPIRB and scramble into the boat's 8-ft inflatable dinghy before Trinity went under. They immediately began paddling toward shore, but heavy conditions sent them farther offshore. At one point in their ordeal, the dinghy even flipped, but they were able to right it. The two spent three days drifting farther out to sea with no food, no water and no shelter. At one point Baker reports wondering if the EPIRB was even working. Luckily for them and their families, it was.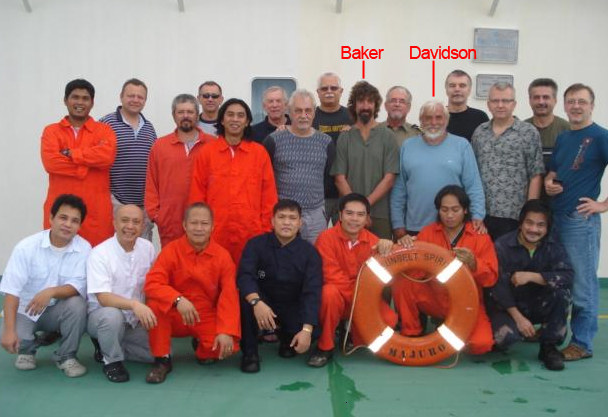 After receiving the EPIRB signal on Thursday afternoon, the Coast Guard coordinated with a U.S. Navy P-3 Orion to fly over the area, but by that time, night had fallen so the crew was unable to spot the dinghy. It took two more days of searching, but a USCG C-130 finally pinpointed the signal around 10:35 Saturday morning. Initially, the plane's crew reported that, while they could see two people in the dinghy, neither was moving. On the second pass, the now-delirious castaways realized the noise they heard was a plane and started waving their paddles. The 695-ft car carrier — one of the largest ever built — Sunbelt Spirit had already changed course toward the area and arrived about 30 minutes after the dinghy was spotted. The ship's crew helped Davidson and Baker aboard, where they were treated for dehydration, sunburn and severely blistered hands from countless hours of rowing. Baker was able to fly home this week since he'd been able to grab his passport before jumping ship, but Davidson is still waiting for a replacement passport. We suspect this will be a particularly memorable holiday season for them and their families.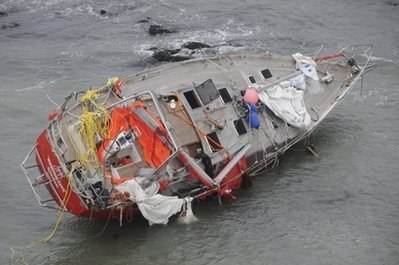 Sadly, two Polish brothers — Marek and Pawel Radwanski — were lost in the Beagle Channel's Sloggett Bay on Monday when their 59-ft steel boat Nashachata was swept onto the rocks after losing engine power and being dismasted. Nashachata was returning to Ushuaia, Argentina from a trip to Antarctica when a hurricane-force storm hit. Five remaining crewmembers were able to make it ashore and were later rescued.
"Please cancel the online and printed ads for my Olson 25," wrote Jim Lewis recently. "You folks posted the ad on your website late in the afternoon on October 26. I got a call about the boat a few hours later and sold it that evening. Latitude's Classy Classifieds rock!"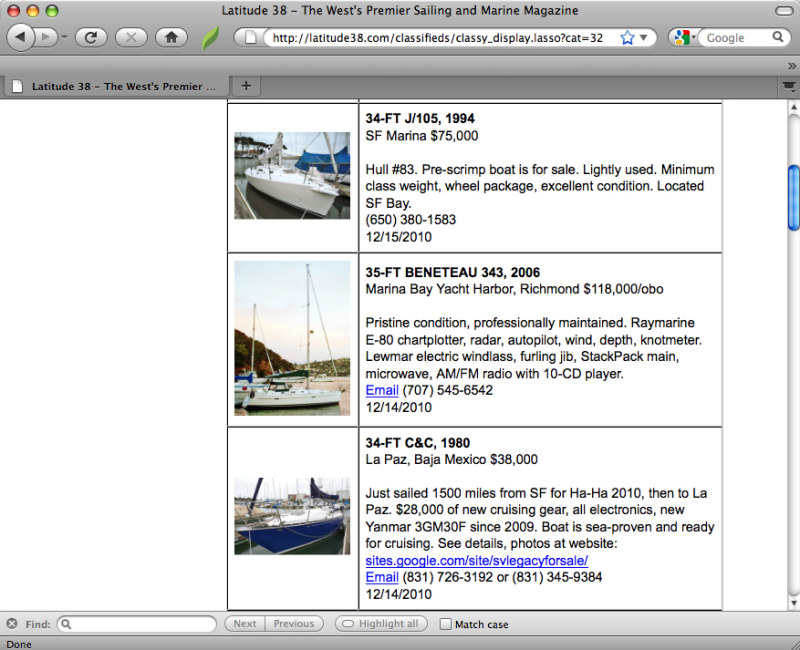 Our online submission form makes placing your own Classy Classified practically painless. Not only will your ad go in the next issue of Latitude 38 (if received by the deadline, which is tomorrow for the January issue), but it will also go live on our website within two business days — usually much sooner. You can even place a free online-only ad for gear and boats that cost less than $1,000! The best part of it all is that Classy Classifieds are proven to attract qualified buyers — just ask Jim.
Receive emails when 'Lectronic Latitude is updated.
SUBSCRIBE