"We have to agree that a shower of any kind is a special event while cruising," writes Emmy Newbould, who has been cruising with hubby Eric Willbur aboard their Brickyard Cove-based Dutchman 37 Nataraja since April '09 and are currenty in New Zealand. "Our boat holds only 40 gallons of water in her tanks, plus we carry four jerry cans. We don't have a watermaker so fresh water is very precious to us. The shampoo, soap and sponge have a special place in the cockpit so as to be at hand when the squalls come.
"But, the real treat is a bath — pure decadence is a bubbly bath. Some of our favorite bath spots are: Comptrollers Bay in Nuka Hiva — the river has a wonderful spot where you can sit, relax and enjoy Jacuzzi-like jet action; Warm Springs Bay on Baranof Island in Southeast Alaska — you can either hike up to the natural hot springs and enjoy them while a massive waterfall tumbles down behind you or you can enjoy a proper bath in the bath house on the wharf where you will find tub-sized cattle water troughs plumbed with the hot springs water; Smoke House Bay on Great Barrier Island in New Zealand — a very special spot with not one, but two bathtubs with showers (one is sitting above the beach, the other is inside the bath house and is plumbed with hot water that is heated by building a fire in the wood-burning stove); but my number one all-time favorite spot is the bath tub on Palmyra Atoll's North Beach. This one sits on the beach backed by the lush jungle. Pure decadence is a bubble bath on the beach while sipping champagne!"
With an 11-0 vote, San Francisco's Board of Supervisors approved the Host City Agreement for America's Cup 34 yesterday, and Mayor Gavin Newsom promptly signed it. What is unclear is whether the agreement — which is sigificantly different from what was orginially negotiated between the City and BMW Oracle Racing — will satisfy Larry Ellison and Russell Coutts. What is absolutely clear is that this nearly year-long chess game between the City and the team has come full circle and it's now Ellison's move with the clock ticking. The team had set a deadline of Friday for the City to come up with a suitable agreement. While we'd like to think a thumbs-up-or-down announcement from the team will be forthcoming in short order, the reality is that Ellison has until December 31 to make up his mind, and has reportedly solicited 11th-hour bids from other cities. So stay tuned, this process might go down to the final moments.
Despite an extensive search that lasted nearly eight hours, Bay Area sailor Casey Speed, 28, could not be found after he fell off his Sausalito-based Island Packet Kachina near Tiburon shortly before 8:30 p.m. last Friday.
According to Speed's wife, Lucinda, he had been drinking and was not wearing a lifejacket. Lucinda's emergency call that evening triggered a rapid multi-agency response that included five vessels, a helicopter and a rescue diver unit.
The search was called off at 4:15 a.m. on Saturday. Coast Guard Lt. Simone Mausz was quoted in the Marin IJ as saying, "We searched past the survivability point, so the likelihood of us finding him alive at this point is pretty slim." Water in the Bay at this time of year is roughly 50 degrees. Kachina was anchored at the time of the tragedy, as the young couple had departed their slip at Sausalito Yacht Harbor earlier that day intending to have a quiet overnight on the hook.
A close friend of the couple, Tom Jeremiason of the Catalina 470 Camelot, says, "By all accounts Casey and Lucinda had a wonderful marriage and were frequently seen thoughout the Bay on Kachina." He remembers being impressed by them when he first met them during a Delta cruise in the summer of '09: "Right off the bat you could tell Casey and Lucinda were a very special couple, and it was obvious they were very much in love. Both had a zest for the sailing life and, although Kachina was a work in progress, it was able to take them to places away from rat race of city life.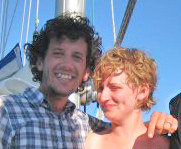 "During that evening, Casey brought up the subject of marriage and mentioned that they were planning to be married in the next couple of months. Half jokingly, I mentioned that I was a reverend in the Universal Life Church and could take care of that for them. Surprisingly, they asked me if I could do the ceremony the next day." The next morning Casey and Lucinda dinghied Three River Reach to downtown Stockton and obtained a marriage license, and that afternoon the wedding ceremony was performed on Kachina's foredeck, with sailors from neighboring boats attending as witnesses.
"Casey told me that he didn't have wedding rings," recalls Jeremiason, "so earlier that morning he had fashioned two rings out of copper wire and solder. They were the most beautiful wedding rings we'd ever seen.
"I am sure that Casey would want us to learn from this tragedy," he adds, "and, without judgment, reflect on the dangers of boating and alcohol."
Receive emails when 'Lectronic Latitude is updated.
SUBSCRIBE