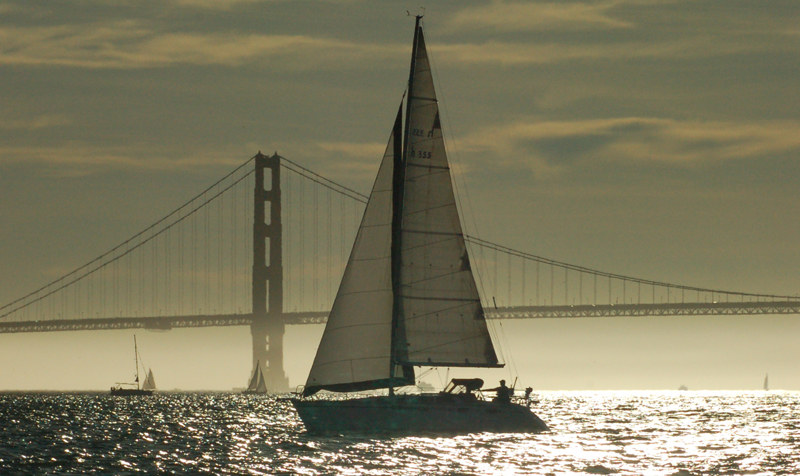 While sailors in many parts of the country spent this weekend winterizing their boats, Bay Area sailors were treated to temps in the high 70s. Ok, so there was practically no wind on Saturday (see the Weekend Racing Update on how racers fared) and Sunday offered a crazy couple hours of high winds, but Sunday afternoon made up for it all with a gentle — and surprisingly warm — 10-knot breeze out of the north. You could almost make out the grinning faces of the sailors enjoying the unexpected bounty.
One such sailor was Nick Jaffe. Readers may recall reading about Nick, who'd visited the Bay last year on his way from England to Australia aboard his Contessa 26 Constellation, in the July '09 issue of Latitude 38. We last checked in with the adventurous Aussie after he finished his voyage in Coff's Harbor almost exactly one year ago.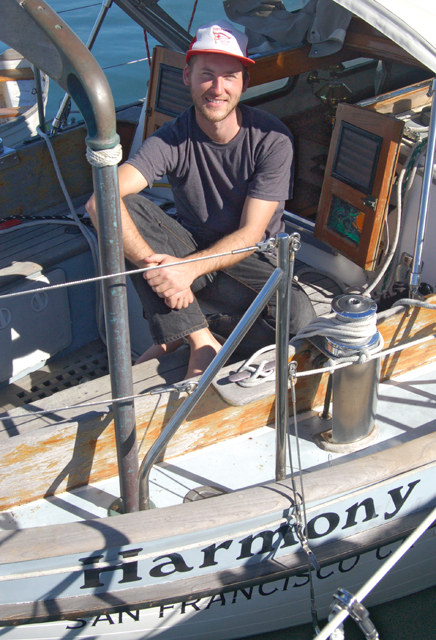 During his six weeks in the Bay Area getting the Contessa ready to cross the Pacific, Nick was shocked to learn how inexpensive boats are here. Once he returned to Oz and sold Constellation for significantly more than he would have received here, he kept his eye out on Bay Area listings for bigger cruising boats in good condition. One day in February, he ran across a listing for Harmony, a nicely outfitted Aries 32 in Sausalito, so he had some friends check it out. It wasn't long before Nick was the proud owner of a boat he'd never stepped foot on — and wouldn't until last week, when he was finally able to visit the Bay.
"This wasn't the first boat I'd bought sight-unseen," said Nick. "I did the same thing with Constellation." Though an unorthodox way to buy a boat, the tactic has worked out well for Jaffe. "I love Harmony," he said. "I finally have standing headroom . . . but I still walk around slumped over!"
As this post is being written, Harmony is on her way back to the boatyard to be hauled and stored until the next time Nick can get back the the States. But the next time will be the last time, as Nick plans to do the '11 Delta Doo Dah and Baja Ha-Ha, then head off to points unknown. You can keep track of his plans at www.bigoceans.com.
"We are happy to be alive, happy to be here, desperate to see our family," said British sailor Rachel Chandler at a news conference in Mogadishu. She and her husband Paul were finally released yesterday, after being held captive by Somali pirates for 388 days.
The couple's Rival 38 sailboat Lynn Rival was hijacked last year while en route from the Seychelles to Eastern Africa, and until now, a series of efforts to negotiate their release proved fruitless. Theirs was one of the longest ordeals of incarceration by any sailors or professional mariners since the current era of piracy began. According to ITN News, a total of $800,000 was given to their captors before the Chandlers' release was eventually granted. "We've been a year with criminals, and that's not a very nice thing to be doing," said Mrs. Chandler. Both she and her husband spent three months of their ordeal in solitary confinement.
Intial reports from the Associated Press and others did not mention the fate of the Chandlers' boat, which we assume is unrecoverable. According to news reports at the time of their capture, the boat and cruising kitty represented much of the couple's life savings. They had begun their cruise in Europe, traveled through the Med, then south into the Red Sea, through the notorious Gulf of Aden, and across the Arabian Sea to India before heading west again toward Africa.
Some folks think there isn't much good sailing on the way from San Diego to Cabo San Lucas. It's true that it can be light but, as you can see from David Berke's YouTube video of Cliff Shaw's Emery Cove-based Crowther 10m Rainbow, there is actually great sailing to be had.
While the wind didn't fill in for the second leg until about 4 p.m., when it did it was wonderful. We were carrying a full main on Profligate along with a Santa Cruz 70 chute in what we estimated were 17 to 19 knots of true wind, and we were constantly surfing in the low- to high-teens. It was so smooth that if you were inside the salon, you could hardly tell — except for the sound of the water passing the hulls — that the boat was moving. It was some of the best sailing we've ever had. Around about 3 a.m., a bit of a cross swell developed, so it wasn't quite as smooth as before, and thanks to overstanding the layline, we had to go to white sails after gybing. Nonetheless, the Baja coast proved to once again be a cat's playground.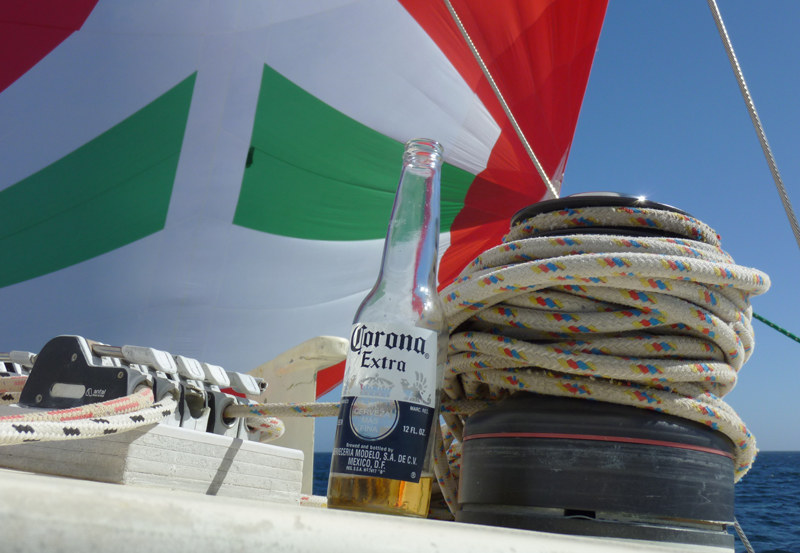 Receive emails when 'Lectronic Latitude is updated.
SUBSCRIBE