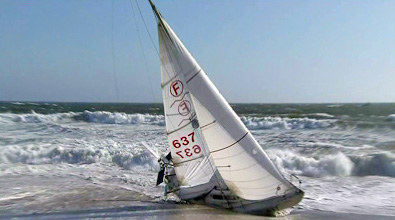 Yesterday turned tragic with the loss of three West Coast sailors. Down south, 2008 Singlehanded TransPac veteran Tom Kirschbaum, 55, appears to have fallen off his 26-ft International Folkboat Feral on his way home to Marina del Rey after competing in the Catalina Island Series-Emerald Bay Race on Saturday. A gale had been forecast for the weekend, and reports confirm rough conditions for the first half of what was supposed to be a two-way race (we're told Day 2 of the race was cancelled due to worsening conditions, but were unable to confirm that with Long Beach YC before uploading today's 'Lectronic).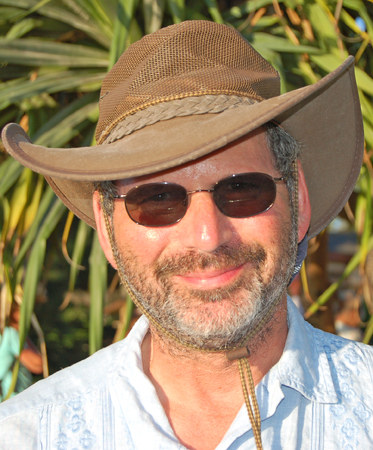 Kirschbaum's wife Gayle told the Coast Guard that she'd received an email from Tom yesterday morning around 9:30 letting her know he was leaving. According to Petty Office Christina Bozeman, the Coast Guard received the call that Feral had sailed ashore one mile south of the Santa Monica pier, basically on Venice Beach. First-responders found no one aboard. "A C-130 airplane was dispatched to search, and the cutter Narwhal has been searching all night," Bozeman reports. "We may look to suspend the search this afternoon but we're still searching."
Closer to home, an unidentified married couple sailing north from Pillar Point were near Ocean Beach when they fell off their Ranger 33 Barcarolle in rough conditions, according Coast Guard Petty Officer Pamela Manns. "A worker at Cliff House restaurant noticed the boat was in distress," said Manns. "We received the call at 4:30 p.m. and a 47-ft motorlifeboat was on-scene at 5:15." The lifeboat crew found Barcarolle unmanned but couldn't immediately see anyone in the water. The woman's body was recovered around 7 p.m. while a man's body washed ashore this morning. The Coast Guard has not confirmed his identity at this point, so they're hesitant to identify him as the man from Barcarolle. The boat has since washed ashore at China Beach, not the Marin Headlands as previously reported by the Coast Guard.
Our hearts go out to the familes of all the victims.
UPDATE: The San Francisco Medical Examiner has officially released the names of the couple from Barcarolle: Jeff and Beth Easterling of El Sobrante. They were 59 and 50, respectively.
Receive emails when 'Lectronic Latitude is updated.
SUBSCRIBE