Entries for the 'Sweet Sixteen' edition of the Baja Ha-Ha keep rolling in, having just reached 144. We'll spare you the 'gross' jokes and instead remind anyone thinking of doing this annual rally from San Diego the Cabo San Lucas in late October, that just four weeks remain to enter before the September 10 deadline. The $350 entry fee is crazy-low for all the swag and discounts participants get in return, and the memories and friends you'll make are priceless.
For those who have committed to the rally, keep in mind that the amount of fun you have is directly proportional to the amount of sleep you get. The first leg can be a killer for those who underestimate how exhausting two or three nights at sea can be. Even for those who are comfortable handling their boat as a couple, an extra hand or two can make the difference between surviving the trip and really enjoying it. If you don't already have crew lined up, be sure to register as a 'Skipper Looking for Crew' on our Mexico-Only crew list (or as 'Crew Looking for a Boat' if you're in the market for a ride south).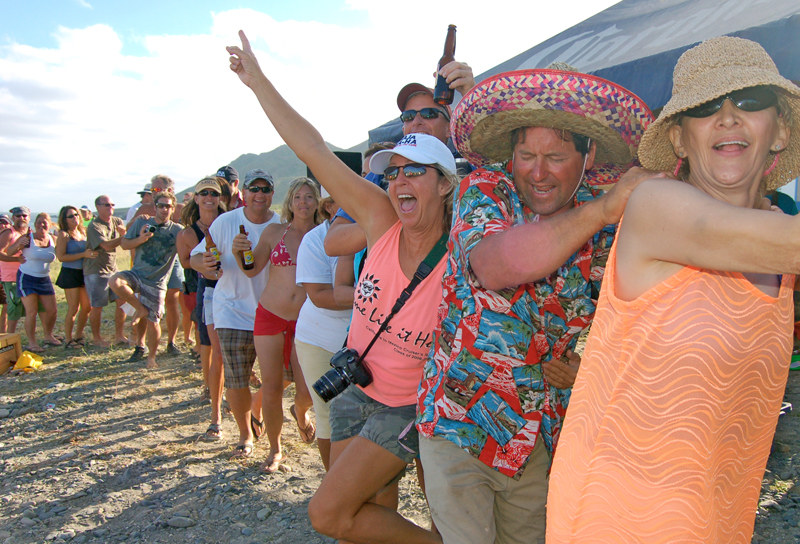 A great way to meet prospective crew face-to-face is by attending our Mexico-Only Crew List Party & Baja Ha-Ha Reunion on September 9 at Encinal YC from 6-8 p.m. Registered 2009 Ha-Ha skippers and first mates get in for free, while the rest of us pay just $7. Enjoy apertivos, no-host bebidas and guest experts while you make connections and meet new friends.
For Ha-Ha entry information, visit the Ha-Ha's online registration site. Click here for the complete list of entries, but for now, here are the latest:
122. Bluebird, Custom Trimaran 28, John Taylor, Lakewood, WA
123. GypsyBlue, Beneteau 463, John White, San Francisco
124. Done Dealing, Beneteau 47, Jay Bryan, Alameda
125. Tapestry, Command 10 tri, Richard Pearsall, Ventura
126. Sea Villa, Islander 37, Jim Morgan, Sausalito
127. Music, Beneteau 40, Rick Gio, Pt. Richmond
128. Osprey, Elan Impression 434, Jerry Whitfield, Anacortes, WA
129. Paikea Mist, Beneteau 50, Michael Hanssmann, Vancouver, BC
130. Chardonnay, Catalina 30, David Elkin, Richmond
131. Mangareva, Dallimore Cutter 40, Mark Strong, Pollock Pines
132. Jammin', Freeport 41, James Wilson, Los Angeles
133. Mariah, Seawind 1000XL, Gary Rufener, San Diego
134. Andalucia, Irwin 37, Steve & Edie Hollen, Yorba Linda
135. Ohana, Sceptre 41, Charlie McKenzie, Missoula, MT
136. Capaz, Perry 48, Brad & PJ Baker, Seattle, WA
137. Slow M Ocean, CHB trawler 45, Errol & Norene Phillips, Scappoose, OR
138. Sagittaire, Brewer PH cutter 47, Michael Quiriconi, Seattle, WA
139. I'O, Davidson 44, R. & B. Kuschel, San Francisco
140. Julia Morgan, Morgan Out Island 41, Thomas Christensen, Long Beach
141. Talion, Gulfstar 50, Patsy Verhoeven, La Paz, Mexico
142. Sabbatical, Valiant 40, Phil Kumpis, Hermosa Beach
143. Eagle, Cal 35 Mk III, Phileta Riley, Bandon, OR
144. Simple Pleasures, Freedom 36, Bernard Slabeck, Alameda
Receive emails when 'Lectronic Latitude is updated.
SUBSCRIBE