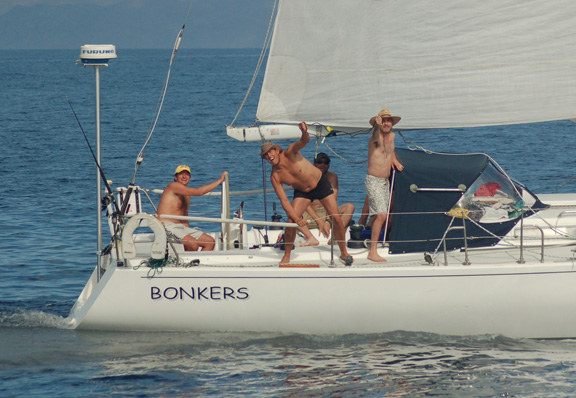 As you read this, members of the 15th annual Baja Ha-Ha cruisers' rally have arrived at the sleepy fishing town called Bahia Tortuga — Turtle Bay — which lies roughly 360 miles south of the San Diego starting line. One of the rewards for sailing three days south of the border is air temperatures in the 80s, water temperatures in the high 70s and clear blue skies.
Many would say that wind and sea conditions at the start of Leg One were ideal: 10-12 knots of westerly breeze with a benign sea state, allowing many boats to fly spinnakers within minutes of Monday's 11 a.m. start. One hundred forty boats started on time, with a half dozen more vowing to catch up with the fleet after completing last minute repairs and errands.
Midway through that first night, intermittent fog gave way to uncommonly warm and dry air. For most boats the breeze held until the wee hours, then backed off to a whisper by dawn. Seas, however, were so flat you could have waterskied, so many in the fleet hung in there and played the light breeze throughout the day. Rich and Sheri Crowe, aboard their homebuilt Farr 44 Tabu, crossed the infinite finish line in excellent time 140 miles offshore — their hunch to go way out paid off, as they never saw less than nine knots of breeze, while many other boats eventually gave up and motored.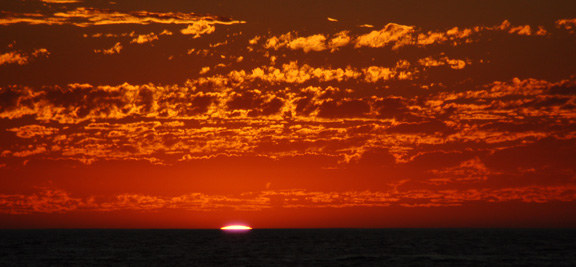 After today's beach party and barbecue, the fleet will be off to Bahia Santa Maria — a distance of approximately 240 miles. Weather gurus promise much stronger winds for Leg Two, perhaps in the high 20s at times with even stronger gusts funneling down coastal canyons.
Look for further reports and photos next week, and a complete recap in the December issue of Latitude 38.
As you know, Governor Schwarznegger signed a new state budget at the end of September. As most boaters will probably also know, in addition he signed a bill that once again killed the so-called 90-Day Yacht Club. This was the provision that allowed folks buying boats to avoid paying use tax/sales tax — if the boat was kept out of state for at least 90 days. The new bill, AB1452, requires that yachts — as well as airplanes, RVs and other high-ticket items — stay out of the state for at least one year to avoid the use tax. Although this would likely not affect the average guy, when the 90-Day rule was in affect in 2004, as many as 90% of buyers paying $200,000 or more for boats took delivery offshore and met the out-of-state requirement.
With the California budget in a perennial shambles it's hard to blame state politicians for appearing to do the 'right thing'. And on the surface, AB1452 seems like it would bring more money into the state coffers. In reality, the bill will very possibly lose the state both money and jobs. Consider:
Fewer people who can afford high-end boats will buy them here.
Buyers opting to meet the one-year-away rule will hurt the state marine industry by berthing and having work done elsewhere.
There are other ways to legally avoid paying use tax, such as registering the boat under an offshore corporation. Last time we looked, you could form an offshore corporation online for only a few thousand dollars, which is nothing for someone facing $50,000 in use taxes.
Unlike bills that came before it, AB1452 has no sunset clause, meaning it is theoretically 'permanent'. But hey, so was Prohibition. We will have more on the end of the 90-Day Yacht Club in the next issue. In the meantime, we would like to hear from those who have been affected by it, who have used the 90-Day Rule, those who have changed buying plans since its repeal, and what legal alternatives California yacht buyers have in the face of this new legislation. Email comments and contacts to John.
The November issue of Latitude 38 hits the streets today. In it you'll find all sorts of treats, from full Maltese Falcon coverage to cruising Prince William Sound on a small boat to college sailing. So set out a bowl of candy, turn off the porch light and enjoy Halloween Latitude-style!
Receive emails when 'Lectronic Latitude is updated.
SUBSCRIBE