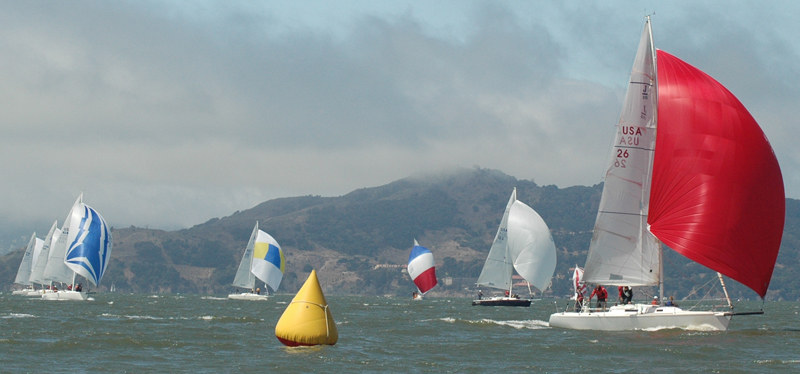 After four days of pushed-start lines and crowded leeward gates, Donkey Jack ass-kicked the 36-boat fleet at the St Francis YC-hosted J/105 North Americans with an emphatic heeeee-haaw! Owned by the tripartite Bay Area partnership of Scott Sellers, Rolf Kaiser and Eric Ryan, who divy up helm duties throughout the season, Donkey Jack put on an impressive display of clean starting and upwind boatspeed in the 10-race, no throwout regatta to win going away on Sunday — finishing 23 points clear of Chris Perkins' Good Timin'.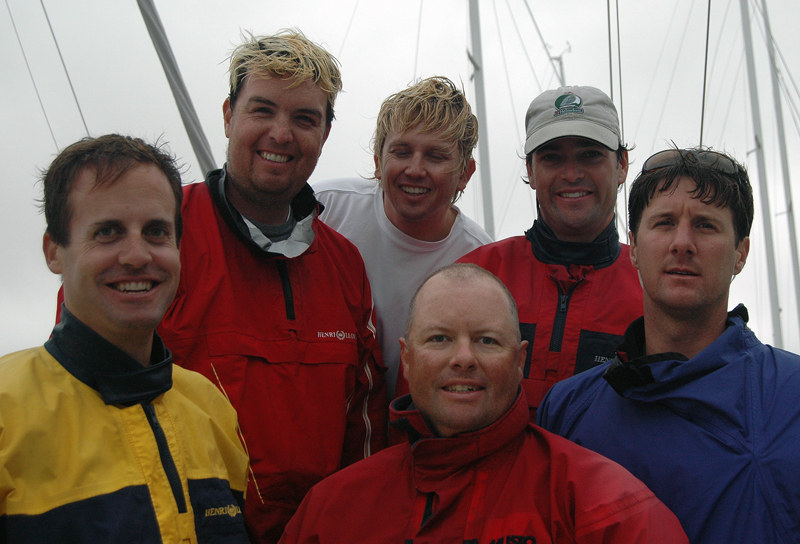 "Our crew didn't make a single mistake," said Sellers, the weekend's designated driver, in crediting Donkey Jack's crew — including tactician Ted Conrads, Cam Geer, Geoff McDonald, Kaiser and Ryan, all of whom have sailed together on the boat consistently since 2005 — with the win.
"We kept getting faster throughout the regatta," Kaiser said. "We were fast upwind and that pretty much allowed us to extend and sail our own races."
After starting off the regatta with a 3,3,1,2,7, Donkey Jack — named for the alpha donkey in a pack — rocked Saturday's breezy Circle races with an impressive string of three bullets. They then followed that up Sunday with a 2,1 to seal the deal.
The regatta alternated courses each day between the Berkeley Circle and Alcatraz and with wind in the 15-20-knot range on Thursday, Friday and Sunday and 30-knots on Saturday, there were plenty of close calls at windward marks and leeward gates. And there were a couple that were too close.
In Saturday's final race, Don Wilson's Chicago-based Convexity attempted to duck Justin Oberbauer's Strangelove as the latter sailed on the starboard layline toward the last weather mark rounding of the day. Convexity missed the duck by a few feet, punching a hole in Strangelove that went all the way into the cockpit coaming at the traveler. The boats then locked rigs, with Convexity's backstay grabbing Strangelove's masthead. Miraculously, the two boats came apart without either rig coming down.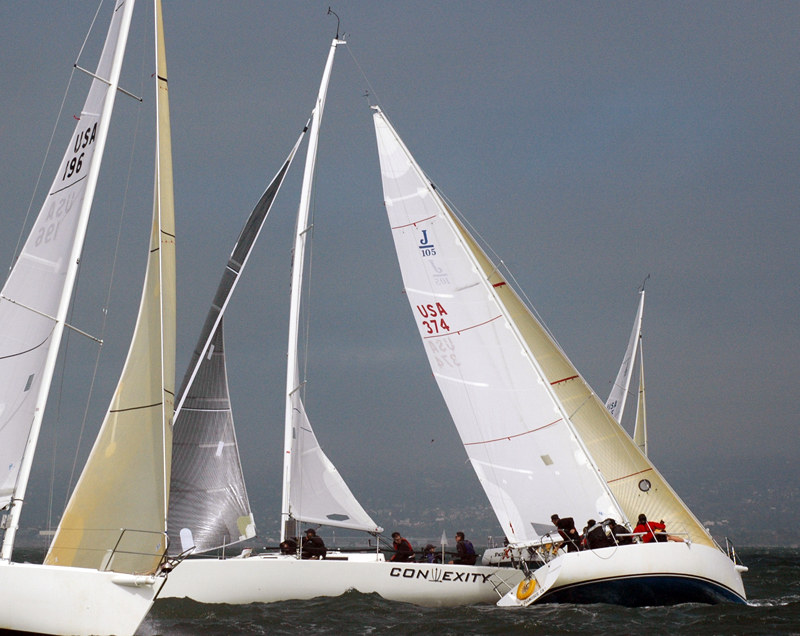 "The initial collision was pretty intense," said Oberbauer who suffered a "big bruise" and soreness after Strangelove's torqued wheel flung him onto the traveler. "It was one of the scariest moments I've had, seeing a boat coming at you at seven knots. They were pretty flat and totally powered up."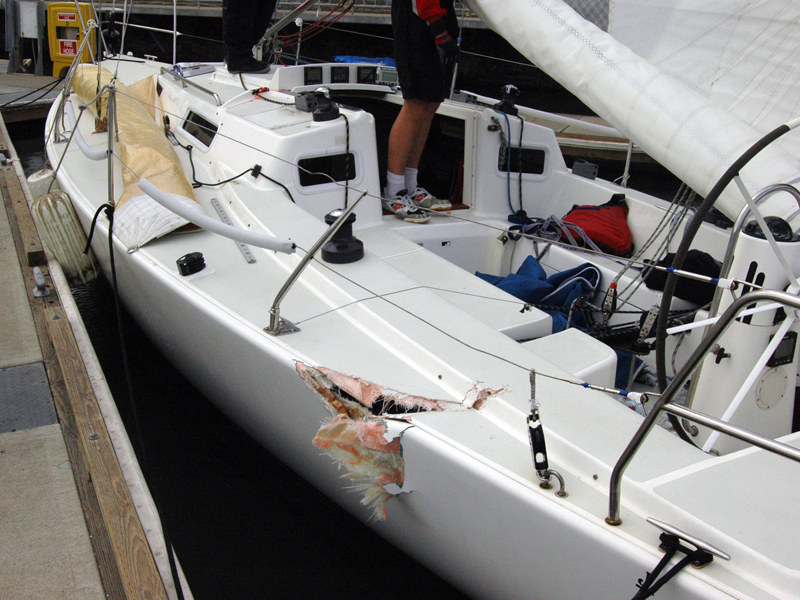 "Right now, the boat is at Svendsen's and they're going to go through the whole thing," Oberbauer said, adding that Wilson graciously offered for the Strangelove crew to take Convexity for the following day's races, but they declined. "They ended up borrowing a boat. I don't think they realized at the time they offered Convexity to us that there may have been some issues with it. Hopefully we'll be back in shape for the Big Boat Series and be ready to launch the weekend before to shake everything out."
One potential disaster had a little humor to it when bowman Les Yamamoto got launched off the bow by the spinnaker sheets of Don Wieneke's Lulu, in Friday's last race.
"It should have been a textbook rounding," Wieneke said. "The jib was fouled and wouldn't roll out, then I had to gybe to get around the mark. Once I was forced to gybe, the chute filled because it was no longer shielded by the main."
Wieneke estimated that they had an unhurt Yamamoto back onboard in under 30 seconds, with the whole thing caught on video.
"I'll take the blame," Wieneke said. "No matter how good your bowman is, the back of the boat can always foul it up. He was looking at us like 'what are you guys doing back there?' And we were looking at him like, 'what are you doing up there?'"
Receive emails when 'Lectronic Latitude is updated.
SUBSCRIBE