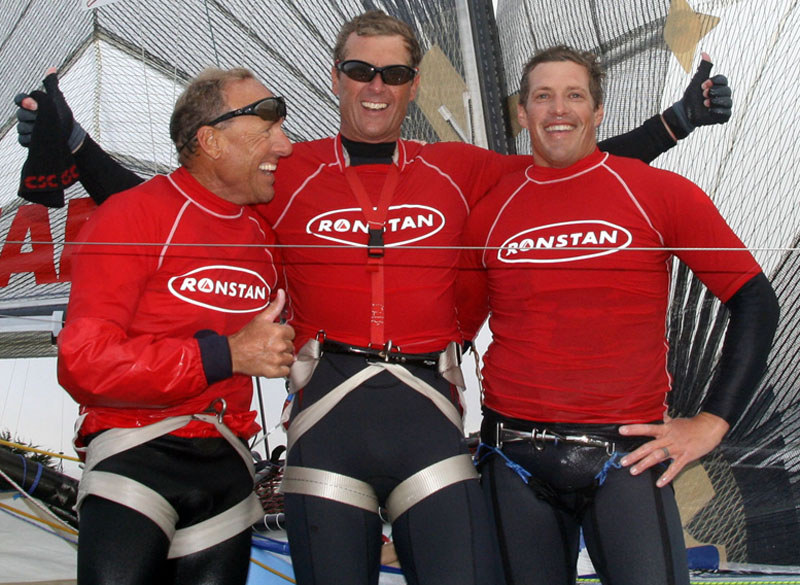 Nipping at the heels of the reigning 18-ft skiff world champions Gotta Love It for the first few minutes of the 11th annual Ronstan Bridge to Bridge Race, Howie Hamlin, Mike Martin and Paul Allen on Team Harken seized the lead when the bright red boat augered in off Crissy Field. The trio rode a knock all the way down the Cityfront, finishing the five-and-a-half-mile course from the Golden Gate to the Bay Bridge in 17 minutes and 52 seconds.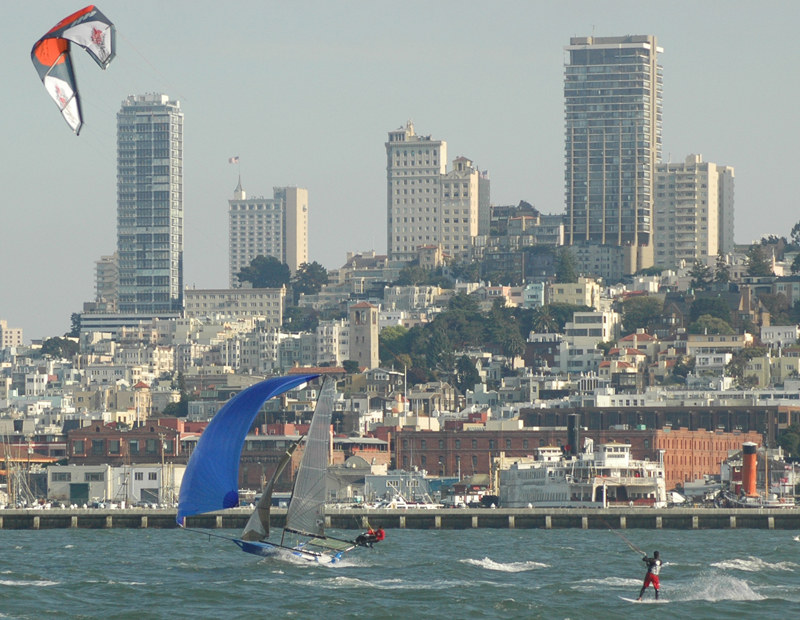 Their win marked the first time in seven years that something other than a kiteboard has won this battle of the disciplines. Last year's winner, the Bay Area's Chip Wasson, was the first kiter to finish some 37 seconds behind Team Harken. Almost five minutes later, windsurfer Al Mirel took the Formula Board honors. The breeze ranged from the mid 20's in the fog line off Fort Mason to the mid-teens past Pier 39. Coupled with a two-plus-knot ebb, the Bay brought plenty of punch for the 44-strong fleet, as evidenced by the 26 sailors who made the finish.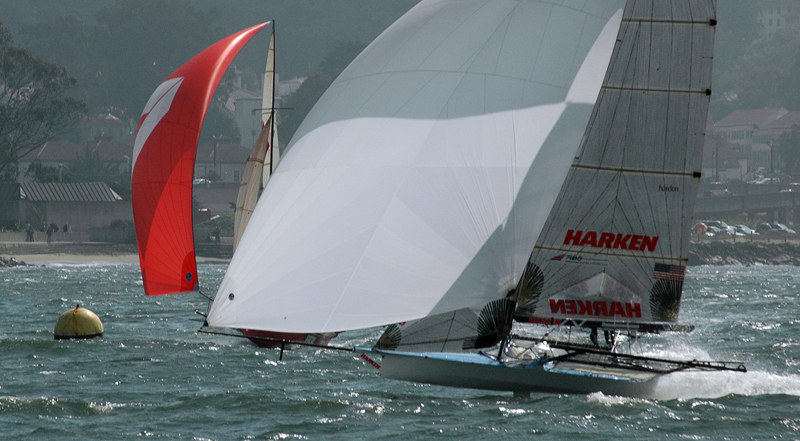 The Ronstan Bridge to Bridge was incorporated into the scoring for the St. Francis YC's International 18 Skiff Regatta, which Hamlin, Martin and Allen all jumped right into last Tuesday after sailing a breezy 505 PCCs the previous weekend. The trio overcame a broken rig and some already sore muscles to finish second behind the young 22-year-old Australian phenoms, Seve Jarvin, Sam Newton and Tom Clout and Gotta Love it. In what many of the sailors were calling the gnarliest 18-ft skiff regatta they remember on the Bay — every team had at least one 'letter score', as in DNF — the Aussies clinched the win over the 11-boat field only in the last race, sailing conservatively and ragging their kite downwind en route to a three-point win after 10 races.
Over in Qingdao, American Finn representative and St. Francis YC member Zach Railey sailed way above most people's expectations, sailing a consistent series and winning a silver medal in that competitive class. Going into the medal race, Railey was not assured of a medal. And before Friday's attempt at a race in the light and fluky Fushan Bay was abandoned due to no wind, it didn't look like he would. But he made good use of his second chance the following day, recovering from a bad start to steadily work himself back into position, with a fifth in the 20-plus knots of breeze and washing machine sea-state. The US Yngling Team fell short in their medal quest, hitting a mark and missing laylines en route to a fifth place finish after lying third going into their medal race. The US failed to qualify for the 470 medal races in both the men's and women's divisions.
Receive emails when 'Lectronic Latitude is updated.
SUBSCRIBE