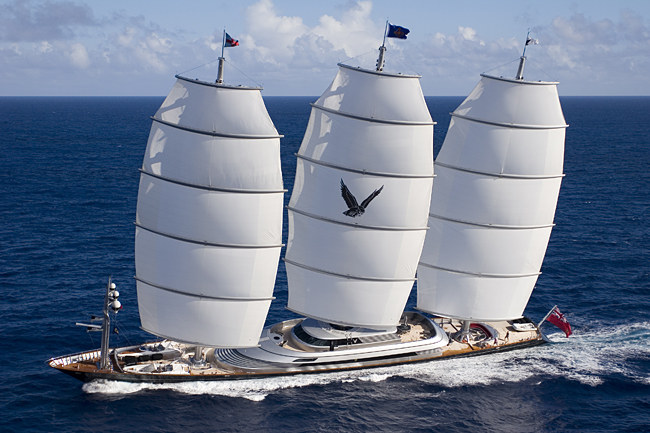 If you love big boats and spectacles, you're going to love the news we received this morning in an email from Tom Perkins of Belvedere:
"I want to let you know that Falcon will be arriving in San Francisco in late September, and will be on the Bay most of October. I will email you with the most likely time of day for our arrival under the bridge, when our ETA is clear. Atlantide will also be there."
Trust us, no sailor is going to want to miss that event.
Falcon, of course, is the 289-ft Maltese Falcon, which by most forms of measurement is the largest sailboat in the world. While Jim Clark's Athena and Barry Diller's Eos are both slightly longer, they are longer thanks to bowsprits, and have significantly shorter waterlines. In any event, thanks to Falcon's unique Dyna-Rig — she has three free-standing masts — she's been the most celebrated sailing yacht in memory.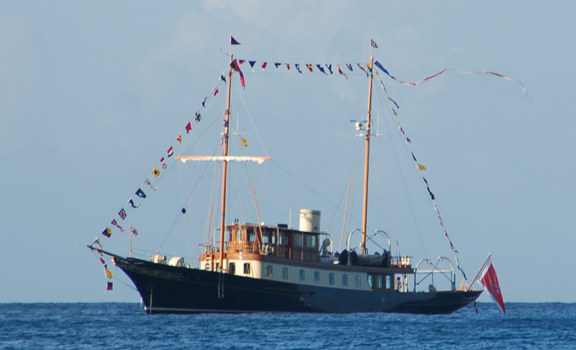 "I am hoping to use Falcon to assist in the Leukemia Cup charity event on October 4 and 5," continues Perkins. "My friend Rupert Murdoch will be the guest speaker the evening of October 4."
Murdoch is, of course, the owner of News Corp, which recently purchased The Wall Street Journal.
"You may have heard that Falcon has been for sale," Perkins writes. "She is now off the market, as I am taking on a 50% partner in the boat. The new co-owner requests confidentiality, so I can't share the name."
Falcon had been listed for sale at $180 million. And that's not a typo.
Perkins is best known for inventing low cost lasers, being largely respondible for getting Hewlett-Packard into computers, but above all, for being on the ground floor of the evolution of venture capitalism, a key factor in Silicon Valley becoming Silicon Valley. For details on his business and sailing life, pick up a copy of Mine's Bigger.
Receive emails when 'Lectronic Latitude is updated.
SUBSCRIBE