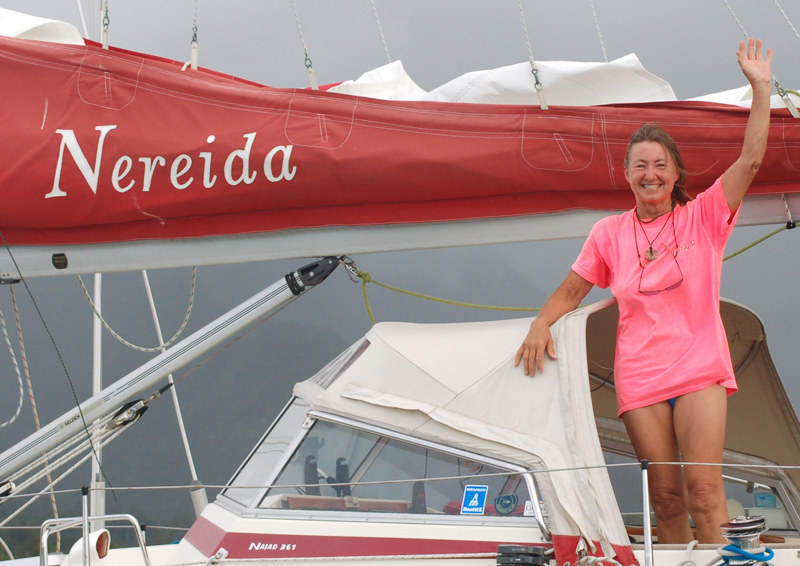 We're heartsick to report that Jeanne Socrates, who, after completing the 2006 Singlehanded TransPac, decided to take on the world with a 15-month solo circumnavigation, has lost her beloved UK-based Najad 361 Nereida less than 100 miles from her starting point of Zihuatanejo.
"Nereida was grounded halfway from Acapulco to Zihuatanejo on a desolate, mainly uninhabited part of the coast, after the autopilot went down just before first light on June 19," Jeanne wrote in an update to friends this weekend. "I was taking my usual timed nap — a stopwatch set for 45 minutes — which looked fine in the situation: full moon, some swell and waves but not much, motoring in very little wind, a good distance from a long sandy shore. Because I was motoring in calm conditions, the resultant change of course was not obvious enough to wake me up in time, as it would have done had I been sailing.
"The beach, Playa Michigan, had no cellphone coverage but I set off my EPIRB once I realized I couldn't get off unaided. It was still nearly dark with no lights on shore — no sign of anyone, in fact, for ages as I started setting my anchors, which was very difficult in the strong, swirling surf conditions. I came close to drowning a couple of times but managed to avoid being pulled out to sea in the surge — just! I spent most of the rest of the day setting anchors up the beach with help from a few fishermen who appeared some time after dawn, trying to secure her from damage in the surge so I could try to get a tow off the beach as and when it could be arranged. The marines arrived around noon to offer assistance but they don't have boats, nor do the Navy in Acapulco (not for towing me off, anyway) and the Acapulco Port Captain couldn't help either — all were phoned with the help of the Captain of the Marine, who took me first to his camp and then to a town a long, bumpy, cross-country ride away so I could make phone calls for help.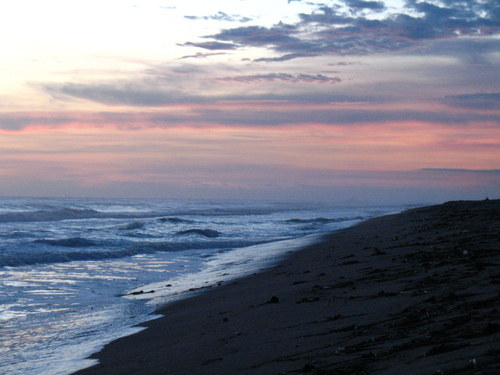 "I'm ok physically — give or take a few lumps, cuts and bruises — but Nereida is anything but, especially now, a week later. From the start, her starboard side began to crack slightly, with being heeled one way and then the other in the wash and surge, despite setting anchors up the beach. With a small tide coming in, it was difficult to keep the chain and lines taut enough to stop her from suddenly being heeled down the steep beach slope from time to time — and then she'd suddenly come back up the other way in the surge, often with a slight bang.
"Without an almost immediate tow off the beach, she was doomed. It's so very isolated, access is so difficult and there were just no suitable boats near enough to be able to help. So every day since then, I've had a long, three- to four-hour difficult journey to and fro, rescuing what items I could. A lot of water got inside the boat very early on so all electronics were quickly useless, the engine stopped working and everything soon became coated in a mess of paper pulp. I only have my passport, some US dollars and one debit card with me — my credit card was washed out of my pocket while setting an anchor in the 'washing machine' conditions.
"I have had my hands full dealing with the situation on the beach, with my poor Spanish not helping, but a kindly Acapulco family have taken me under their wing, for which I'm very grateful. I shall be helping Skip on Annamarina, also headed for San Francisco, up the coast, and he's let me load my personal gear onto his boat. I'm finding it difficult to come to terms with the situation, as you can imagine, feeling only half here — the other half still being with the beloved Nereida I knew."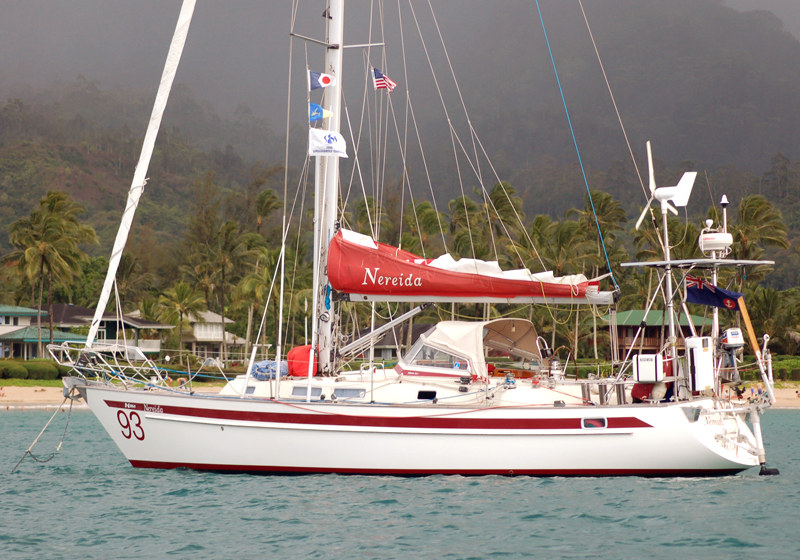 Patrick Whitmarsh, Kevin Richards and Joe Penrod won the inaugural American Sailing League Championship off Pier 39, and with it a check for $10,000. The trio sailed Team Harken to a convincing win that saw them take the last five qualifying races leading up to the one championship race sailed for all the marbles Sunday afternoon in strengthening breeze into the low 20s. The event featured the 18-footers, as well as an exhibition event for junior sailors in 29ers picking their way through all the traffic in that busy part of the Bay.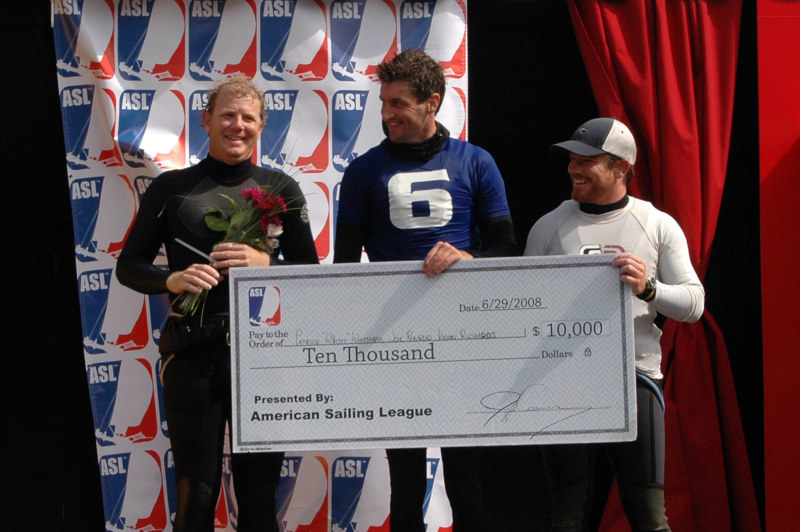 Although five boats lined up for the weekend's racing, only four made it to the start of the championship race when Archie Massey's Team Cabot Cheese broke its prod prior to the penultimate qualifying race. Then, before the sequence for the championship race, the field of four was further reduced when SwitchTeam capsized, shredding its main in the process.
That left Chad Freitas' skiffsailing.org, Team Harken and Team Natural Blues to fight it out for the $10,000. skiffsailing.org took the start of the race and worked inside to escape the flood, rounding the top mark in first, a lead they would hold for the next three legs of the four-lap course. Team Harken kept it close, gradually making gains on each successive leg before slipping inside the leaders at the second leeward mark rounding. Coming back up to the starting gate, which also functioned as a limiting gate to keep the boats close to the spectators on Pier 39, the two boats were deadlocked. skiffsailing.org kept to their inside avoid-the-flood strategy, while Team Harken punched out toward Alcatraz. When they met again at the weather mark, Team Harken crossed 4-5 boatlengths ahead and never relinquished their lead.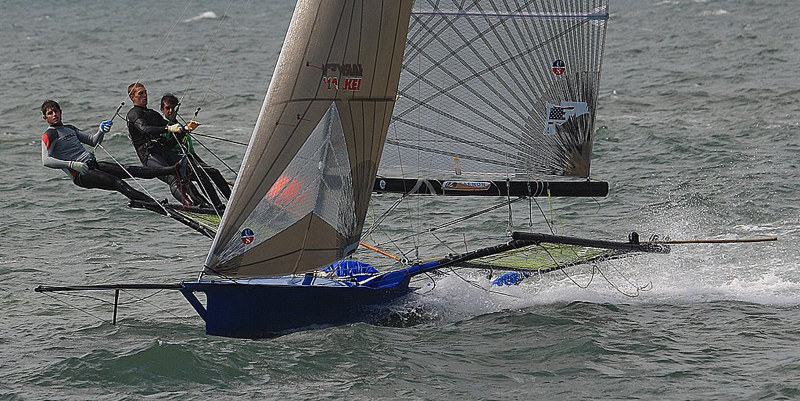 Between receiving a ceremonial prize check on the stage at the end of Pier 39 and signing t-shirts, the team members gave their thoughts on the event. Whitmarsh, a bookkeeper at Quint P.R. in Redwood City by day, who's sailed the boats in Australia before, was excited about the event's prospects. "I think it could be really fun in the future if it gets going," he said. Penrod, an Alameda County Public Defender, said the prize money will be going back into the Skiff Sailing Foundation with which almost all the competitors have some affiliation, including the 29er teams. "It was really cool to have the kids out there on the 29ers — they're the next generation." Richards, a Civil Engineer specializing in water issues for the East Bay Municipal Utilities District added that the money would either go for new equipment or a trip to Australia to match up against the best 18-ft skiff programs.
With two title sponsors — Cabot Cheese and Switch Clothing — a VIP lounge, announcers, and good pace to the schedule of events, organizers Jeff Causey and Tom Loughborough, plus the 30 volunteers they had working for them put together a pretty remarkable first go and seemed to have the logistics nailed down. Time will tell if the American Sailing League will turn into something with staying power.
Entries for the 'Fabulous Fifteen' Baja Ha-Ha have been pouring in since we decided to 'tip-toe' into the 21st century by offering online sign-ups at www.baja-haha.com. If you're still happily working your way through the last century, you can also sign up the old-fashioned way — see the website or the June Latitude 38 for instructions.
Completed entries to date (#1-30 can be found here):
31 Kat Den Rie, Catalina 42 Mk II, Jay Watt, Alameda
32 Beyond, Darwin 37, Michael Kary, San Francisco
33 Folie A Deux, Newport 40 Offshore Eagle, Vinny Denietolis, Sausalito
34 Dragon's Toy, Island Packet 37, Tom Kohrs, Freeport
35 Current Affair, Catalina/Morgan 440, Dee Gilliland, Benicia
36 Pacifico, Irwin 45 Mk III, Dave Almond, Alamitos Bay
37 Silent Running, Jeanneau Sun Odyssey 45.2, Bruce Orisek, San Francisco
38 Eupsychia, Cal 36, David Addleman, Monterey
39 Suebee, Catalina 42 Mk II, Scott Rader, Sausalito
40 Bonkers, J-130, Keith Sedwick, San Francisco
41 Flyin' Penguin, Cal 2-46, Harold Miller, Bel Marin Keys
42 Daydreamer, 50-ft FD-12, John Olson, Anchorage, AK
43 Minnie Maru, Hunter 34, William Hinkle, Channel Islands
44 Yancey, Gulfstar 37, Joe Cardona, Ventura
45 Alias, Hylas 47, John Fluno, Santa Rosa
46 Sonrisa, Cheoy Lee 44, Fred Neilson, Lopez Island, WA
47 Alegria, Northwind 43 DS, Tom Egan, Redondo Beach
48 New Moon, Hunter 410, David Scott, Alameda
49 Anne's Turn, Hunter 41, Mike Warren, Sausalito
50 Deliverance, Hunter 41, Dan Swett, San Diego
51 Jules' Jewel, Hunter 50, Rich Corbett, Michigan City, IN
52 Rainshadow III, Liberty 55, Brian Flanders, Sequim, WA
53 Sea Escape, Catalina 42 Mk II, Joe H Cunningham, San Francisco
54 Alluvium, Jeanneau 47 Sun Odyssey, Sam Darbous, Seattle
55 Caloum, Ericson 38, Bruce Powell, Tiburon
56 Consigliare, Beneteau First 41s5, Mark Sciarretta, San Diego
57 WindSong, Catalina 42, Edward Staples, Channel Islands
58 Shenanigans, C&C 35.5, Dave Fiorito, San Francisco
59 The Rogue, Catalina 50, Chris Nizic, Gold Beach, OR
60 Merry Lee, Beneteau 473, Lewis Guiss, Marina del Rey
61 Albatross, Lien Hwa Seamaster 46, Doug Schneeman, Marina del Rey
62 Lilly, Beneteau First 47.7, Steve Thosath, Seattle, WA
63 Vitesse, Beneteau 473, Tom Price, San Francisco
64 Sheherezade, Yamaha 33.5, Noah Peffer, Los Angeles
65 Formula Won, Beneteau 473, James Schmid, San Diego
66 Waverley, Islander Freeport 41, Tom Dalgliesh, Seattle, WA
67 Star Fire, Islander 41, Bill Carneal, Marina del Rey
68 Mangareva, Dallimore 40.5, Mark Strong, Emeryville
69 Harmony, Irwin 37, Dean Tompkins, Creston, BC
70 Eclipse, Cross 34 trimaran, Daniel Bodie, San Diego
71 Andanzas, Catalina 42, Wally Nevins, Ventura
72 Wish, Gulfstar 47 Sailmaster, James Bruce, Jr., Vallejo
73 Allure, Kalic 40, Dennis Hilling, Seattle, WA
74 CaST Away, Tayana 42, Charles Tedrow, Coos Bay, OR
75 Miss Molly, Cascade 42, William Walters, Morro Bay
76 Kona Lani, Hunter 466, Lawrence Boyle, Alameda
77 Vela, Catalina 42, Chris Scott, Half Moon Bay
78 Roksan, Crealock 34, Marvin J. Fritts, Whidbey Island, WA
Receive emails when 'Lectronic Latitude is updated.
SUBSCRIBE