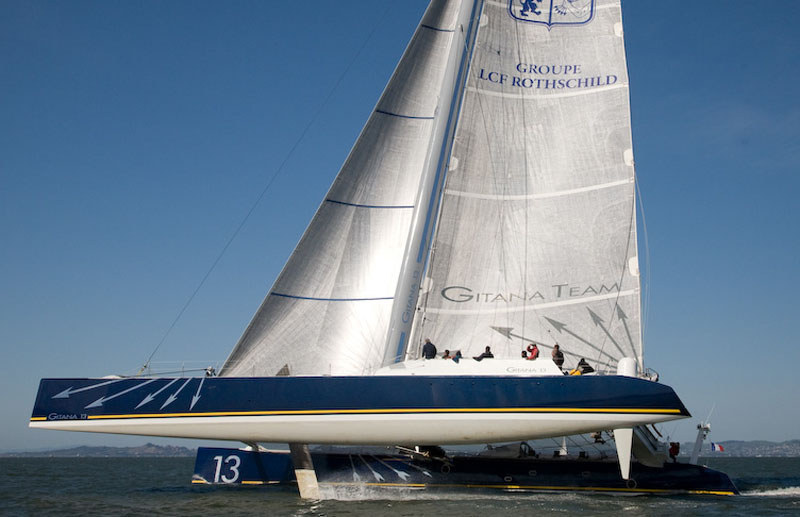 We used to think of the Bay as a big place. Until yesterday. That's when we learned that, with the right boat, the Bay is not very big at all. And we sure were aboard the right boat: Gitana 13, the 110-ft French catamaran that set a new 43-day record from New York to San Francisco just last month.
Since press junkets on giant multihulls aren't exactly something we deal with on a regular basis, we were as unsure of what to expect as everyone arriving at Corinthian YC for the shoreboat ride out to Gitana. Although the sun was out, clouds and even rain had been forecast — and worse, the Bay seemed devoid of wind. As it turned out, the day could not have been more perfect if we'd special ordered it. Under brilliant skies and about 8-10 knots of breeze, our 'two-hour tour' began.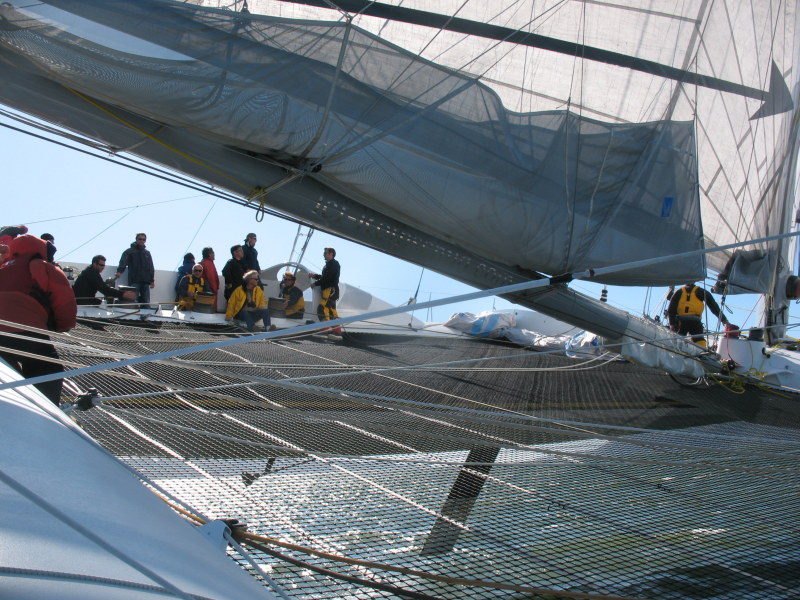 First we beat out the Gate and beyond Point Bonita in bumpy water and perhaps 15 knots of wind. The big boat didn't seem to like beating any more than any other boat, but she did it at wind speed or better. As impressive as that was, it hardly prepared us for when skipper Lionel Lemonchois turned around and cracked off. Gitana almost leapt out of the water, she accelerated so quickly — 20, 26, and a burst to 30! Holy s**t! Did we just see that? Did that just happen? It was all the more deceptive because the boat doesn't fuss much at speed. Did we just say "doesn't fuss?" Hey, the thing rides like it's on rails.
A jibe or three later — the boat carries so much apparent wind around with her they barely let the traveler down — we were under the Bay Bridge. Wait a minute: weren't we just out at Point Bonita, like, 20 minutes ago? Well, maybe 25.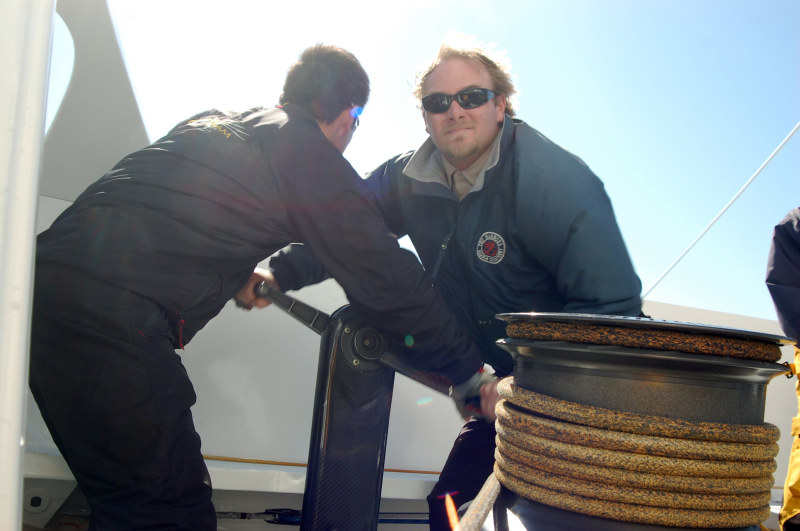 Turning back toward Tiburon, Lemonchois headed Gitana across the Slot. And just like that, we doing high 20s again — and flying ahull! On a 110-ft catamaran with 28 people aboard! And only 9 of them were crew and knew what they were doing! While the guests were whooping and hollering, the crew kind of smiled politely then continued their conversations with each other as though we were all sitting at the dock. And just in case someone missed it, the skipper fell off a bit and did it again, even higher and longer. It was like he was sailing a Hobie Cat. . . a really, really big Hobie Cat.
By 4:15 p.m., we were back on the dock. We'd done the equivalent of a 'Two Bridge Fiasco' — and sailed back to Tiburon — in a little more than 90 minutes. Even though we have the pictures to prove it, we're still pinching ourselves, just to make sure.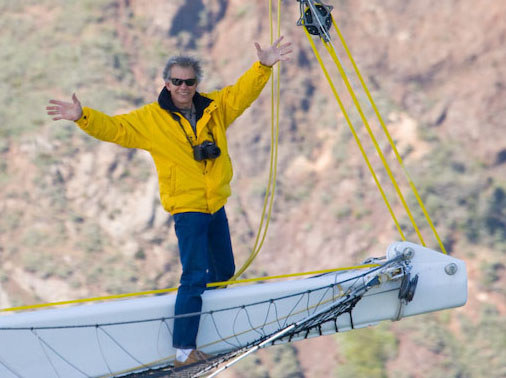 If all goes as planned, Gitana 13 will depart the Bay on Saturday for an attempt at the 4,482-mile San Francisco to Yokohama record, which was set in 2006 by the 110-ft French trimaran Geronimo: 14 days, 22 hours, 40 minutes. We will watch her go with a skip of the heart — like everyone who has an exciting but brief love affair.
Receive emails when 'Lectronic Latitude is updated.
SUBSCRIBE