Marina Nuevo Vallarta For Real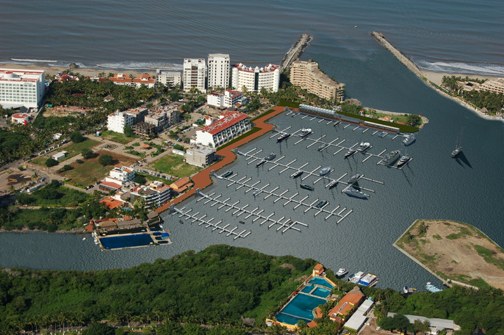 One of the most familiar consumer axioms is: When businesses compete, the customer wins.
Usually that's true, but when it comes to berthing at new marinas in Mexico, they don't always compete. Some marinas keep very high prices despite the fact that they have countless empty slips. We Americans don't understand this thinking. We figure they would be smarter to cut their prices in half and fill the marinas rather than lose out on the income that can't ever be recovered. And once the marina fills, the management can then jack up the prices. Mexican businessmen don't always see it that way.
But fortunately, some do. As such, we're pleased to announce that Marina Nuevo Vallarta, which was poorly designed from the outset and then was allowed to become a wreck, is starting to rebuild as a luxury marina — with prices that are close to 30% lower than their competitors.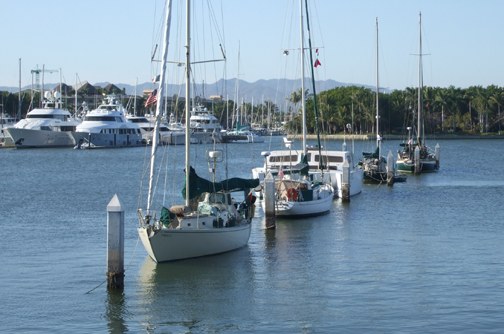 Marina Nuevo Vallarta is located about five miles north of Puerto Vallarta proper, and is just across the way from Paradise Marina. In fact, the two marinas share the channel in from the sea.
There are currently 88 boats in the marina, some nice, some not fit for sea. As for the slips . . . well, they were built about 15 years ago and were crap from the start. As if that wasn't bad enough, they were all 30-ft slips. They've been torn apart to accommodate boats mostly in the 40- to 60-ft range. It's a real mess — but cheap, at about one-third the price of other marinas.
Emilio Oyarzabal Garcia, a very nice fellow who is the Director General of the project and the son of one of the Monterey, Mexico-based partners, tells us they are tearing everything down and will be putting in a total of 230 slips. Of these, 65 will be less than 30 feet, while there will be 39 41-ft slips, 24 46-ft slips, 25 56-ft slips, and a bunch of larger ones.
Here's the good part. Oyarzabal tells us that slip fees for a 44-footer — the average size of boats in the Ha-Ha — will be just $649 a month, plus 15% tax. That's 25 to 30% less than the other marinas in the Bay. So, not only is Banderas Bay getting another 150 berths it didn't have before, the pricing is going to put pressure on some of the other marinas not to raise their prices much more — and who knows, maybe even lower them a bit.
Marina Nuevo Vallarta may not have as many on-site facilities as Paradise Marina, be as convenient to town as Marina Vallarta, or be located next to such a cool town as the Nayarit Marina, but we think that lots of cruisers — particularly commuter cruisers — will jump at the chance to get a big discount at a brand new luxury facility. One that is also going to have a fuel dock.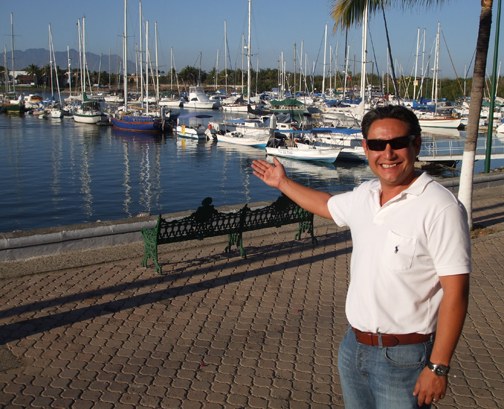 While Oyarzabal plans to be at the Ha-Ha kick-off party in October, you can make reservations right now by emailing him. During our visit with Emilio yesterday, he also told us that boatowners will soon be able to make reservations online "just like at a hotel."
If you're planning on coming to Banderas Bay next season, and particularly if you will be a commuter cruiser, we suggest you email Emilio immediately. One reason is because 190-berth Marina Paradise, despite Harbormaster Dick Markie's drive to accommodate as many boats as possible, was jammed this season. A second reason is that Marina Vallarta, with 350 berths, was also jammed all this season. A third reason is that Marina Riviera Nayarit is the most expensive marina on Banderas Bay.
Oyarzabal showed us the molds for the docks, which will soon be made by the same outfit that built all the docks for the Marina Riviera Nayarit. We're told that the marina will be done in two stages, with most of the larger slips to be done in time for the start of the next cruising season. We can't guarantee that will happen, but we have seen what lightning fast progress was made by the contractor at Marina Nayarit, and the folks at Nuevo Vallarta don't have to build a breakwater or even dredge. The whole marina won't be done by November, but we could see a bunch of the larger size slips being ready. If everything goes well, all the berths will be in a year from now.
Think of it, 550 new slips having been added to Banderas Bay over an 18-month period. It couldn't have happened in a better place. Better still — hundreds of boats can still anchor on the bay for free.
Receive emails when 'Lectronic Latitude is updated.
SUBSCRIBE