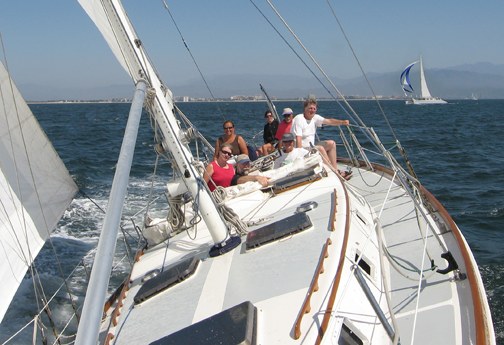 Twenty-five years after it was founded by Latitude 38, Sea of Cortez Sailing Week is soon to be revived, starting, appropriately enough, on April Fool's Day. Unlike the previous incarnation, the revived Sailing Week will intentionally be a much smaller event for those cruisers who like sailing as much or even more than socializing. For folks more into the social aspects of cruising, the Club Cruceros will be holding their La Paz Bay Fest the following week.
Patsy Verhoeven, skipper of the Gulfstar 50 Talion, formerly of Portland but now of La Paz, has been kind enough to put together provisional courses for four days of racing. There will be long and short courses for each day in recognition of the fact that Sea of Cortez winds are often light and/or fluky. Here is the tentative schedule:
April 1 — La Paz to Caleta Partida, with the length of the course being anywhere from 11.5 to 14 miles.
April 2 — Lay Day at Caleta Partida.
April 3 — Caleta Partida to Isla San Francisco, which could be anywhere from 16.5 to 20 miles.
April 4 — Lay Day at Isla San Francisco.
April 5 — Isla San Francisco to Caleta Partida, the distance once again being 16.5 or 20 miles.
April 6 — Caleta Partida back to La Paz, with an 'awards dinner' at some restaurant.
The schedule is subject to change. For example, if there's good wind on the 4th, we'll probably race back to Caleta Partida a day early and have the second lay day there.
This is a super casual event, so if you don't want to do the legs to and from Isla San Francisco, you can either cool your heels at Caleta Partida or leave your boat on the hook and sail with someone else.
There will be a pre-race skipper and crew meeting on the evening of March 31 at a restaurant to be announced. Listen to the La Paz VHF net that morning for details on which restaurant and what time it will start.
So far, about 15 skippers have announced their intention to participate. If you'd like to be included, please email Richard, listing your boat name, boat type, your name, and your hailing port. The entry fee will be the smiling faces of you and your crew. It goes without saying that this will be a 'no whining' event.
We'd like to make some T-shirts for the event but, as we'll be delivering Profligate from Banderas Bay to La Paz, need to find somebody who will be flying from the Bay Area to La Paz on the Friday, Saturday or Sunday before the start of the event to deliver them. If you fit that bill, please email Richard.
Receive emails when 'Lectronic Latitude is updated.
SUBSCRIBE