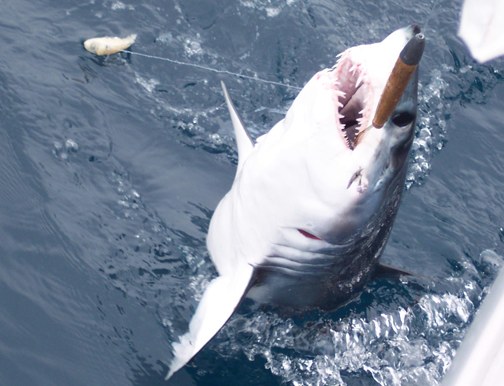 "You asked for sailors to send in photos of their catches while sailing," write Dennis and Sue Nespor of the Catalina 36 Serenity Now. "Well, we were trolling a cedar plug on the front side of Catalina when we hooked this mako shark. After seeing his choppers, we decided to cut the line and release him."
Rob Grant, our Racing Editor, who lived and worked at Catalina for a number of years, says it's a very good thing to release makos. "They're an apex predator, meaning they're at the top of the food chain and responsible for keeping the populations of their prey in balance. The females give birth to live babies after a gestation period of up to 18 months, then typically take a break long before having another go, so they don't reproduce quickly. Their acrobatic prowess — they've been known to leap more than 20 feet out of the water and 'tail walk' for distances of more than 30 yards — and tasty flesh make them popular targets for recreational fisherman hunting 'trophy' fish. Female makos grow much larger than males — specimens over 1,000 lbs have been taken in the Southern California bight, an important pupping ground for the sharks — and are typically more targeted as a result, so many mako tournaments have added 'catch and release' divisions to help preserve the resource. Mako sharks are extremely dangerous, especially if brought boatside while still 'green', and should be handled cautiously. Realistically, a cruiser prepared only for casual fishing shouldn't try to land one of these majestic animals — any small enough to consider taking deserve a chance to grow bigger and reproduce."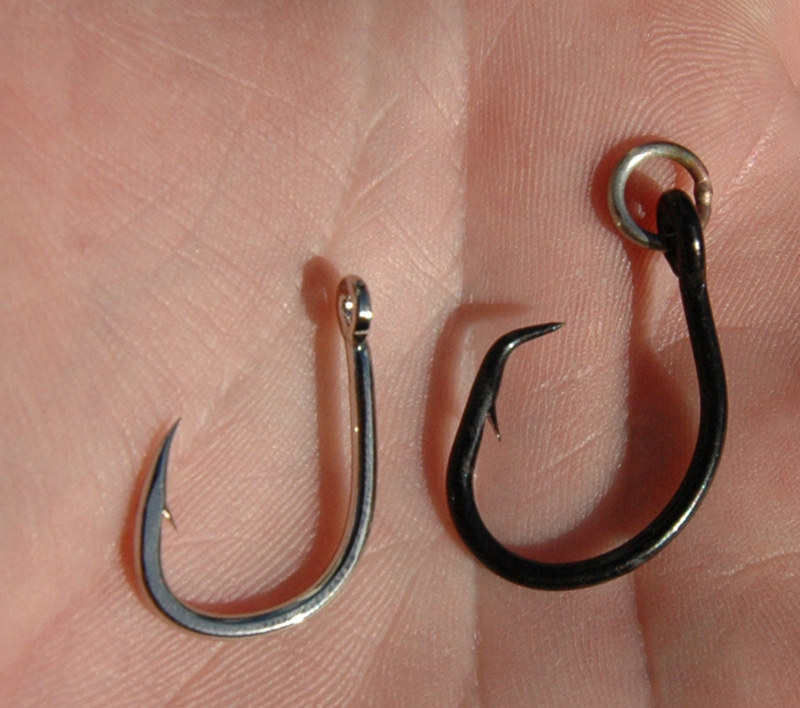 Dennis and Sue made a good choice by letting this guy or girl go. You can help make sure any fish you've released has a better chance of survival by making a few simple choices: 1) Use 'circle' hooks — these hooks are shaped as their name suggests, which means that it's more likely to get lodged in the fish's jaw instead of tearing up its insides like a 'J' shaped hook; 2) Don't use stainless steel hooks — in case you have to leave one in a fish you've released, a plated or galvanized mild-steel hook will dissolve faster in the saltwater, allowing the fish to get back to eating sooner; 3) Cut the line as close as possible to the hook if you can't remove it without injuring yourself or the fish — it'll be more likely to function like it would without the new facial jewelry!
Receive emails when 'Lectronic Latitude is updated.
SUBSCRIBE