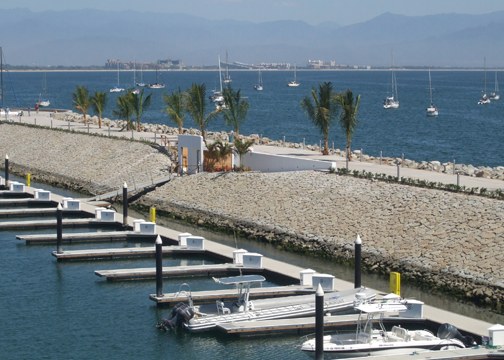 La Cruz de Huanacaxtle, the wonderfully funky and authentic Mexico town on Banderas Bay about 10 miles to the north of Puerto Vallarta, has been a cruiser favorite for as long as we've been going there — and we started in the late '70s. You could anchor out for free, there was a little breakwater that offered protection for landing your dinghy on the garbage strewn beach, and the town was great.
La Cruz changed surprisingly little until about 18 months ago, at which point work commenced on the Marina Riviera Nayarit (aka La Cruz Marina). This was a much needed facility for mariners, because the other marinas in the bay — Paradise Village Marina, Nuevo Vallarta Marina, and Marina Vallarta — are perpetually packed in the high season. It's also been seen as a much needed economic engine for the little town and, indeed, there has been tremendous investment in the area in just the last year. Many long term jobs are being created.
There are three partners in the marina, and it's our understanding that the majority stake is owned by an American. From the outset, there was no question that the owners of the 400-berth marina were looking to attract high end boat owners. The majority of slips were large — 50 to 70 feet — with an unusually high number of them in the 100 to 400-ft range.
And the slips aren't cheap. The 'Opening Discount Rate' is 72 cents a foot per day, 68 cents a foot per week, or 65 cents a foot per month. For a 44-footer, which is the average size of a Ha-Ha boat, that's just under $1,000 a month. Ouch!!!
Who knows, from strictly a business sense, it may be hard to fault the marina management. It cost a heck of a lot of money to build the marina, and real estate prices in what's now being called the Nayarit Riviera — basically from Paradise Marina to the tip of the bay and then all the way up past Sayulita to San Pancho and Chacala — have exploded in value. In this 30 or so miles of coastline, it's now hard to find a waterfront condo for under a million, and there are hundreds of estates that exist or are being developed in the $5 to $10 million range.
When the marina opened in November, things were pretty cool. Many of the Ha-Ha boats took advantage of even greater introductory discounts and moved in. As for budget cruisers and/or those who didn't want to pay for a slip, they could come in and tie up their dinghy for a fee of $3 a day. Dinghy fees of $1 to $3 a day are not uncommon. And this has been a banner year for boats anchored off La Cruz. The other day we counted 64 boats anchored right off the marina, up significantly from years past.
But in the last month, relations between the anchor-outs and marina have soured. It occured when the marina raised the dinghy docking fee to $10 — and that's not per day, but each time a cruiser brought their dinghy in. Anchored out cruisers suddenly curtailed their visits — including to the marina's new restaurant that overlooks the facility.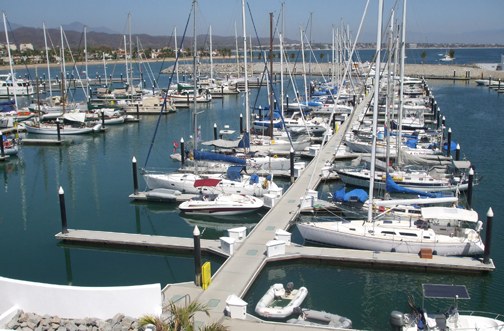 Aware of the grousing by cruisers, we had lunch with Marina Manager Christian Mancebo two days ago to discuss the situation. We consider Christian to be a friend, and he gave it to us straight — the new $10 per time fee is something that was voted in by the board of directors. As Manager, Christian's job is not to question such policies, but to implement them.
To many cruisers, it's a puzzling move. For while the marina now has more than 100 berths ready for boats, it's almost empty — except for mostly Ha-Ha boats that have been there since it opened. Based on what we can see, nobody has left packed Paradise Marina or Vallarta Marina for the Nayarit Marina. Cruisers wonder why the management doesn't do what Marina Costa Baja did a few years ago in La Paz. They let cruisers in for low or very low fees to fill it up, then gradually raised the prices. Costa Baja is now packed. For whatever reason, the folks at Nayarit Marina haven't wanted to do that. Indeed, the $10 per visit fee makes most cruisers think the marina is trying to stick it to them.
Right now, cruisers do have an option, which is basically a variation of what they always did before the marina was put in. They land their dinghy just outside of the breakwater, then walk over to Anna Banana's or up to Philo's Music Studio, Bar and Restaurant. Both offer inexpensive food and drinks, and at Philo's you can get a hot shower for a buck. The big worry is that the marina will prevent them from walking across their property.
The impression that the marina wants to stick it to cruisers has angered many of them into wanting to take action. Several have told us they intend to organize cruisers and the many local businesses who depend on their patronage to protest the actions of the marina. We're not sure if they are just planning to take a petition to the local government or do something more radical, like a temporary blockade of the marina to gain publicity. They probably don't even know yet.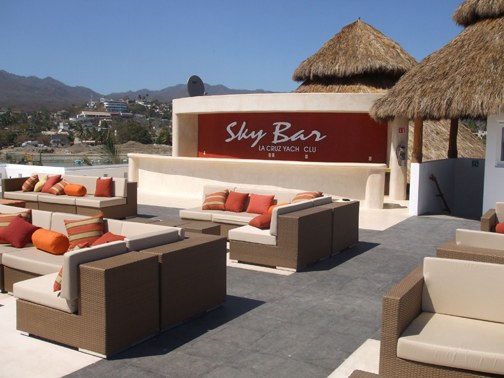 We see this as a very unfortunate situation for everyone, and hope it can be resolved. If, for some reason, La Cruz was no longer a viable anchorage for cruisers, they would always have the option of anchoring at Punta Mita. But it would be terrible for both cruisers to lose La Cruz and for La Cruz merchants to lose the cruiser business. Who knows, maybe one of the panga fishermen who has the rights to a berth in the marina can start a ferry service between the shore and the anchored out boats. That would be great.
In another Marina Riviera Nayarit issue, both cruisers and the marina need to do a better job with an entrance channel. We came in after dark about a week ago, and it was very difficult and dangerous to thread our way through the boats, many of which were hard to see through the background lights. In addition, we're told that the port captain is having to come out almost daily and make boats re-anchor out of the way. But it would also be a huge help if the marina installed channel markers that went further out.
Receive emails when 'Lectronic Latitude is updated.
SUBSCRIBE