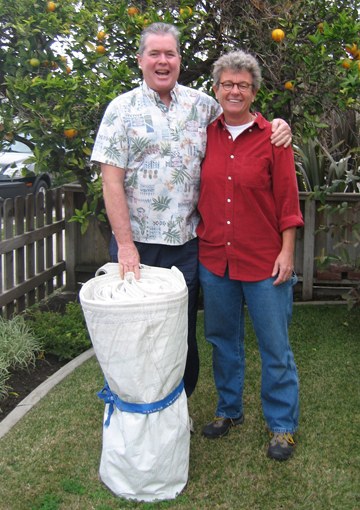 Not 12 hours after we published a notice in 'Lectronic saying that Liz Clark of the Santa Barbara-based Cal 40 Swell, who is on a sailing/surfing safari in the Pacific, was in dire need of a low cost or no cost headsail, did Holly Scott of Seal Beach respond.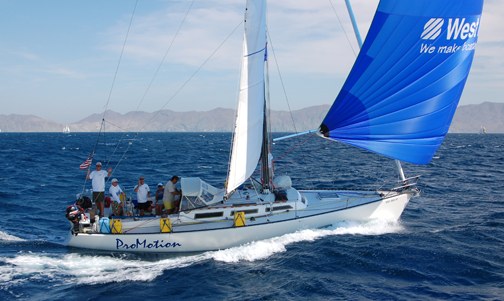 Holly, who works for West Marine and, in fact, was the skipper of their SC 40 Promotion in the last Baja Ha-Ha, bought the Cal 40 Mahalo year ago, and the boat came with some used headsails. Knowing that what goes around comes around, Holly was more than happy to donate the sail to Liz's cause.
"Liz's father Russ drove up from San Diego to pick up my old North genny," writes Holly. "I'd never hoisted the sail, as I'd had a new one built. Even though it's been restitched, I'm sure it will give Liz several years of good service. The next hurdle is getting the sail to Liz at Christmas Island, but I'm really delighted to pass the sail on to her."
The ever ebullient Liz, with 800 miles left on her singlehanded passage from the Tuamotus to Kiribati, was most grateful:
"Although I would much rather give you a huge 'thank you' hug for your incredible generosity, an email of gratitude will have to suffice as I am currently in the middle of the Pacific. Knowing about your gift, it's no longer as painful to look up at the patchwork of dacron tape and stitching on my current headsail, as that dear workhorse will soon get the retirement she deserves. I cannot thank you enough. If you ever have any questions in regards to re-fitting or nearly anything Cal 40 related, I probably dealt with it during my jam-packed two-year refit, and I would be happy to share any of my knowledge with you.
– Liz Clark and Swell
En route to Christmas Island from the Tuamoutus atolls: S 9 48′ W 148 24'"
Receive emails when 'Lectronic Latitude is updated.
SUBSCRIBE