Francis Joyon's trip up the Atlantic Ocean so far has been anything but an easy home stretch for his non-stop solo round-the-world record attempt. After battling the South Atlantic high, which whittled his pace down to as little as 139 miles one day, Joyon once again seemed to be reeling in the miles toward the finish off Brest, France. Pausing only to raise his daggerboard to avoid catching the line of the equator while crossing into the Northern Hemisphere, Joyon had bettered record-holder Dame Ellen MacArthur's pace to that point by 12.5 days. But after a draining night fighting through the doldrums, a failed gennaker halyard forced Joyon to climb IDEC's rig.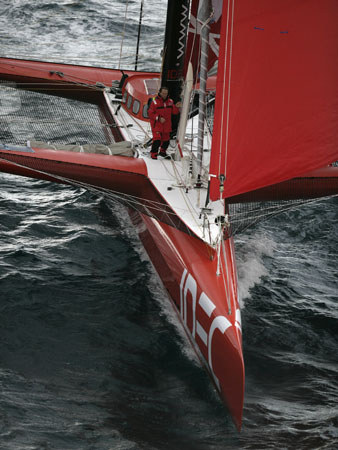 That broken halyard may have saved his record attempt because when he reached the top of the rig, Joyon noticed that the starboard cap-shroud terminal was working loose from the mast, threatening to dismast IDEC. To prevent the rig from toppling in the confused seaway, Joyon descended, tucked in three reefs and changed to a small jib before heading back up the rig to try and stabilize the the shroud terminal. On the second ascent, he took a beating.
"The boat was moving so much at the time of my second climb, I injured my ankle," he relayed, now waiting for the Northeasterly trades to settle the sea state. "I'm taking time to recover and think of a solution."
For now, he's using the gennaker halyard as a back-up shroud, but will need a more permanent fix in order to carry more sail and let his 97-ft trimaran IDEC stretch her legs. He is in contact with his shore team who are attempting to devise a fix that can be implemented with the minimal tools and materials onboard. Unless Joyon and his team can find a way to make a repair that will allow him to carry more sail, he might need all of that lead over MacArthur to reclaim the record, or simply get home intact. Stay tuned . . .
Receive emails when 'Lectronic Latitude is updated.
SUBSCRIBE