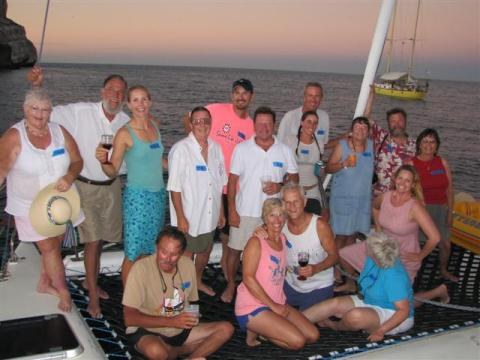 Just as extended families all over America travel long distances to be together for Thanksgiving, extended members of the cruising 'family'- who have already traveled long distances – also come together to celebrate this American holiday. In Mexico, the largest gatherings are in Mazatlan, La Paz and PV. But there are also smaller rendezvous in more out-of-the way places. Like Isla Isabella, where this photo was taken.
The folks in the photo represent six boats — Snow Goose, Capricorn Cat, Solstice, Eupsychia, La Sirena and Endless Summer. Some were recent participants in the Baja Ha-Ha cruiser's rally; some were new friends made since the Ha-Ha, which ended in Cabo on November 10. The sailors ranged in age from 22-year-old Heather Corsaro of Eupsychia to 70-year-old Lynn Bolkar of Endless Summer.
"Dinner consisted of fish and enchiladas, fish and crab, fish and fish — and more fish," writes Cherie Sogsti. There were also lots of other goodies, and one conspicious absence: "The only thing we didn't have was turkey!
But of course Thanksgiving isn't all about food. At sunset, the crews of all six boats gathered at the bow of Capricorn Cat and, one by one, each person voiced what they were most thankful for. Subjects ranged from health (beating cancer) to "watermakers that finally worked." As a group, all were grateful for this very special Thanksgiving, celebrated under warm, star-studded skies while living the cruising dream.
Together for Thanksgiving 2007 were: (Snow Goose – Mapleleaf 50) Mike McIntyre, Greg Retkowski, Cherie Sogsti; (Capricorn Cat – Hughes 45 catamaran) Wayne Hendryx, Carol Baggerly, Mary Forrest; (Solstice – Sceptre 41) John Forbes, Shirlee Smith, Martha Marie, Marzen the dog; (Eupsychia – Cal 36) David Addleman, Heather Corsaro; (La Sirena – Gaff schooner) Glenn Burch, Rick Laska; (Endless Summer – ferrocement ketch) Deloris & Lynn Bolkar, Steven & Jayce Fowler.
America's Cup Management has announced that, because of the legal squabble with the BMW Oracle Challenge from the Golden Gate YC, the 33rd America's Cup has been postponed from the original date of 2009 in Valencia. However, boats that want to participate in the 33rd Cup still have to sign up by December 15.
But what happens if BMW Oracle wins their case in the New York courts? It would seem — but isn't certain because the combatants could still make another agreement — that BMW Oracle and Alinghi would square off in 90-ft trimarans. We know we're in the minority, but all we want for Christmas is for Alinghi and BMW Oracle to go at each other in the 90-ft trimarans.
If the off-the-water battles for the America's Cup disgust you, there is an antidote, and it's Frenchman Francis Joyon, who today started his assault on the solo around the world record of 71 days, 14 hours and 18 minutes. That record was set by Ellen MacArthur — who claims that she still hasn't recovered from the effort it took — with the trimaran B&Q/Castorama.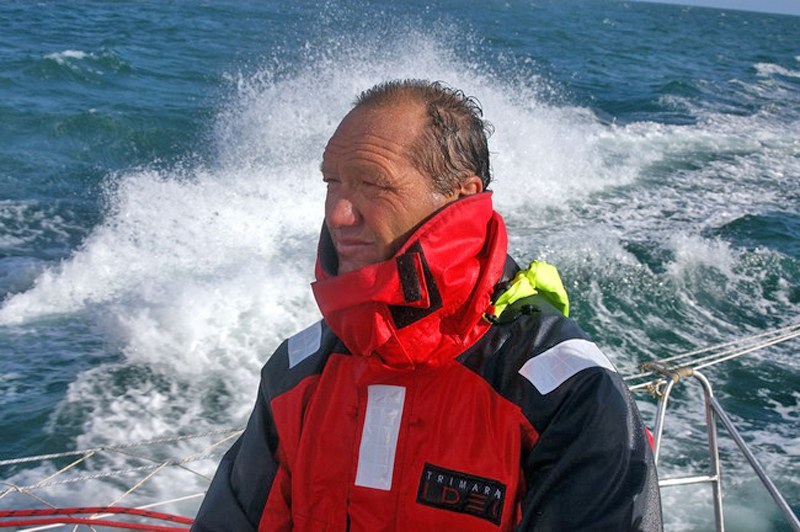 Joyon, who will be going after the record with his new 100-ft Irens/Caberet trimaran IDEC II, is a sailor's sailor. In 2004, using Bruno de Kersauson's hand-me-town 92-ft trimaran Sport Elec, he knocked an astonishing 20 days off the solo around the world record. To put it in greater perspective, without the aid of a weather router, and using 10-year-old sails, Joyon came within 24 hours of beating the old crewed around the world record set with the same trimaran. It was his solo record that MacArthur nipped by a small margin.
The following July, Joyon beat the 11-year-old TransAtlantic record, setting a 24 hour record of 543 miles in the process. Tragically, he lost the boat a few hours later, driving her on the rocks of France after falling asleep.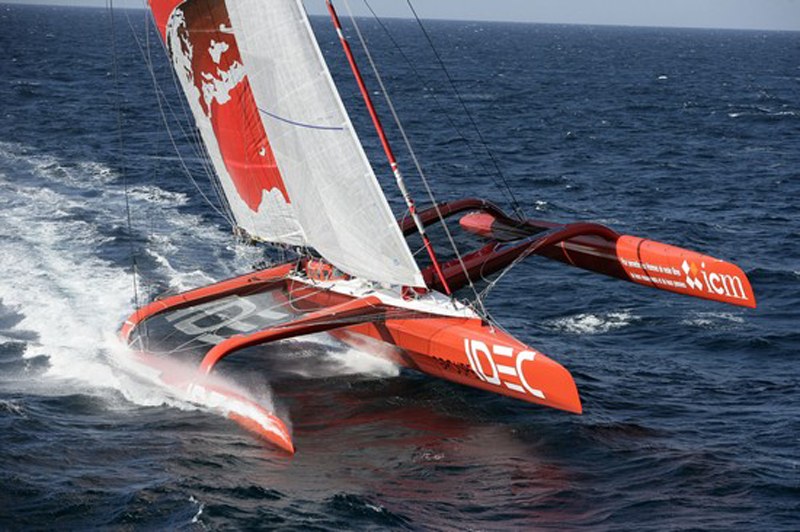 Looking for a heroic figure in sailing? Look no further than the 57-year-old Joyon. You can follow his assault on the record at http://www.trimaran-idec.com — although there is no English translation.
Receive emails when 'Lectronic Latitude is updated.
SUBSCRIBE