The Delta: Northern California's Inland Cruising Destination
April 1
Mad Hatter's Tea Party, Rio Vista Museum, 11:30 a.m. Raffle prizes, photo booth, games, food. Tickets: Renee, (707) 374-2455 or purchase at Rio Vista Muffler. Info: Nora, (707) 334-6191.
Opening Day Parade, Discovery Yacht Club, Discovery Bay.
April 8
Lions Club Easter Egg Hunt, Wilson Park, Isleton, 9 a.m.
April 9
Easter Brunch, Lucy's, downtown Rio Vista, 9 a.m.-3 p.m.
April 11-12
California Boating Congress, Hyatt Regency, Sacramento. Friday evening welcome reception; main event all day Saturday.
April 15
Opening Day, Stockton Yacht Club. Parade, 1 p.m. Wild West on the Delta theme. Western hoedown and dinner following the parade. $20 parade registration; all proceeds go to charity. TGIF dinner on Friday night too. (209) 946-9259 or Jill, (916) 847-8959.
April 17
Sip n Dip Paint Night, the Flamingo Lounge, downtown Rio Vista, 4-7 p.m. $40 includes three well drinks and light snacks. Reserve your spot, only 20 available, (707) 374-2473.
April 22
Opening Day on the Delta, San Joaquin Yacht Club, Bethel Island, noon. All floating craft welcome. Theme: Board Games. Boat blessing. Cash prizes and awards for decorated boats. No registration fee. Dinner & dancing. Sherry, (925) 766-0690.
May 5
Cinco de Mayo, Windmill Cove, Stockton. (209) 938-9192.
May 7
Spring Sunday Market, Delta Bay, Isleton, 10 a.m.-2 p.m. Mother's Day theme. Live entertainment, food vendors, a beer tent, arts & craft, fresh organic produce and locally grown flowers by Silo Farm Organics. Food by Taqueria Mexico.
Opening Day, Sacramento Yacht Club, West Sacramento.
May 13
Asian Pacific Spring Festival, Locke, 11 a.m.-5 p.m. Lion dance, martial arts, taiko drums, dance, music, tea ceremony, brush painting, arts & crafts, food, more. Free admission; free parking. (916) 776-1684.
May 19-21
Stockton Flavor Fest, Weber Point Events Center. Regional cuisine, food trucks, local makers, merchants, cultural performances, singer-songwriters, live music,  family entertainment, STEM activity tent, arts workshops, art demos. To arrive by boat, contact Stockton Downtown Marina, (209) 462-4200.
Save the Date!
May 13
Isleton's 100th Anniversary.
June 3
Delta Ditch Run, Richmond Yacht Club to Stockton Sailing Club. Race or cruise your sailboat.
June 17-18
Crawdad Festival, Main St., Isleton, 10 a.m.-8 p.m. Zydeco, Cajun, blues, and Louisiana-based rock music. Live entertainment, dance contest, activities, crawdads, international food, desserts, adult beverages, Kids' Zone, vendors, Second Line New Orleans parade, raffles, custom car show. Admission $10-$25; kids under 12 free.
June 24
23rd Annual Summer Sailstice celebration of sailing. Sign up here.
July 4
Hilton Fireworks Celebration, Mandeville. Patriots Jet Team will perform an air show. Fireworks at sunset.
July 21-23
Jazz & Wine Festival Weekend, Ebony Boat Club, Stockton.
August 5
20th Taste of the Delta, Windmill Cove, Stockton, 1-4 p.m. Delta wineries, breweries, restaurants and food vendors, live music, auction.
To get an event added to this calendar, please email the Webmistress.
Resources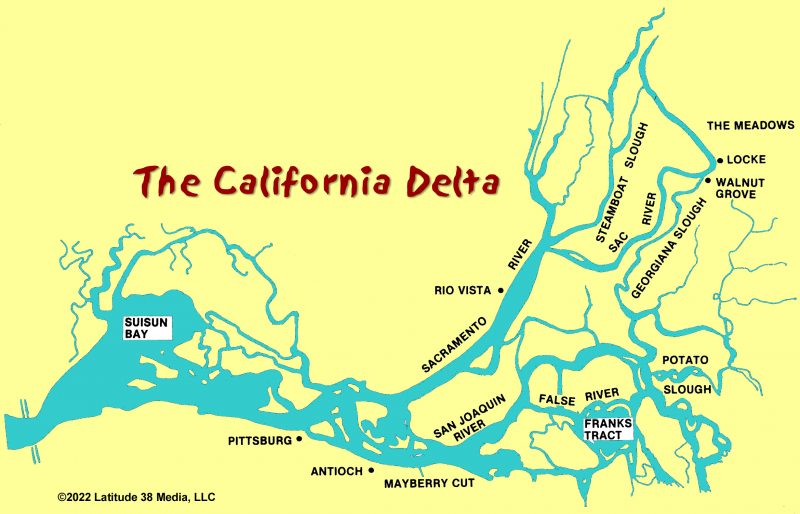 Visit Latitude 38's Boat-in Dining page for a comprehensive list of Delta and Bay Area dining destinations accessible from the water.