The Delta: Northern California's Inland Cruising Destination
December 3
Small Business Holiday Market, Downtown Rio Vista. Market indoors at 45 Main St., 10 a.m.-6 p.m. Food trucks all day. Delta Drifters Car Club toy drive next to City Hall, 9 a.m.-2 p.m. Live music, 1 p.m. Caroling, 4 p.m., Main St. Santa and tree lighting, 5:30 p.m. Delta Marina Lighted Boat Parade, 6 p.m. Vendor fee, $40. Chamber of Commerce, (707) 374-2700.
Holiday Market, 14138 Market St., Walnut Grove, 10 a.m.-5 p.m. Crafts, local art, gifts, home decor, vintage clothes, sweets. Free admission. (916) 776-1111.
Lynn Hahn Delta Reflections Lighted Boat Parade, San Joaquin River, Stockton, 5 p.m. Windmill Cove-Weber Point-Light 39. Organized by Stockton Yacht Club. Entry fee $25 donation to charity.
December 3-4
Old Tyme Christmas Faire, Rio Vista Museum. 10 a.m.-6 p.m. Saturday; 11 a.m.-4:30 p.m. Sunday. Handcrafted gifts, bake sale, raffle.
December 6
Delta Tunnel Draft Environmental Impact Report Public Comment Session, Willow Ballroom, Hood, 4-5:30 p.m. The Delta Legislative Caucus and Delta Counties Coalition are hosting an in-person session in the Delta to collect comments on the Delta Conveyance Project (also known as the Delta Tunnel) Draft EIR.
December 10
Lighted Boat Parade, San Joaquin Yacht Club, Bethel Island. Santa and Mrs. Claus arrive at 4:30; the parade and dinner will start at 5 p.m. Parade route circumnavigates the island. $300 prize for best decorated boat. Bring a child and a wrapped gift for Santa to give to them. To participate, call SJYC at (925) 766-0690 or fleet captain Gio, (925) 262-6166.
Lighted Boat Parade, Oxbow Marina, Georgiana Slough, Isleton. Skippers' meeting, 5:30 p.m., at the Oxbow Marina guest dock.
Santa Pub Crawl, Rio Vista.  The Point, 6 p.m., Best Mrs. Claus Costume. The Moose Lodge, 7 p.m., Best Christmas Couple. Lucy's Cafe, 8 p.m., Best Elf Costume Contest, Christmas shots, $7 holiday happy hour appetizers. Ben's Friends, 9 p.m., Best Grinch Costume Contest; decorate your own cookie, prize for best; $5 fig & goat cheese pizza rolls, $5 Crangia. Foster's Big Horn, 10 p.m., Best Ugly Sweater Contest, spiked Noel. The Flamingo, 11 p.m., Best Santa Costume Contest; candy cane martinis; $5 tickets to win a 43" TV; $1 off any one drink with an unwrapped toy.
December 11
Posada Navideña Holiday Market, Park Delta Bay Clubhouse, Isleton Loop, noon-4 p.m. A celebration of Mexican heritage in the Delta. Arts & crafts, collectibles, linens, glassware, Friends of the Library book sale, organic produce. Live music from Randy Carey, a piñata for the kids, food from Taqueria de Mexico. Bring a new unwrapped toy for Toys for Tots, to be collected by the River Delta Fire District. Corinne, (816) 520-9152.
December 31
New Year's Eve Celebration, Rusty Porthole, Bethel Island. (925) 684-3607.
New Year's Party, Windmill Cove, Stockton.
January 7
USCG Boat America Class, Benicia Yacht Club (in person), 8:30 a.m.-5:30 p.m. Certificate of Completion satisfies CA Boater Card requirement. Bring lunch or purchase on-site. $40 includes all materials. Text or call Margie, (925) 768-1608.
To get an event added to this calendar, please email the Webmistress.
Resources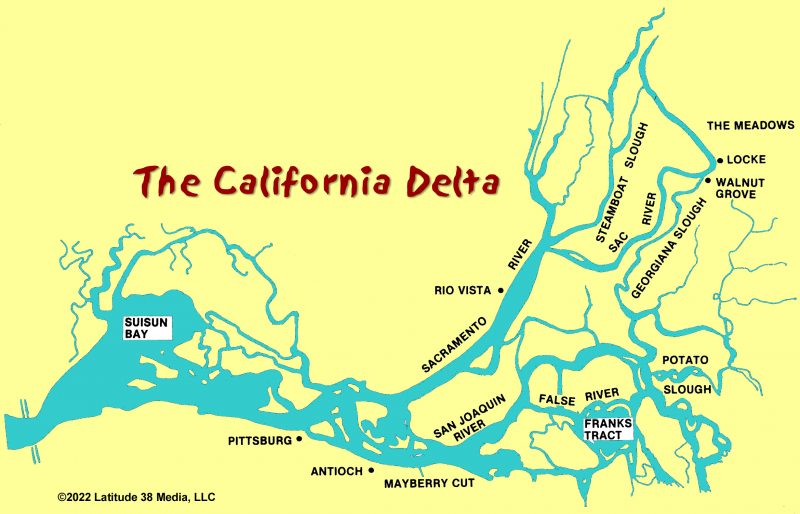 Visit Latitude 38's Boat-in Dining page for a comprehensive list of Delta and Bay Area dining destinations accessible from the water.