Yachties to the Rescue in the South Pacific
It was yachties to the rescue after the 50-ft Danish ketch Gwendoline M hit a submerged object and started sinking in the South Pacific on Tuesday. The two people on board, owners Kim and Lene Egtved, put out a mayday after hitting the unidentified object 50 miles west of Niue Island about 5 p.m. local time. The extent or location of the damage to the steel-hulled boat was unclear, although a translation of their Facebook post notes that they "lost the helm," which may indicate rudder damage or loss. At any rate, the couple, who were apparently in the last stages of a four-year cruise,  reported that water was coming in faster than they could pump it out. They put out the mayday about 6:15 and indicated they were going to launch their liferaft and abandon the yacht.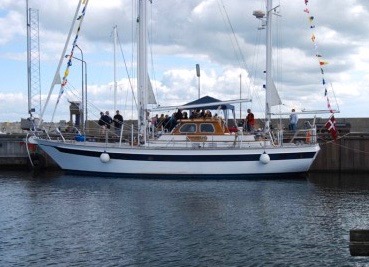 The Greek yacht Filizi and the New Zealand yacht Inspire (no sizes, types or crew details known yet) were both about 10 miles away, and both responded to the mayday and rushed to the scene. Filizi apparently arrived first, picking Lene and Kim out of their liferaft about 8:45 p.m. Inspire, acting as the radio link, advised Rescue Coordination Centre New Zealand (RCCNZ) that at that time, Gwendoline M was still afloat but settling very low in the water.
The two yachts are proceeding to Tonga (about 375 miles southwest of Niue) in company with each other. They are due to arrive about midday today. A doff of the hat from across the sea to the yachts Filizi and Inspire for upholding the finest tradition of the sea — rescuing fellow mariners in distress.
This report was based on accounts in the New Zealand Herald and the online Danish sailing site Minbaad.dk.
Receive emails when 'Lectronic Latitude is updated.
SUBSCRIBE