Will There Be a 2019 SoCal Ta-Ta?
It's all up to you.
The SoCal Ta-Ta (aka 'Reggae Pon Da Ocean') is a week-long 'lite' version of the Baja Ha-Ha that we've run four times before with anywhere from 20 to 40 boats. A lot of sailors, including a number of repeat participants, are asking if we'll be doing one again this year. Indeed, there is already a group of five skippers from Long Beach who say they are itching to sign up.
We, meaning the Grand Poobah and Doña de Mallorca, will be doing the course again no matter what because it's such a great one. If there is enough interest, which we classify as 30 paid entries, we'll be happy to put it together as an official event.
The possible dates are either September 8 to the 14, or September 15 to 21.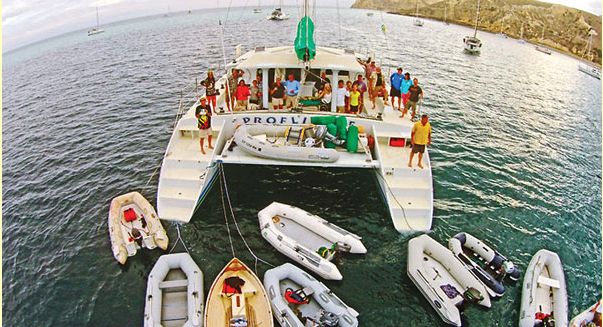 The event would start in beautiful Santa Barbara, where, in the past, we've been able to get berth reservations for everyone in the fleet. We'd have a kick-off dinner and swag distribution either on the beach at the Santa Barbara YC or at a local restaurant.
On Monday morning we'd sail across the Channel to an anchorage at Santa Cruz Island, where we would spend both Monday and Tuesday night. It's a lovely island with great beachcombing and hiking. There would also be sundowner gatherings aboard the 63-ft mothership Profligate.
In the past we've been able to get free berths for everyone on Wednesday night at Vintage Marina Partners in Channel Islands Harbor, where we've had great BBQs. As the folks who run that marina have done such a good job filling slips, we sort of doubt we'd be able to get free berths for everyone again. But you never know, and we think we could find room somewhere in the harbor for everyone.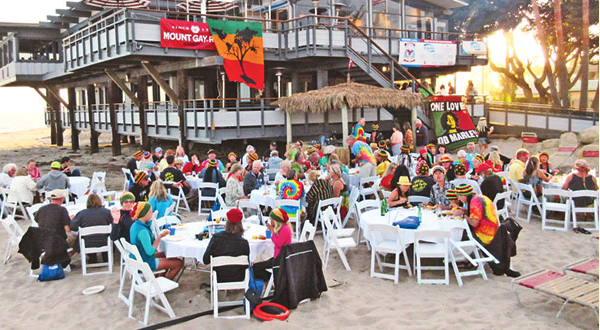 Thursday would be the sail to the Paradise Cove anchorage and overnight there.
Friday is the longest sail of the event, 33 miles, across to Two Harbors, Catalina. In the four Ta-Ta's to date, we've had four fabulous channel crossings, in almost ideal conditions. Once at Two Harbors, people could either anchor or arrange for a mooring. Friday night would be an open night, with most folks going ashore for that special Two Harbor's ambience.
The award's party — everyone gets an award in the Ta-Ta — would be on Saturday night, when we'd be having a potluck and slide show of the event.
While nothing can be guaranteed at any specific time, September weather in Southern California is usually the best of the year. What's more, the Ta-Ta course offers the most fun sailing course in Southern California. No upwind sailing for us, and no whining, although the use of motors is allowed whenever you feel like it. Part of the fun is that we'd have daily roll calls and weather reports, and everybody would get to meet one another during sundowners on Profligate. And don't forget, you'd be allowed to talk like a rasta man or rasta woman all you want.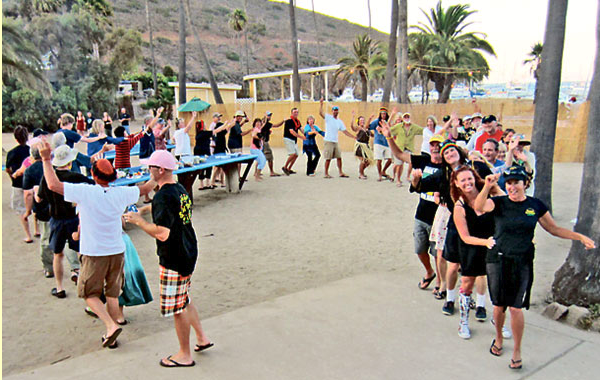 The cost of the event would be $295, and would include a Ta-Ta hat and shirt, and at least one BBQ for the skipper and mate, and we're not sure what else. It would not include the cost of berthing in Santa Barbara or Two Harbors, and probably not in Channel Islands.
If you're very seriously interested in doing such a Ta-Ta — meaning you can get off work, have crew, and your boat is ready — please email [email protected]. In addition, let us know if you'd prefer the start on the 8th or the 15th, and if you're 'seriously considering the event' or 'ready to sign up today'.
If we determine there is enough interest, we'll get to work finalizing arrangements, and then get back to everyone. But hey, even if there isn't enough interest, you should still do the course on your own as we will be doing. When I say it's the best week of cruising in Southern California, I'm not exaggerating.
Receive emails when 'Lectronic Latitude is updated.
SUBSCRIBE