Latitude readers probably best know Lake County as the place where, on a pitch black night in '06, Sheriff Deputy Russell Perdock slammed his powerboat into a nearly stationary O'Day sailboat at high speed, killing passenger Lynn Thornton, a just-retired employee of the state of California. In a move that drastically undermined our faith in law enforcement and district attorneys, Lake County District Attorney Jon Hopkins inexplicably didn't charge Perdock with any crime, but rather charged Bismarck Dinius, a passenger on the idle sailboat who happened to be sitting in the helm position, with manslaughter. His defense cost Dinius a small fortune, but he was acquitted by a jury in a matter of minutes — about as big a slap in the face that a jury could have given Hopkins.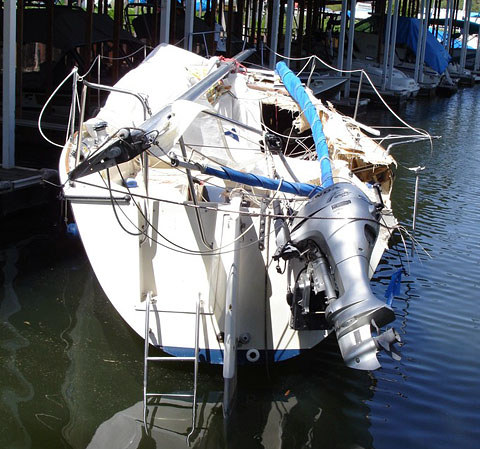 According to a fine story in the August 25 Sacramento Bee by Stephen Magagnini, Lake County is one hell of a crazy place. In a 'clean out the old boy network' move in '10, Cuba-born Francisco 'Frank' Rivero was elected Sheriff, beating out the incumbent of 16 years, by campaigning on the promise to eat his hat if voters could find a more corrupt place in California.
"I'm a rough character to deal with when you're screwing around," Rivero told the Bee. "Aggressive law enforcement's taking place. We're going out, kicking down doors and taking people to jail in volume, which creates controversy."
No kidding. According to the story, his critics include the current district attorney, motorcycle gangs, an army of marijuana growers, both local newspapers, and the chairman of the Board of Supervisors who — and we're not making this up — is a bounty hunter who says he tracks down 900 bail jumpers a year (who apparently come from all over the country to lie low in Lake County), raises buffalo, and who says he called the sheriff when he found 7,500 pot plants growing on his property.
Rivero is proud to say that he's cut $1 million in waste from the Sheriff's Department while throwing many more criminals in jail. But his most controversial move was to ask the FBI to reopen the investigation into the boating death of Lynn Thornton. In a move that pretty much finished off what little faith we had left in the U.S. legal system, Melinda Haag, the U.S. Attorney in San Francisco, declined to reopen the case. Why, Melinda, why? You see nothing wrong with not charging someone for slamming his boat into another boat and killing someone? As for former D.A. Hopkins, who charged Dinius but not Perdock, he claims there was no corruption in his handling of the case. He reminds us of a woman who once tried to convince us that buttermilk was a diet beverage.
In related news, Perdock was let go from the Lake County Sheriff's Department in '10. But just a couple months ago he was sworn in to the Lake County Fire Protection District Board. As for Dinius, he and his attorneys are suing the county of Lake, the Lake County Sheriff's Office, 34 county employees (in their inpidual and official capacities), Jon Hopkins, former Sheriff Rodney Mitchell, Russell Perdock, Dennis Ostini, Lloyd Wells, C. Brown, Captain James Bauman, James Samples, Wesley Frey, Dean Pick, Andy Davidson, and Sacramento County Sheriff's Dept. Sgt. Charles Slabaugh. Attorney Laurence Masson alleges that the county's conduct was "unconstitutional and corrupt" following the incident and throughout the court proceedings, accusing the employees of "conspiring" or "aiding and abetting one another" to conceal and fabricate evidence and defraud the court in order to prosecute Dinius for a "homicide that he did not commit." Masson argues that this not only constitutes malicious prosecution but is also a violation of Dinius's civil rights as granted by Title 42 section 1983 of the United States Code.
Like we say, it's wild up in Lake County.
Receive emails when 'Lectronic Latitude is updated.
SUBSCRIBE