When Rimas Meleshyus didn't show up anywhere in the South Pacific after he departed Hawaii in June, we feared the worst. This is how most stories about Rimas start.
The 66-year-old Russian immigrant left Hilo in his Rawson 30 Mimsy over four months ago. He had been in touch via satellite phone, until it broke somewhere near Fiji. No one had heard from Rimas in weeks, until the Coast Guard rescued him off Saipan — a US Commonwealth north of Guam — a few days ago.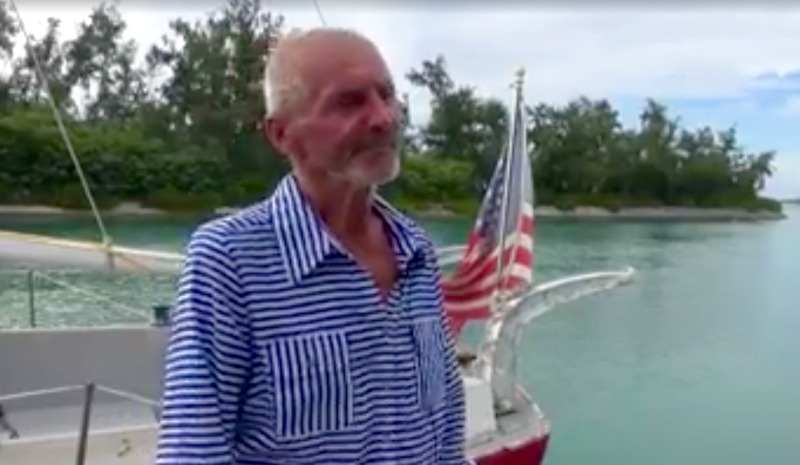 "I'm emotional because long time I was out at sea," Rimas was quoted as saying by National Public Radio. "To sail from Fiji to north was very very difficult. Because the current pushes me all the time." Like most news outlets that interview him, NPR was quick to note that this wasn't Rimas's first rescue. Not even close.
"We all thought he was dead," said Rimas's primary benefactor Jean Mondeau, who met Rimas 22 years ago in Guam. "The guy draws attention because he's a train wreck. But he's pretty harmless. He's a very nice person and very polite. But he believes his cognitive ability is greater than it is. Rimas swears in his mind that he can sail, and that he's the ultimate sailor."
In May 2016, Rimas — who is technically on a solo circumnavigation — was rescued off the Big Island, which landed him on the local news (in the file footage, he's seen wearing his trademark striped shirt . . . and a Latitude hat). On that trip, Rimas had run out of food and water before he was finally picked up by the fire department after leaving Monterey 46 days earlier.
"But should he have been out on the open ocean at all?" asked Hawaii News Now, a question that some of us have been debating when reporting on the admittedly colorful vagabond who's been rescued multiple times. Hawaii News Now cited a March 2016 rescue off San Francisco, a 2012 wreck off the Aleutian Islands, and a 2014 search that was launched after Rimas went missing, and cited one of the many times Meleshyus had to be towed into harbor.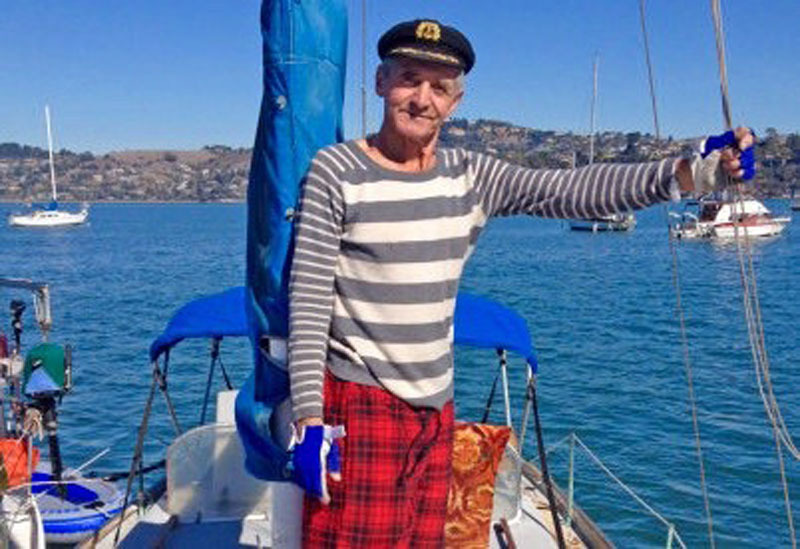 "To this very day, he has never made landfall," Mondeau said, adding that Rimas can't leave port either — he's always towed into and out of harbors.
"What could possibly motivate such seemingly masochistic adventures," we asked in a 2014 'Lectronic, after Rimas had sailed 2,200 miles from Hilo to San Francisco in 56 days. In a word, freedom, we said. Rimas grew up in Soviet Russia, and sought political asylum in 1988 at the Iranian Embassy in Moscow. Perhaps Rimas refuses to be bound by any convention, even the rules of seamanship.
"I tried to take his last boat from him," said Mondeau, who told a harbormaster, "Dude, I'll give you a hundred bucks if you can stop him and call him manifestly unsafe." But once Rimas sets his mind to something, Mondeau said, there is simply no stopping him.
Receive emails when 'Lectronic Latitude is updated.
SUBSCRIBE