When Raising a Headsail Turns into a Marriage Proposal
We've all heard of shipboard romance; some of us have perhaps even experienced it. But Grant Hamilton took the idea to a whole new level when he had his girlfriend raise the headsail to uncover his marriage proposal. Did she say yes?
As a 21-year-old, Grant was introduced to sailing in Australia's Whitsunday Islands, a popular sailing destination on the Great Barrier Reef. "From that moment on I was completely bitten by the bug but unfortunately, as life often goes, the next opportunity didn't present itself till much later in life. The desire never waned, just priorities were different." [Insert 'kids' here]
After growing up in Scotland "and a good few countries in between," Grant eventually settled near Lodi and took sailing classes on Lake Natoma with the Sacramento State Aquatic Center. "What a fantastic experience that was, and along with expanding my passion and thirst for sailing I also met some great friends. By the end of the program I had already bought my first sailboat, a MacGregor Venture 25. The boat had been lovingly cared for and very well equipped, so it was perfect for me to expand my horizons and gain experience with."
These days Grant is restoring a 1979 Cal Corinthian 39, Namu II, which he describes as "a fantastically solid boat that has been previously adored but was in need of some love." And as a member of the Stockton Sailing Club he's able to take advantage of other sailors' experience and knowledge "to help me bridge the gap in the areas where I lack."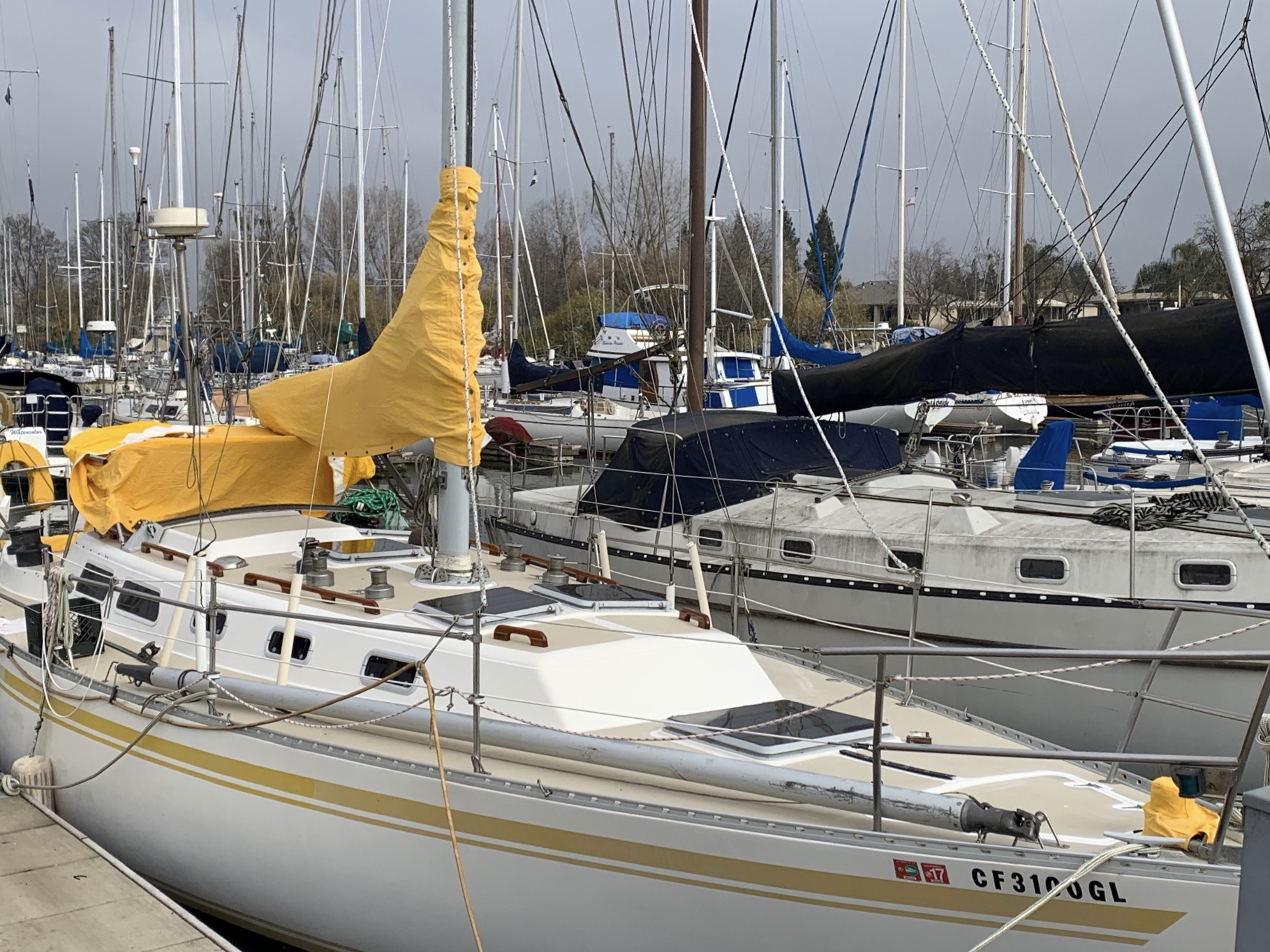 "Over the next few years I plan to incrementally increase my experience and then take on much larger passages with no return date set," he added.
But about that marriage proposal…
"Being a professional helicopter pilot and beer brewer, I work with checklists:
Increase experience / check.
Solid, well-behaved boat / check.
Systems ready / check.
First mate / …
"I actually had Angela stand on the dock and pull the headsail out. I told her we had to take it down for repairs. She had no idea what was coming. I had decals printed on the sail: 'Will you marry me?'"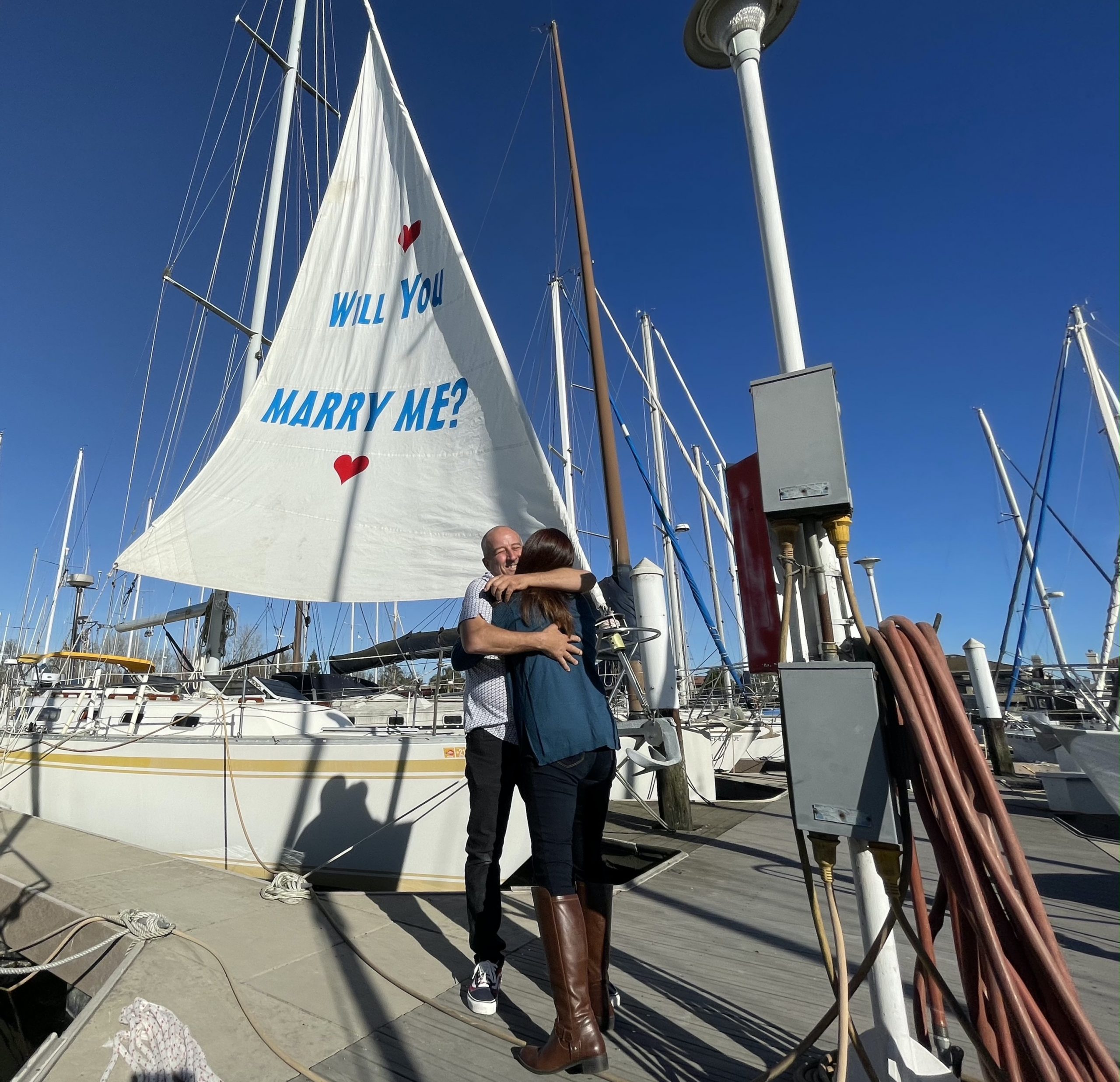 "Angela, a school teacher with no sailing experience (but learning fast), has now officially agreed to become my first mate. We are both excited to travel farther and farther afield and experience the unknown of tomorrow.
"I make the analogy that she's a little girl holding a balloon and I am the balloon. She definitely keeps me grounded but I think she also loves the adventure of not knowing what direction she's going to be pulled. We are a great team and we can't wait to marry in the spring of 2022."
And as for why Grant likes to sail …
"You can stand outside and be in awe of the environment and everything that it is; however when you raise that sail the connection you have is direct and responsive. For me, that's what it's all about, working with the environment around me and being in synergy with it as much as possible. Feeling 20,000 lbs being propelled through the water is for me the ultimate manifestation of Mother Nature. How lucky we are!"
Receive emails when 'Lectronic Latitude is updated.
SUBSCRIBE