We Got a Head-ache & Need a Cure
We took 24 people out on Profligate on New Year's Eve, including about 18 teens. As those who have had them know, teens have an incredible ability to instantly grasp such subjects as music, smart phones, and members of the opposite sex. But they don't tune in on other subjects — such as how to work a marine head. So when we returned to the dock, Profligate had a totally destroyed head — with the requisite thank you 'present' left in the bowl. It wouldn't have been so bad, but whoever installed the head did it in such a way that you have to remove the bowl before you can get to the mount, which means . . . well, it means we need to hire somebody to do the job.
We have four Groco Model K-H Manual Heads on Profligate. These aren't the cheap ones. In fact, West Marine sells them for $879 — a whopping $550 more than the Groco HF manual head. The K-H's that we and Dona de Mallorca use haven't been a problem, but the other two . . . don't ask. And these have been used mostly by folks who know how to use a marine head.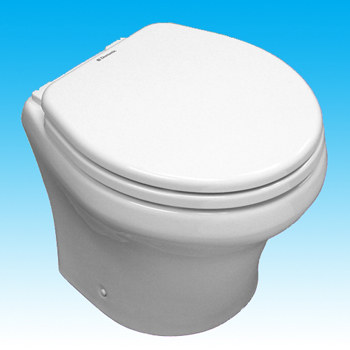 Some friends have encouraged us to look into electric heads. And when we checked the prices, we found there are quite a few that sell for less than or no more than the Groco K-H. Hmmmm. Anybody with lots of experience got a 'heads up' for us on marine heads? Is electric really better? What's the story on electric and water consumption — if using fresh — when out cruising?
Or should we 'keep it simple, stupid' with guests, giving them the choice of either 'holding it' until we get back to shore, or using the $28.99 Bucket Potty Seat by Todd? Email Richard.
Receive emails when 'Lectronic Latitude is updated.
SUBSCRIBE