More than a month of violence on the Caribbean islands of Guadaloupe and Martinique seems to be heading toward resolution. Economic woes precipitated the unrest, and unfortunately the longterm effects may make the economic situation on the French-held islands even worse in the coming months. It began in late January when a union coalition on Guadaloupe instituted a general strike for higher wages and lower food prices. Martinique followed suit with a strike of their own a week or so later. This was followed by rioting in the streets of Point-a-Pitre, the capitol of Guadaloupe, and Fort-de-France in Martinique, and that was followed by a shutdown of most banks, businesses, schools and government offices for weeks. Reports that rioters in Guadaloupe were targeting "all white people" — apparently a reference to longheld racial tensions toward colonial descendants who own 90 percent of the wealth — led to a mass exodus of European and American tourists from both islands. This was at the height of the tourist season and, said one French tourism official, cancellations for vacations in Martinique and Guadaloupe are headed south faster than GM stock. At least 10,000 tourists have cancelled vacation plans to the two islands in the coming months — and that's just French tourists.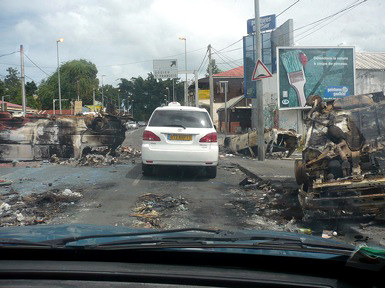 We have not received any reports of unrest in any port cities or any violence towards cruisers. However, local sailor Art Hartinger, who just returned from a charter in the area, said the tension was in the air and caution was the byword.
"I'm just back from a charter originating in Martinique and ending in Antigua. I wanted to let others who might be going down there know that there's an ongoing general strike that's affecting both Martinique and Guadeloupe. We encountered very long lines for gas, as well as some pretty grumpy people.
"We'd heard of violence in Guadeloupe — we even saw what looked like fires burning on the main island — so we avoided the major ports there, opting to visit only Iles de Saintes, Marie-Galante and Le Desirade.
"It was impossible to clear in and out of customs at these islands, but officials in Dominica and Antigua didn't seem to care. Regardless of all that was going on, we had a wonderful time and I look forward to submitting a more detailed account of our trip for a future World of Chartering."
Receive emails when 'Lectronic Latitude is updated.
SUBSCRIBE