The Resourceful Sailor Battens Down the Hatches
The Resourceful Sailor needed to replace the waterproof seal on the removable cockpit engine hatch of Sampaguita, a Pacific Seacraft Flicka 20. This Pacific Seacraft design feature allows access to the inboard motor of their sailboats through the cockpit sole. Since Sampaguita has an outboard, this space is for storage. Regardless of what is underneath, keeping it watertight is desirable.
The previous Neoprene seal was completely compressed, with the lid bottoming out on the base. It had crept and cracked and was suspected to be over 30 years old. Finding the right product was a challenge. Most ship chandlers don't seem to stock a diverse supply of Neoprene hatch tape. However, I found a local supplier/wholesaler in the Ballard neighborhood of Seattle called Gardico, which serves maritime and commercial applications.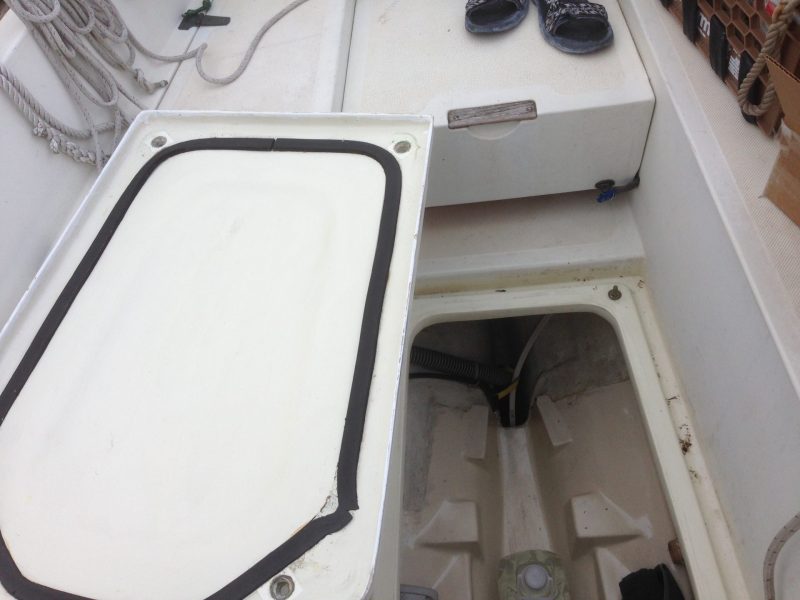 We decided on a 1-in-wide by 3/8-in-thick Neoprene/EPDM blend adhesive-backed strip, which is about as thick as I could use and still bolt the lid on. Unfortunately, as they're an industrial wholesaler, I needed to buy 50 feet when 10 feet was all I needed. The adhesive technically has a shelf life, but since I have a lifetime supply, I was banking on its being OK. At just under $1 per foot in 2018, I accepted that as the cost of a watertight seal.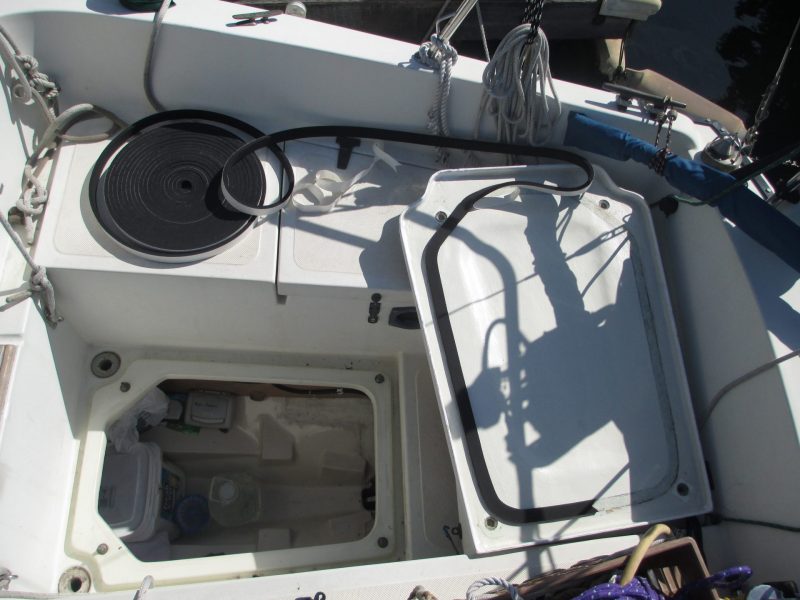 The project took a couple of hours. Most of the time went toward scraping off the old seal with a putty knife and cleaning the surface for proper adhesion. The adhesive-backed strip was easy to apply and took five to 10 minutes. I made zig-zag cuts where the two ends came together to ensure a good seal. That was in spring 2018.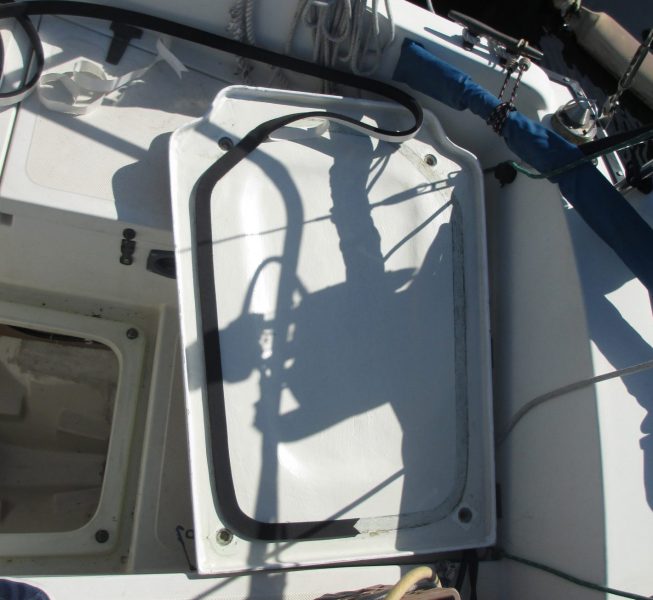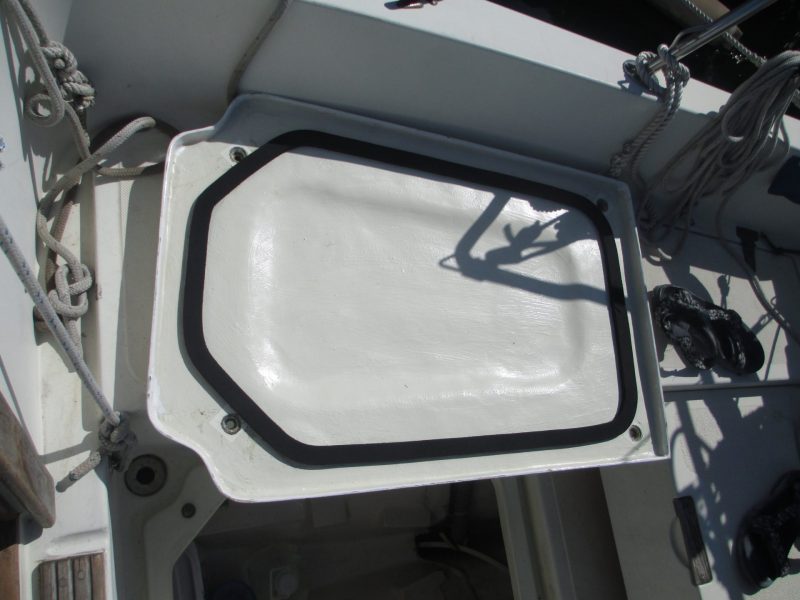 Over the years, I have periodically checked the watertight integrity of the seal. I have done this by blocking the drains and partially filling the cockpit with water, also a way of testing the drain time. The seal performs well, being completely dry up to about halfway. Since the drains are blocked, with increased time and pressure, a little moisture enters, I think where the seal ends come together. While not perfect, it is very slight and acceptable under the circumstances.
As for the adhesive, it has performed well over time, and shelf life concerns in my application have diminished. The seal will creep over time if the surfaces do not mate squarely. Sampaguita had a couple of such spots, but the seal has settled into its new place, and the watertight integrity remained. A stronger adhesive added before application might mitigate this, but I determined it unnecessary and undesirable for my application. For one, it has been effective for five years so far. Secondly, since I have a lifetime supply, I don't mind redoing it if necessary. I have also noted the TACO-brand seal I put on my cockpit locker crept in one spot, and the seal I was replacing had crept, hinting to me a general limitation of these adhesives.
The Neoprene/EPDM seal does compress over time. It went from 3/8-in to 1/16 -1/8-in thick within a year, but its effectiveness remained. The cockpit sole has four knurled knobs that draw it down tight onto embedded bolts. 3/8-in was the most that could be applied, with the knobs still having positive engagement. I would like to see more post-compression thickness, but the result is seemingly satisfactory.
This spring, I decided to add a second strip of seal around the outside of the first, making the seal two inches wide. I did this because I had the extra material and wanted to increase my confidence in maintaining a watertight seal over time. It will need to compress to match the first ring.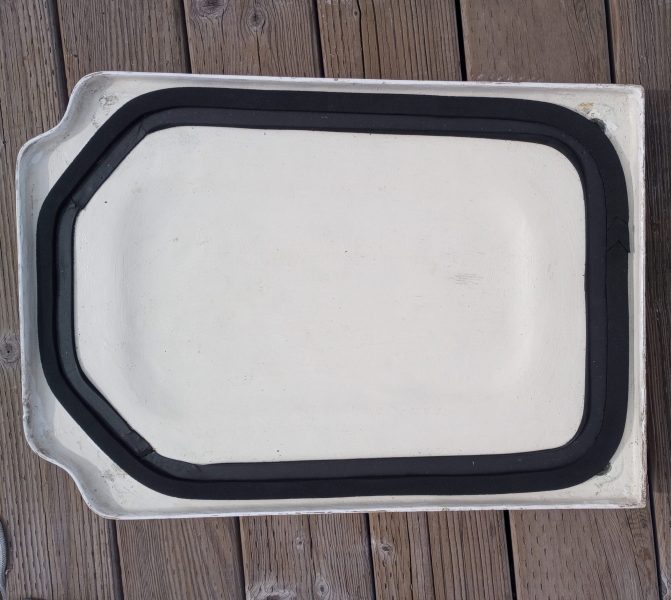 Hatch seals can deform, creep, compress, and deteriorate with exposure to UV or chemicals. Since water has an annoying way of exposing these faults, rejuvenation may be necessary. In Sampaguita's case, the removable cockpit sole provides excellent access to difficult-to-reach storage, but it requires inspections and maintenance to ensure its watertight integrity in a vulnerable area.
The Resourceful Sailor is keen on finding affordable answers to everyday and not-so-everyday situations. Remember, keep your solutions safe and prudent, and have a blast.
Receive emails when 'Lectronic Latitude is updated.
SUBSCRIBE