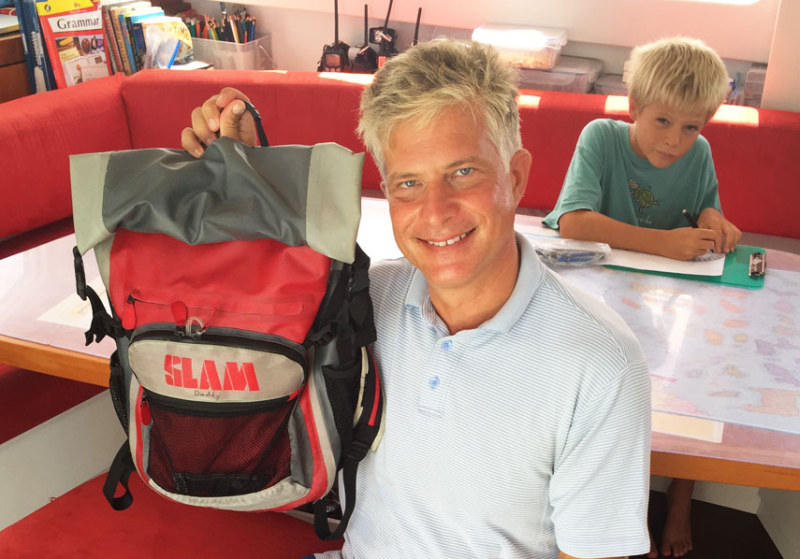 The thing that we find so amusing about this photograph is the apparent reversal of parent-child roles. What's going on is that Basil Horangic is holding up a Slam waterproof bag that he's found to be so valuable during his Menlo Park-based family's cruise from the Black Sea to the Caribbean. He has a little-boy look on his face, don't you think? Meanwhile, son Basil Jr, who is nine, is looking up from his 'paperwork' with a very skeptical parent-like 'what-kind-of-cock-'n'-bull-story-is-he-giving-you?' look. We laugh every time we glance at the photo.
We'll have a story on the Horangic family — wife Caroline, daughter Theodora, 14, daughter Helen, 12, and young Basil — in the June issue of Latitude 38, which comes out Friday, May 29. They've been doing a family cruise that's been different from most, in more ways than one. The main reasons for it have been to promote family togetherness and for the three kids to get a broader-than-normal education. And based on our conversation with them, the kids are learning a lot more than they would have, had they been in a regular school back home. Plus, they've had some pretty interesting extracurricular activities. The girls, for example, both sail Optis in international regattas, and all three kids kiteboard and scuba dive.
Receive emails when 'Lectronic Latitude is updated.
SUBSCRIBE