Thinking About iPad and the Southern Ocean
Different people have different needs, but in our case at least, Apple has surprisingly satisfied a whole bunch of them with what we've found to be the extremely useful and versatile iPad 3G. We think it will work great for a lot of other sailors, too.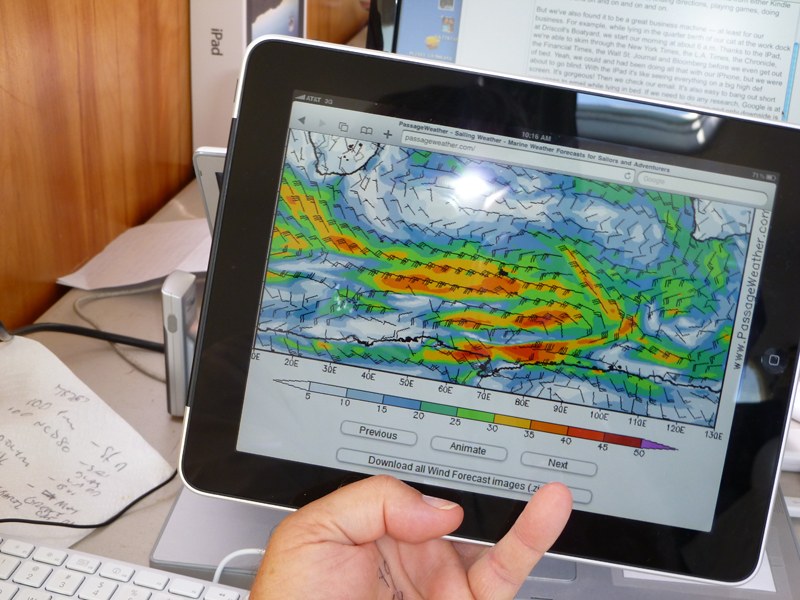 Most people are familiar with the device's fun uses — such as listening to music on iTunes, watching movies on Netflix, downloading books from either Kindle or Apple, watching YouTube videos, finding directions, playing games, doing navigation, and on and on and on and on.
But we've also found the iPad to be a great business machine — at least for our business. For example, while lying in the quarter berth of our cat at the work dock at Driscoll's Boatyard, we start our morning at about 6 a.m. Thanks to the iPad, we're able to skim through the New York Times, the L.A. Times, the Chronicle, the Financial Times, the Wall St. Journal and Bloomberg before we even get out of bed. Yeah, we could and had been doing all that with our iPhone, but we were about to go blind. With the iPad, it's like seeing everything on a big high-def screen. It's gorgeous! Then we check our email. It's also easy to bang out short responses to email while lying in bed. If we need to do any research, Google is at our fingertips. Yeah, it's a great business machine. The one and only downside is that it's a little heavier than ideal and could benefit from some handgrips. Those improvements will come with time.
There are limitations to the iPad, of course. If we're going to write a long and serious response to an email, we'd go to a table and use the optional iPad keyboard — or more likely our Apple laptop. And while it's possible to do lots of cloud computing on the iPad using various Google programs, if we're going to do a lot of writing, sophisticated fooling around in Photoshop, or complex magazine layouts in InDesign, the iPad is the wrong tool. But we've been surprised at how much of our work can be done on it.
For instance, we were lying in our bunk about midnight last night trying to figure out a way to help readers understand how rough it is in the Southern Ocean, particularly in the winter. So we picked up our iPad, punched in www.passageweather.com, and went to the Southern Ocean. Viola, in a matter of seconds, and in vividly colored graphics, there was a week's worth of Southern Ocean nastiness, and even in animated form. Even more impressive was going down just a little to check out the sea conditions. Thirty-foot seas? All the time, baby. That's just the Southern Ocean in winter. The only thing missing was the location of icebergs and how cold it is down there.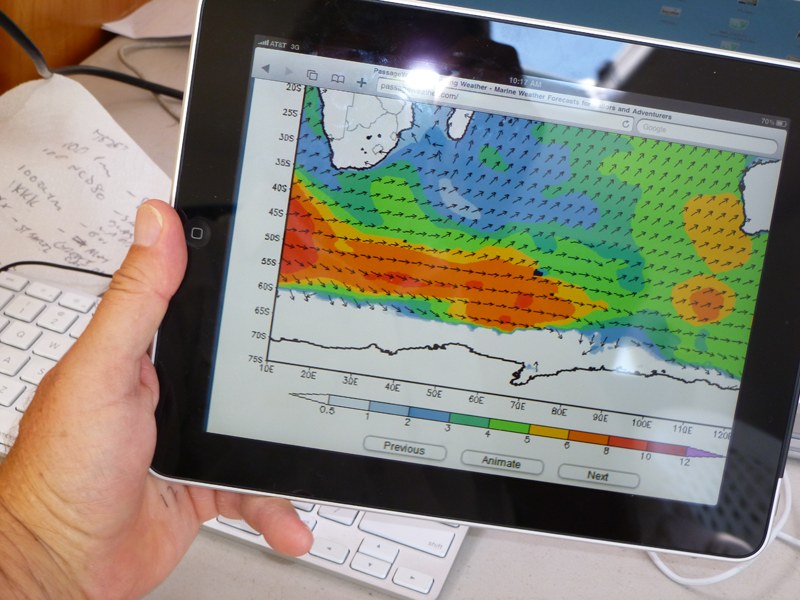 Tangentially, a half hour later we bumped into Kathleen Torres at the West Marine Superstore. About 18 months ago, Kathleen had joined Stephen Mann aboard Mann's Wylie 38 Tawodi for a doublehanded circumnavigation via the Southern Ocean in the more mellow summertime. "I'm a writer," says Torres, "but I've yet to be able to find the words to help people understand how bad the weather is down there." Torres also told us she's immensely impressed by Abby Sunderland's courage, but not at all by her parents' allowing such an attempt.
If you've got an iPad sailing story or tip, we'd love to hear about it.
Receive emails when 'Lectronic Latitude is updated.
SUBSCRIBE