From time to time people ask us about the dates of the Baja Ha-Ha and whether or not they conflict with hurricane season in the Eastern Pacific — i.e., Mexico. It's a good question, one that's a little bit more complicated than it might seem at first glance. We want everyone to have all the factual information, so standby for a lot of it.
Depending on who you talk to — NOAA, insurance companies, fishermen, sailors — the Mexican hurricane season is either from June 1 until November 1, or from June 1 until December 1. It's not so much that the different people and organizations disagree on the facts because they are talking about different parts of the Eastern Pacific. Keep in mind that it's 1,000 north-south miles alone from the southern tip of the Pacific Coast of Mexico, where most tropical storms form, to the California border. That's the same north-south distance as from San Diego to past the northern tip of Vancouver Island. So just as heavy November snowfall in the mountains of British Columbia doesn't mean it's going to be cold on the beaches of San Diego, the fact there have been a few November tropical storms and hurricanes off the coast of southern and central Mexico doesn't necessarily mean there is a serious threat of a November hurricane at Cabo, La Paz or Ensenada.
Then, too, keep in mind that NOAA combines Mexico and all the way out to Hawaii and beyond into what they call the 'Eastern Pacific hurricane zone'. For the most part, insurance companies, sailors and fishermen don't do that because their only concern is off the coast of Mexico.
Just how often are there post-October tropical storms off Mexico and how far north have they come? A little later we're going to list them all so you can see for yourself. But to summarize, there hasn't been a tropical storm in the last 25 years — and if we remember correctly, the last 50 years — that would have even come close to crossing the Ha-Ha path. Indeed, there have only been a couple of November storms that have even remotely threatened Cabo, none of which amounted to anything. It's also noteworthy that we can't recall any sailors or boats that have been damaged by post-October tropical storms at or north of Cabo. On the other hand, we know of lots of boats that have been damaged or sunk by post-October Northers and other winter storms. More on that greater threat later.
We suggest everyone planning to head south to Mexico educate themselves about hurricane season in that region. It's fascinating. To do so, we recommend that you visit Unisys's hurricane website. If you click on 'East Pacific', you can find the record and track of every Mexican hurricane for the last 50 years. It's a wealth of great information.
Despite the fact that NOAA's definition of the Eastern Pacific means their hurricane season doesn't end until December 1, all the big marine events in Cabo take place before December — and some as early as mid-October. Here's a list of the bigger ones:
Oct. 14-16: The Bizbee Los Cabos Offshore Fishing Tournament;
Oct. 18-22: The Bizbee Black & Blue, the world's largest marlin tournament, "where boats have a 1 in 50 chance of winning $1 million";
Oct. 24-Nov. 5: The 18th Annual Baja Ha-Ha, the fleet of which doesn't cross into tropical waters until November 2;
Nov. 6-Nov. 22: The third FUBAR, which is sort of an every-other-year version of the Ha-Ha for powerboats.
In addition, there have been late October / early November races from Southern California to Cabo, La Paz and Mazatlan for well over 50 years. In addition, many of the people who have left their boats in the Sea for the summer resume cruising south in mid- to late-October.
Speaking as the organizer of the Ha-Ha, we would not hold the event in the middle of October. Historically, there have just been too many October hurricanes — see the list below — for our liking. For instance, Category 5 Rick from October 15-20 of '09. While it didn't come within 300 miles of Cabo, even as a dying tropical storm, and even though similar late-season tropical storms all seem to hit a wall south of Cabo, it would have been a little too close for comfort for us. We've seen well over 1,000 boats destroyed by hurricanes — mostly in the Caribbean — and we want no part in adding to that total. That's why we don't have the Ha-Ha fleet enter even the most northern tropical waters until November.
The good news is that tropical storms and hurricanes are predictable pretty far in advance these days. During every day of the Ha-Ha, we speak with Commanders' Weather, the premier yacht weather forecasting company in the world. Hurricanes evolve from tropical waves, to depressions, to tropical storms, to hurricanes. When we talk to Commanders' Weather, we always ask if the conditions down by the Guatemalan/Mexican border are conducive to the development of tropical storms. The three conditions being the grouping of thunderstorms, light winds aloft, and water well over 80 degrees.
If you look at the records of late -eason hurricanes off Mexico, you can see that they usually form about at about 12°N, which is about 1,000 miles to the southeast of Cabo. This means that, at the least, there would almost certainly be five days or more of warning, and probably more, before anything could reach the Ha-Ha path. And as we mentioned before, the path the Ha-Ha takes has never been crossed by a tropical storm let alone a hurricane for the past 50 years.
One of the beauties of the Ha-Ha route — and that of the Cabo races and the FUBAR — is that if, for the first time, a tropical storm would threaten to cross the fleet's path, everybody would have the option of making a U-turn and heading directly away from it, and with lots of warning. Even in the worst case scenario — the fleet almost to Cabo — everybody in the fleet should be able to easily make it to the cool waters of Turtle Bay, if not San Diego.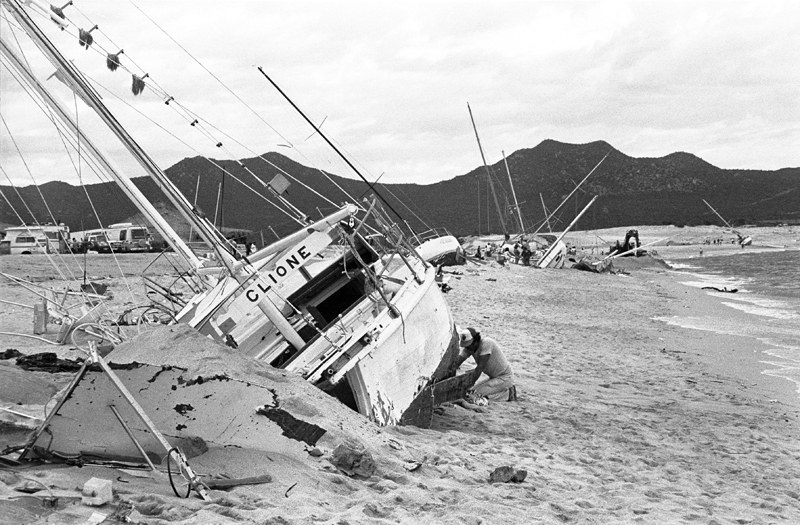 In historical terms, November and December winter storms in the Cabo area have been far more destructive than tropical storms. The famous Cabo storm of '82, which saw 75% of the sailboat fleet thrown up on the beach and destroyed, was out of the east and happened in the first week of December. We did the '93 Long Beach to Cabo Race, and we were briefly held in Turtle Bay because a winter storm had devastated the Cabo area. When we arrived, we found 600 people had been killed by flooding in San Jose del Cabo, entire holes on golf courses had been swept into the sea, and 30-ft high walls of mud had come down the arroyos. The fleet of the '79 Long Beach to La Paz Race, an early November race, was similarly hit by an early winter storm. Twenty-seven of the 33 boats — top race boats sailed by top crew — dropped out, several of them 50-footers that were totally engulfed by waves near Muertos. Some of the crew that had also done the '79 Fastnet Race between England and Ireland, which claimed 15 lives, said the conditions had been even worse in the Sea of Cortez during that race. There have been a bunch of other nasty, non-hurricane weather events in the area in November and December. Based on that evidence, we believe tropical storms are much less of a November and December threat to cruisers than are normal winter storms. That's why the Ha-Ha isn't held in late November/early December.
It's noteworthy that we haven't heard of anyone who was qualified who couldn't get insurance to do the Ha-Ha because of the late-October/early-November dates. You may have to call your insurance company and asked for a waiver to start a few days before November 1, but we haven't heard of any Ha-Ha entrants who haven't been able to get it.
For fun and to jog our memory, we made the following list of the last Mexican tropical storm or hurricane of the season for the last 25 years. The results can be extremely deceptive in the negative sense because the maximum winds are given, and in the overwhelming number of cases they had died to virtually nothing before getting anywhere near in the vicinity of Cabo.
We're including the graphics of the tropical storms that came the closest to Cabo. 'N/A' means not applicable, in that either the last storm was two weeks or more before the start of the Ha-Ha, or in the case of November and December tropical storms, they didn't come within even 350 miles — the same distance from San Francisco to L.A. — of Cabo with any strength.
We put an asterisk before the storms that we thought represented the closest calls. But as you'll see, in the last 25 years there hasn't been even a tropical storm that came close to the Ha-Ha path. That certainly doesn't mean it can't happen, but given the cooler waters again this year, it's more unlikely than usual. And as we mentioned, it's not as if the fleet wouldn't have adequate warning and a good escape route.
That's our reasoning for the Ha-Ha dates. We hope it makes sense to you. As always, the decision to begin or continue any sailing event is the skipper's alone, which is why we've tried to present the facts so each of you can make your own informed decision.
'76 — TS Naomi, Oct. 25-30, 45 knots. Passed within about 120 miles of Cabo as a much-weakened tropical storm.
'77 — H Heather, Oct. 7, 75 knots, N/A
'78 — TS Sergio, Oct. 18-21, 35 knots, N/A
'79 — H Ignacio, Oct. 23-30, 125 knots, N/A
'80 — TS Newton, Oct. 28-29, 35 knots, N/A
'81 — H Otis, Oct. 24-30, 75 knots, N/A — although it skirted Banderas Bay and later made landfall as weak tropical storm south of Mazatlan.
'82 — TS Tara, Oct. 19-26, 45 knots, N/A
*'83 — H Winnie, Dec. 4-7, 80 knots, N/A. Rare December hurricane, but very far offshore.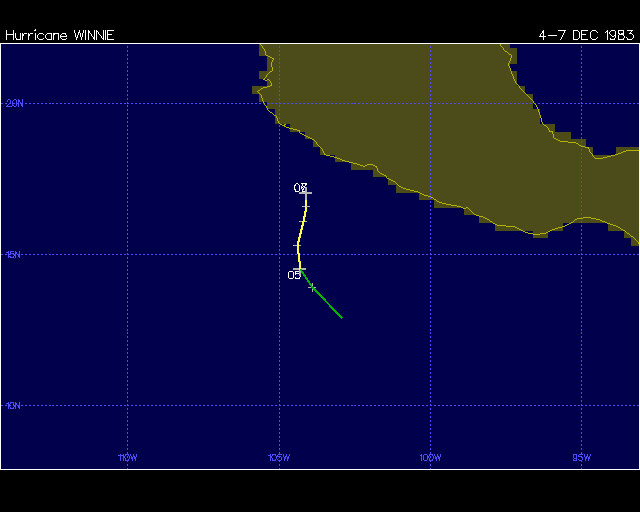 '84 — TS Simon, Oct. 31-Nov. 8, 55 knots, N/A. A weak offshore TS far to south of Cabo.
'85 — H Xina, Oct. 25-Nov. 5, 100 knots, N/A. Far offshore and far to the south of Cabo.
'86 —H Roslyn, Oct. 15-22, 125 knots, N/A — Although it passed within 100 miles of Cabo.
'87 — TS Selma, Oct. 27-31, 35 knots, N/A
'88 — TS Miriam, Oct. 23-Nov. 2, 60 knots, N/A
'89 — H Raymond, Sept. 25-Oct. 5, 125 knots, N/A
'90 — H Vance, Oct. 21-31, 85 knots, N/A
*'91 — H Nora, Nov. 7-12, 90 knots. After Ha-Ha dates and got within 100 miles of Cabo, but with less than 30 knots of wind.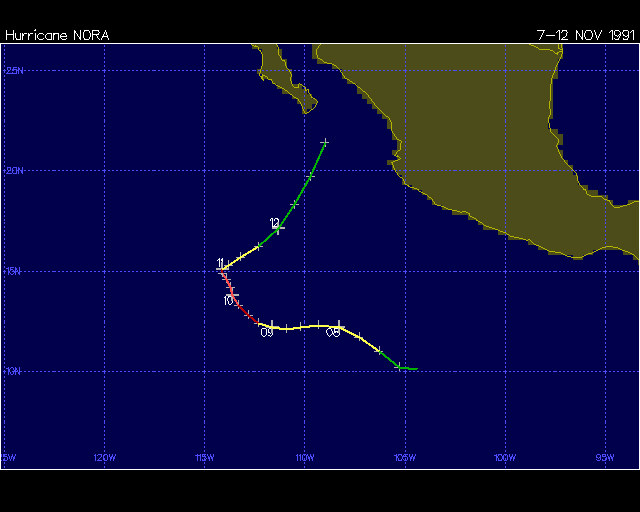 '92 — TS Zeke, Oct. 24-30, 45 knots, N/A
'93 — TS Norma, Oct. 2-6, 45 knots, N/A
'94 — H Olivia, Sept. 22-29, 130 knots, N/A
'95 — H Juliette, Sept. 14-16, 130 knots, N/A
'96 — H Hernan, Sept. 30-Oct. 4, 75 knots, N/A
'97 — H Rick, Nov. 7-10, 85 knots, N/A. November storm but in extreme southern Mexico.
'98 — H Madeline, Oct. 16-20, 75 knots, N/A
'99 — TS Irwin, Oct. 8-11, 50 knots, N/A
'00 — TS Rosa, Nov. 3-8, 55 knots, N/A. A November storm but off extreme southern Mexico.
'01 — TS Manuel, Oct. 10-18, 50 knots, N/A
*'02 — H Kenna, Oct. 22-26, 145 knots, N/A. Didn't come within 275 miles of Cabo, but made a direct hit on San Blas.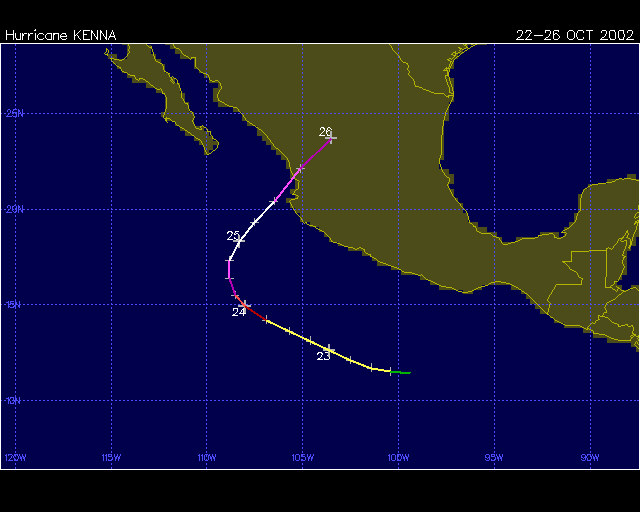 '03 — H Patricia, Oct. 20-26, 70 knots, N/A
'04 — TS Lester, Oct. 11-13, 45 knots, N/A
'05 — H Otis, Oct. 1-5, 90 knots, N/A
*'06 — H Sergio, Nov. 13-20, 95 knots, N/A. Another November hurricane in extreme southern Mexico.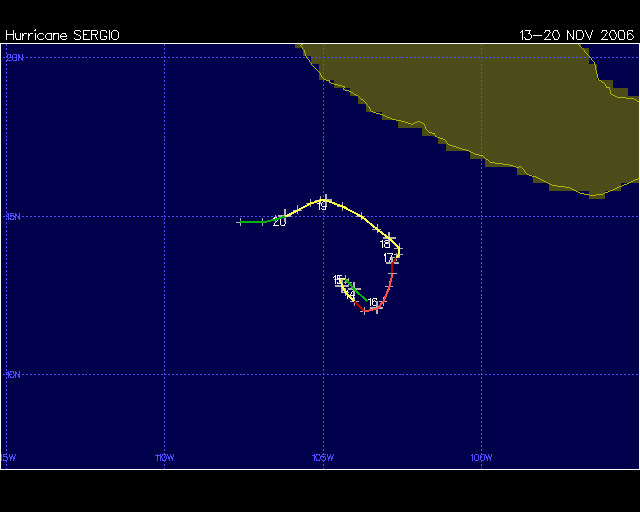 '06 — TS Rosa, Nov. 8-10, 35 knots, N/A. Yet another November storm, but weak and in extreme southern Mexico.
*'06 — H Paul, Oct. 21-26, 90 knots, N/A. Within 50 miles of Cabo, but with just 35 knots of wind.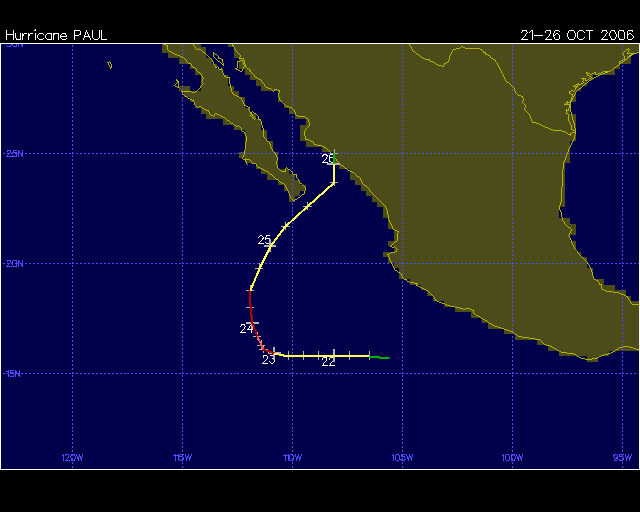 '07 — TS Kiko, Oct. 15-27, 60 knots, N/A
'08 — TS Odile, Oct. 8-13, 50 knots, N/A
*'09 — H Rick, Oct. 15-21, 155 knots, N/A. Came within 150 miles of Cabo but with only 40 knots of wind and two weeks before Ha-Ha fleet.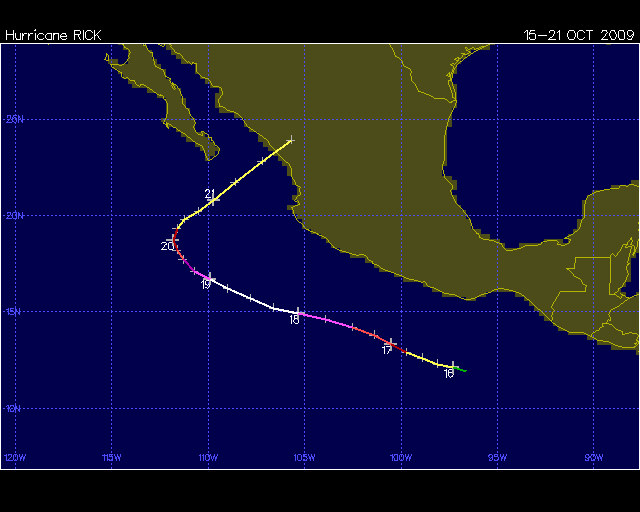 '10 — TS Georgette, Sept. 20-24, 35 knots, N/A.
To get a real good grip on the picture of how little a threat tropical storms have been to Cabo in early November, use the above information to decide for yourself which tropical storm presented the greatest risk to Cabo, and how much of a threat it really was.
Receive emails when 'Lectronic Latitude is updated.
SUBSCRIBE