The Greatest Spectacle in Sailing?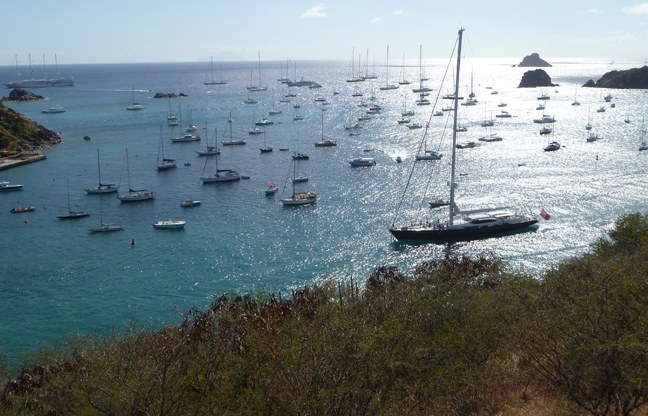 Several skippers who have been running mega sailing yachts for years tell us that the St. Barth Bucket has arguably become the greatest spectacle in sailing. The semi-serious racing event for sailing yachts over 100 feet attracted the maximum 40 entries and had to turn away many others. In addition, a number of 100-ft plus sailing yachts are sprinkled around the outer anchorage just to be on hand for the sailing and social festivities. As we said in Wednesday's 'Lectronic, it looks like a red light district, what with all the masts over 150 feet required to show red lights.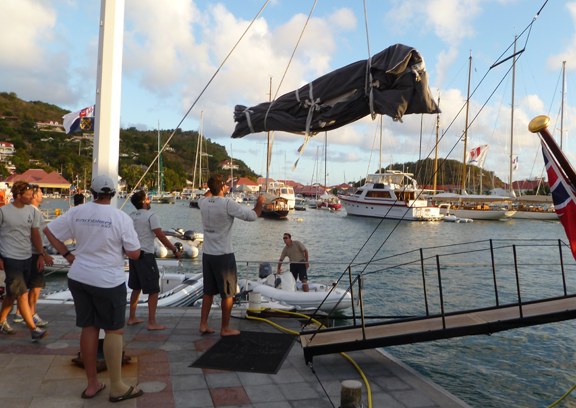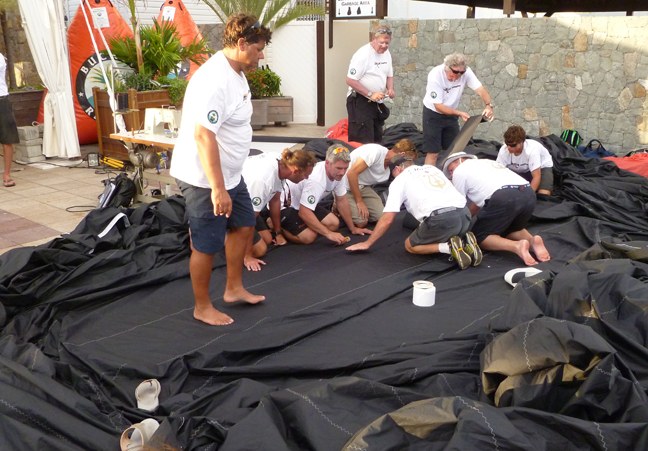 You can't run boats without sailors, so the docks are crawling with world-class helmsmen and crew. And where you get lots of virile young men, you get lots of attractive young women, don't you? Add a little alcohol and dancing in the tropical nights, and you can only imagine the social scene.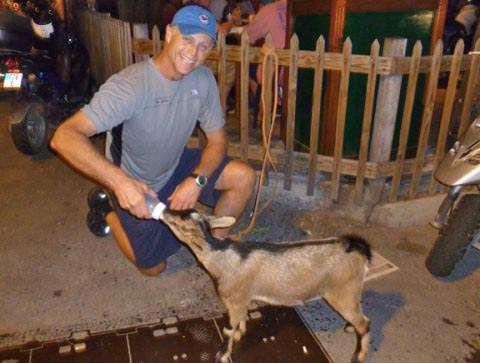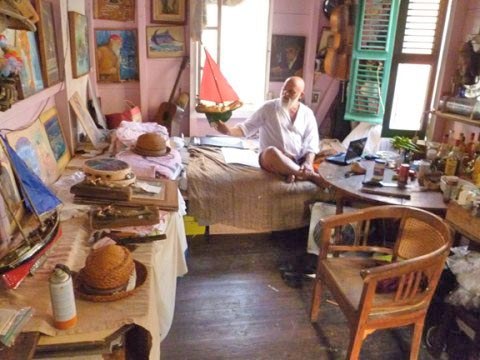 Of course, there are lots of non-world class sailors, such as ourselves, drifting about, and even we get invited onto nice yachts. For example, today we'll be sailing with Mill Valley's Patrick Adams on the Swan 100 Varsovie. We may be sailing on other boats for Saturday and Sunday's races, you never know.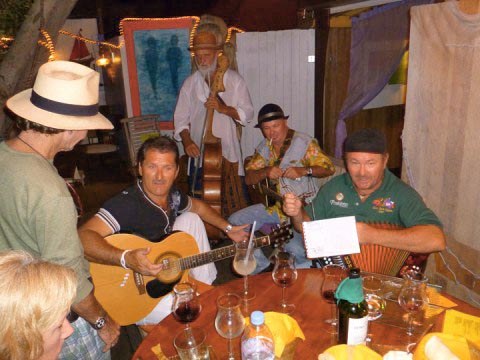 "The Bucket has become even bigger than Christmas," the Harbormaster and Port Captain Ernest Brin tells us. "The island has a normal population of 8,500, but 2,000 more come for the Bucket. But it's a beautiful scene."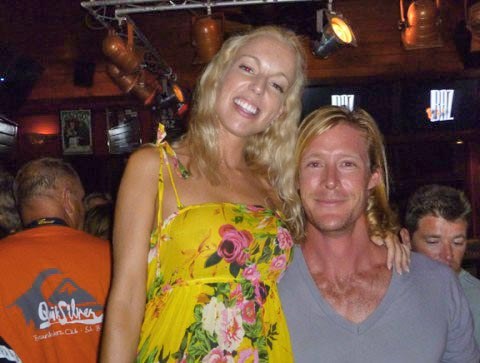 We know some of you out there are going to grouse, "What a buch of crap, I'd never be able to do anything like that!" Not true at all. Just get on the phone and charter a bareboat out of St. Martin for next year's Bucket. And next year you'll find yourself smack dab in the middle of the biggest sailing extravaganza you've ever seen. Just check out this entry list:
Les Elegantes des Mers Division
Elena of London, 180-ft Herreshoff schooner
Marie, 179-ft Hoek ketch
Meteor, 169-ft Royal Huisman schooner
Christopher, 150-ft Holland ketch
Windrose, 152-ft Holland Jachtbouw schooner
Rebecca, 140-ft Frers ketch
This Is Us, 141-ft Hoek schooner
Gloria, 126-ft Beeldsnijder schooner
Gaia, 101-ft Spirit sloop
Bequia, 90-ft Stephens yawl
White Wings, 76-ft White sloop
Les Grandes Dames des Mers Division
Maltese Falcon, 289-ft Custom Dynarig
Ethereal, 190-ft Holland ketch
Twizzle, 188-ft Dubois ketch
Parsifal III, 177-ft Perini Navi ketch
Klosters, 154-ft Perini Navi ketch
Antara, 152-ft Perini Navi ketch
Helios II, 148-ft Holland sloop
Drumbeg, 140-ft Dubois sloop
William Tai, 133-ft Hood ketch
Genevieve, 125-ft Dubois sloop
Axia, 123-ft S&S ketch
Blue Too, 112-ft Holland ketch
Paraiso, 105-ft Fontaine sloop
Les Gazelles des Mers Division
Mirabella V, 246-ft Holland sloop
Kokomo, 192-ft Dubois sloop
Hyperion, 150-ft Frers sloop
Lady B, 141-ft Dubois sloop
Hanuman, 138-ft J Class sloop
Ranger, 135-ft J Class sloop
P2, 125-ft Perini Navi sloop
Moonbird, 121-ft Dubois sloop
Sojana, 115-ft Farr ketch
Song of the Sea, 113-ft Swan sloop
Marama, 102-ft Preslec ketch
Leopard, 100-ft Farr sloop
Varsovie, 100-ft Swan sloop
Virago, 100-ft Swan sloop
Zefiro, 100-ft Farr sloop
Symmetry, 96-ft Frers sloop
Receive emails when 'Lectronic Latitude is updated.
SUBSCRIBE