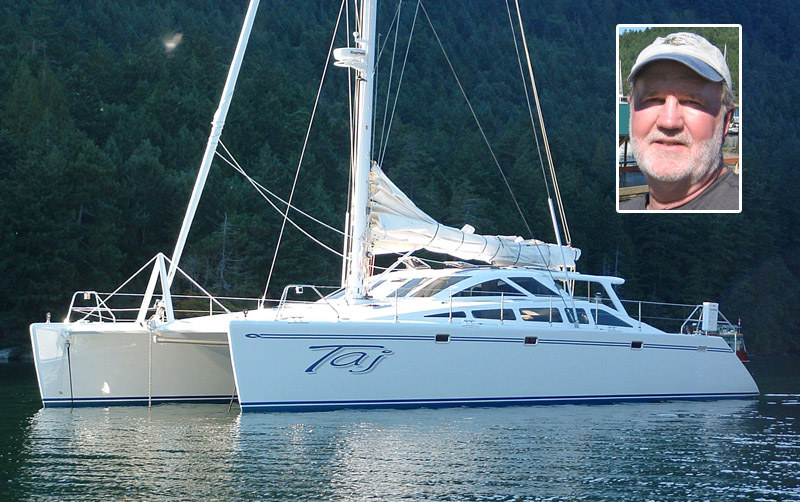 As of this morning, the total number of paid entries for this fall's Baja Ha-Ha, the 18th or 'Barely Legal' edition, had reached 91. As the Grand Poobah, we take a lot of pleasure in going over the list to look for familiar boats or sailors.
Take Taj, entry #51, for example, a Grainger 480 cat owned by Peter Brown of the Pacific Northwest. Although we're not sure if we met him at the time, he was a young lawyer living in Berkeley in the early '80s. After winning a big case, he decided to do the '82 Singlehanded TransPac aboard his Olson 30 Gold Rush. Halfway across, he decided that he preferred being at sea to being in a courtroom. So a while later, he flew to France, picked up a new Pretorian 35 he christened Emerald City, and took off around the world.
By about '94, he found himself in South Africa and enamored with catamarans. So he moved up from his 35-ft monohull to a Norseman 40 catamaran he named Nepenthe. He took on Lucifer, one of the most beautiful felines we've ever seen, as crew, and set off for the Caribbean.
We met Brown in St. Barth — where else? — in '95, where we not only did a story on him, but also went sailing on his cat with him and his cat. It was one of the first times we'd ever sailed on a catamaran.
Alas, a few months later Nepenthe would be one of more than 650 sailboats to be destroyed by Hurricane Luis in St. Martin's Simpson Bay. She'd been flipped and holed. Getting away with little more than the clothes on his back and his papers, Brown made it back to the United States. Eventually, he enrolled in the Northwest Wooden Boatbuilding School in Port Townsend where, before long, he decided that he should build a Grainger 480 cat that he would call Taj.
PHOTO
Building any boat is no walk in the park, but building a cat is a huge undertaking, and 10 years passed before Taj was launched. That was long after Brown had gone back to practicing law, and long after he even tried to sell the half-completed boat. But Taj has been in the water for four years now, and Brown is obviously ready to head south. It's going to be a lot of fun to see him again.
If it's your time to head south, you can sign up for the Ha-Ha at www.baja-haha.com. We're looking forward to meeting you, too.
Here are the latest entries:
75) Jennifer, Beneteau Oceanis 500, Lars Hässler, Stockholm, Sweden
76) Knuckle Dragger, Hunter 38, Robert Craig, Portland, OR
77) Arctic Tern 111, Nordic 40, John Garteiz, Whittier, AK
78) Realtime, Norseman 447, Bob & Karyn Packard, Long Beach
79) Azure-Té, Ron Holland 43, Jack Gill, Sausalito
80) Buena Vida, Catalina 42, Jeff & Julie Leonard, Ventura
81) Sojourn, Pearson Alberg 35, Bridget & Bruce Eastman, Brisbane
82) Outraygeous, Hunter Legend 45, Ray & Dori McEneaney, Vallejo
83) Murar's Dream, Beneteau 46, Andrew Rosen, Marina del Rey
84) Tranquilo, Catalina 400, Lloyd & Colleen Clauss, San Pedro
85) Sundance, Beneteau M38, Rick Donker & David Rempel, San Francisco
86) Tara, Caliber 28, John Neeley & Shannon Walker, Berkeley
87) Nirvana, Irwin 45, Bob & Sherry Davis, Shell Beach
88) Sailpotion, CSK 40, Herschel & Susan Pence, Vallejo
89) Orion, Hunter 466, Connor W. Lamm & Yvonne Sininger, Marina del Rey
90) Caledonia II, Jeanneau 452, Ed Fudge & Peter Ruben, Calgary, AB
91) Tan Tori, Island Packet 445, Roger & Tori Robinett, Seattle, WA
Receive emails when 'Lectronic Latitude is updated.
SUBSCRIBE