While sailing, there are many good reasons to call for a tack. One is when you're about to sail between a large LPG tanker and a USCG patrol boat with an attentive-looking gunner at the battle station.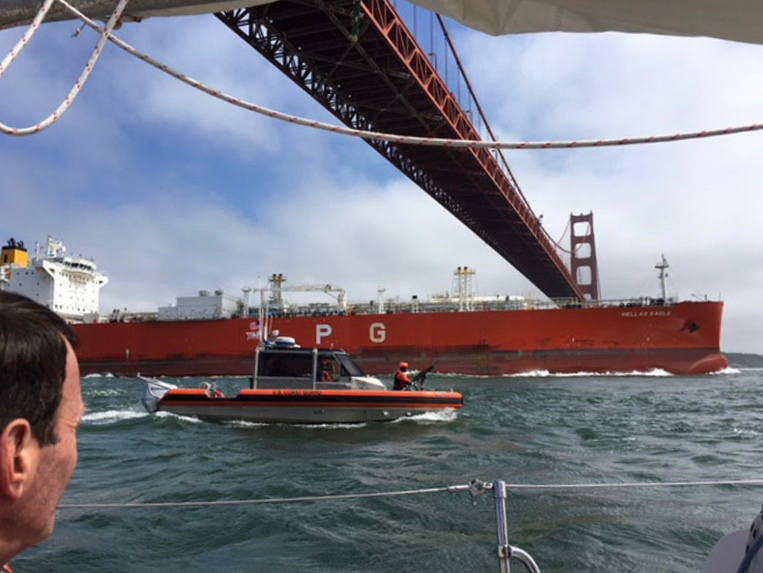 We were having a brisk and pleasant sail aboard our Ranger 33 Summer Sailstice on Sunday, being swept out the Gate with the ebb, while an LPG tanker appeared from astern. No big deal. With our bearing holding steady we decided to point up a bit, slow down and let it pass ahead. Then this gun boat came roaring into view and we reconsidered our plan. At the same time, a windsurfer came into view looking tempted to try a cross when they dumped it just ahead of us. The gun boat headed for them and appeared to convince them they should go astern. Then back to us.
Though we were monitoring VHF channel 16 we didn't hear a hail, but we did get a clear hand gesture that we should tack (clearly being on starboard tack and under sail wasn't going to help us). We were pleasure-sailing, so no big deal. A short tack toward the rocks at the North Tower, then another tack to avoid a sailboat hugging the shore to avoid the ebb, and we were now a more comfortable distance from both the LPG tanker and the gun boat. The latter seemed to feel the same way and resumed a position off the tanker's bow until the ship cleared the bridge.
At first it was all a bit intimidating, but, when you consider an LPG tanker under the Golden Gate Bridge, you understand their desire to be cautious. A big ship, big breeze, choppy ebb and a gun boat made for a little more dramatic than usual pass under the bridge, but, in the end, it just added one more adventure to a 'relaxing' afternoon sail.
Receive emails when 'Lectronic Latitude is updated.
SUBSCRIBE