Sudden Microburst Rattles El Salvador Fleet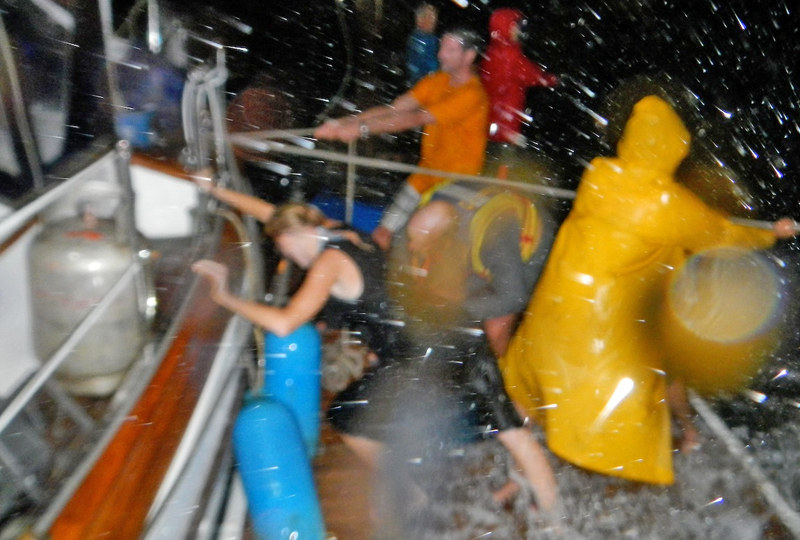 The tropical tranquility of El Salvador's Bahia del Sol was dramatically interrupted Saturday when a lightning storm quickly accelerated, creating a microburst with Force 12 winds (73 to 84 knots). Ironically, there were probably more cruising boats in the area than at any other time of the year, as the annual El Salvador Rally is in full swing, with its closing ceremony slated for Sunday.
Singlehander Zachary Lough of the Catalina 30 Panache was one of the visiting sailors caught in the blow. He was having dinner with friends Aaron and Nicole aboard Bella Star, which was tied to a guest dock, when all hell broke loose: "I was perched halfway in Bella Star's companionway watching Aaron and Nicole in unison call out the knotmeter reading, "35 knots, 40 knots… 50 knots!" My eyes were like saucers, "67 knots!"
"By the time I turned around, the rain literally blinded me. By the time I acclimated to the wind speed and rain all I could see was black. A huge bolt of lightning struck the background less than a mile away and lit up everything for only a moment, and then faded back to complete darkness. Was Panache safe at anchor? I was in panic mode, and I could see nothing. The wind was without a doubt too strong to dinghy out — dangerous even."
In the darkness, he could see that his boat and others were dragging rapidly toward the marina. "The dock was moving like it was an earthquake, and the rain was lit up like comets, making for a dreamlike, correction, nightmare-like landscape."

The Vancouver, BC-based Vagabond 47 Sundancer broke free from its mooring and went adrift through the mooring field, then the Everett, WA-based Tayana 42 Talaria broke loose and smashed into the San Carlos, CA-based Brown Searunner 37 Hotspur, "smashing the cap rail, stanchions, and solar panels on both boats," Zachary report.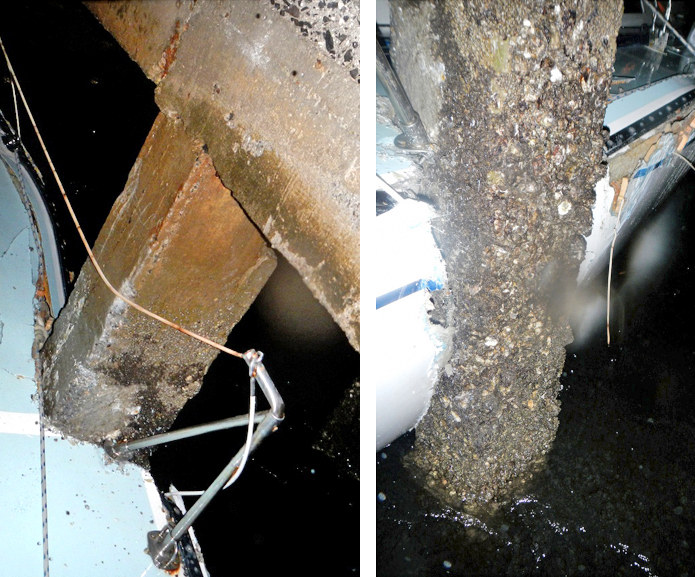 But the worst damage was played out at the docks. The sailboat Tolerance dragged violently into a concrete dock, and its fiberglass hull was stove in as was pressed into the dock's footings by the storm. Zachary recalls the scene vividly: "Tolerance was being pressed like a grape against the pier. Hopping on deck to help (owner) Mick pull up his anchor, I could see a concrete column stretching out of the fiberglass with a huge gash in its wake. This was bad. Luckily, the gash ended literally right at the waterline."
Prior to this surreal patch of intense weather, Zachary had been lamenting in his blog that life at Bahia del Sol was a bit too laid-back even for some cruisers. But we suspect he and others will stop themselves the next time they start yearning for more excitement. (To read Zachary's full account of the big blow, see his blog.)
Receive emails when 'Lectronic Latitude is updated.
SUBSCRIBE