Spirited Banderas Bay Blast
Last week's Banderas Bay Blast generated almost 40,000 pesos in donations for school lunches and supplies for kids who need assistance. The racing was spirited, even though the hype was that it was a "non-serious" regatta. There were 26 boats entered and racing on the first day, Tuesday, in three classes: the heavy cruisers and under 36 feet, the "plastic fantastics" over 36 feet, and the light racer-cruisers that rated under 90 PHRF.
The Tuesday course included a 1.6-mile upwind leg followed by an 8-mile reach to the Nuevo Vallarta jibe mark and then the finish at Marina Riviera Nayarit. Sirocco led the fleet at the jibe mark and was first to finish the 14-mile race.
The Wednesday race was to Punta de Mita anchorage, length about 9 miles. Unfortunately, the approaching weather system and cloud cover canceled the regular thermal conditions, which caused most of the fleet to begin motoring to the finish. Dinner was waiting! To everyone's surprise, an 18-knot northwest wind lasted long enough to allow boats to resume racing and finish under white sails. The after-race party included the initiation ceremony for members of the Punta Mita Yacht and Surf Club. The entry fees go to the fundraising effort. To be a voting member, one must subject their rear end to be pleasantly assaulted by the vivacious commodore's carbon-fiber paddle.
The Thursday race was a reverse start at the Punta de Mita anchorage, with the 12-mile leg to the Nuevo Vallarta race buoy. Local knowledge paid off to head east along the beach rather than go out to the middle of Banderas Bay. If you started on a port jibe, you were with the early finishers. If you started and continued on a starboard jibe, it was slow going. The after-race party was hosted by Vallarta Yacht Club, with free slips compliments of Paradise Village Marina.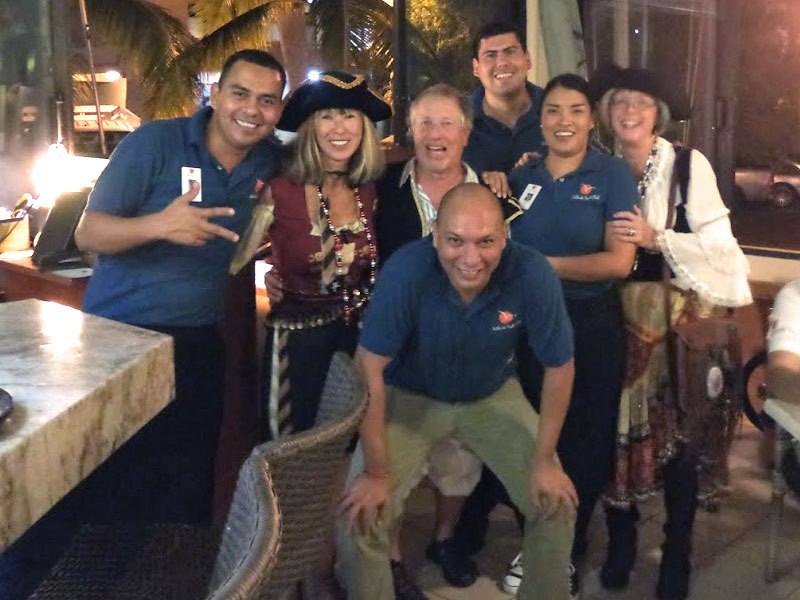 Receive emails when 'Lectronic Latitude is updated.
SUBSCRIBE