Speaking a Couple Days Too Soon
It's been such a mellow hurricane season to date in both the Eastern Pacific (Mexico and Hawaii) and the Atlantic-Carribean, that we hadn't given it much thought. At least until August 19, when Jerry Blakeslee, formerly of Alameda and St. Martin, reported that Tropical Storm Harvey was directly over him and his NAB 38 Islomania in Roatan in the Western Caribbean. The good news is that they apparently weren't hit too hard.
"I've not been off the boat yet," Blakeslee reported, "but haven't seen or heard of any damage besides a tree being blown over. The boats and docks all seem to be fine, but we were lucky, because Harvey wasn't a powerful tropical storm, let alone a hurricane, and didn't last long."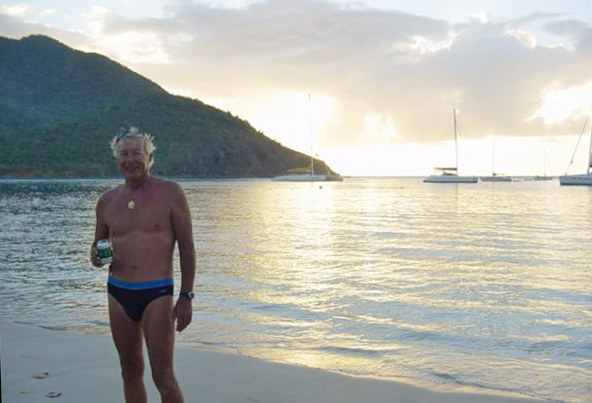 Be that as it may, late August through the middle of October tend to be the biggest hurricane months, so if you've got your boat in the northern hemisphere tropics, please make sure she's prepared. With the publisher's Leopard 45 'ti Profligate having just come off an August charter and not having another until mid-October, we're glad to hear that the folks at BVI Yacht Charters have her stripped of all her exterior gear as a general hurricane season precaution.
What big cities are the most "overdue" to be hit by a hurricane? We're not sure what criteria was used but, according to the Weather Channel, the cities are Honolulu, New York City and San Diego. We don't know about Honolulu and New York, but the water has been so cold off the coast of upper Baja that we don't worry about Profligate at all, even though she's end-tied to a slip about 2/3rds her length at Driscoll's Boat Yard in San Diego. We think there's a better chance the Padres will pull off a World Series 'Three-peat' before 'America's Finest City' gets nailed by a hurricane.
——————————————
That's the article we'd prepared on Saturday for the September issue of Latitude. Yesterday , we got a shocking bit of news. Tropical Storm Irene was at that very moment working her way through the Virgins and expected to hit Puerto Rico that night — meaning last night — with hurricane-force winds.
The good news, reports former Sausalito resident Warren Stryker from St. Thomas, is that they didn't get much over 50 knots and the storm had moved west. His Hunter 54 Botox Betty, which had been dismasted by a hurricane last year, and all the others, seemed to be doing fine.
Others were not so lucky. It's been widely reported that billionnaire Richard Branson's posh Necker Island Property, which lies adjacent to Virgin Gorda, BVI, was "completely distroyed" by fire during the storm, after being struck by lightning. Actress Kate Winslet and her kids, Mia, 10, and Joe, 7, were visiting at the time, but neither they, Branson and his family, nor other guests were harmed.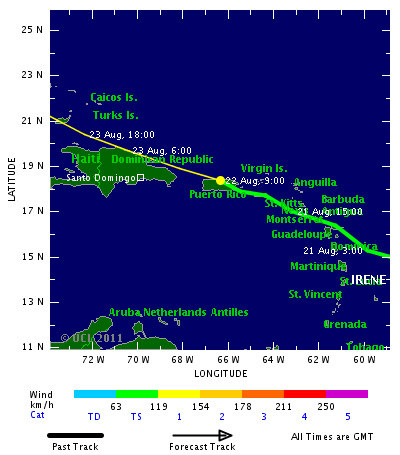 With Irene heading west and threatening Hispanola, Cuba, Florida and parts of the East Coast with hurricane-force winds, make the proper preparations if your boat is threatened.
Receive emails when 'Lectronic Latitude is updated.
SUBSCRIBE