South Pacific Reefs Claim Another Sailboat
Although most passage-makers in this year's Pacific Puddle Jump rally rated their crossing to French Polynesia as easier than expected, every offshore sailor gets occasional reminders that merely a few minutes of inattention or bad luck can lead to a 'game-ending' disaster. The latest illustration of this somber fact came last Wednesday night when the Australian-flagged sailboat Quest was lost on a Fijian reef.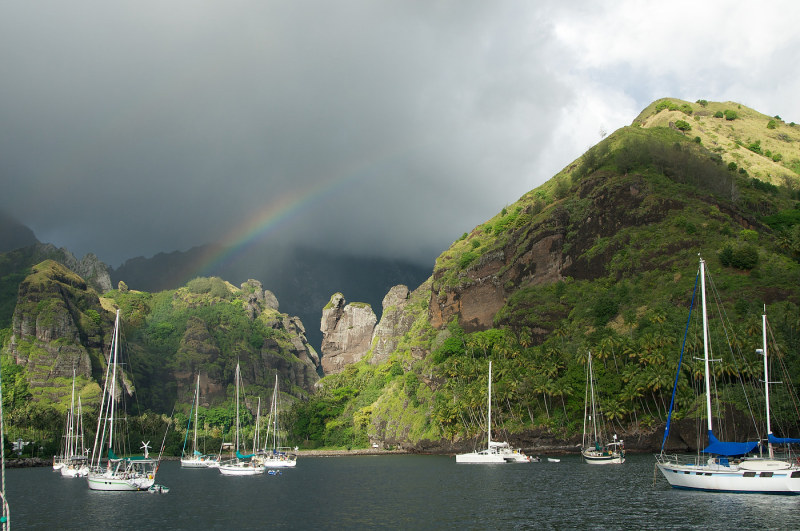 According to chatter on South Pacific cruiser nets, she was attempting to enter Savusavu, when her crew apparently mis-judged the entrance and the boat hit a reef. According to Toast Conger aboard the Seattle-based Lagoon 38 cat Don Quixote, the crew was safely evacuated, and sometime later the boat floated free, but eventually ran up on another reef a few miles away, where she was deemed a total loss.
Meanwhile, at Palmerston, in the Cook Islands, the Conger family is playing a key role in the aftermath of the loss of the American sailboat Riri. As reported earlier, she broke free from her mooring there and was grounded on a reef without the possibility of repair, despite a massive effort by local islanders and visiting cruisers.
Both the owner, Frank, and his female crew, Gail, were unharmed and much of their valuable equipment was salvaged. At this writing Don Quixote and the sailboat Catacaos are en route to Tonga, with Frank, Gail and their valuables on board. From there, the pair plans to travel on to New Zealand and re-assess.
Toast confirms that the cause of the tragedy was exactly as some cruisers had speculated: "Riri was attached by a single line through the mooring loop. In this case, it was the mooring line that gave, but really, the point is the same since the damage is caused by the mooring technique and could have happened either with Riri's motion or from a prior cruiser using the same method." As most veteran cruisers would agree, the safer method is to distribute the load over two mooring lines, one from each side of the bow. In addition, attaching a safely line to the mooring line, below the float, will always allow you to sleep easier.
As with all such mishaps, this sad event presents valuable lessons we all can learn from. With this in mind, Frank has agreed to share his thoughts for an article in an upcoming edition of Latitude 38. "One lesson, for example," reports Toast, "is that had the situation gone even slightly differently, Riri would have been in a place from which Frank would have been unable to escape. Even a veteran monohuller like himself was straight-up ready to say that a lifeboat would have done him absolutely no good. He would only have escaped — if possible — due to being a very strong swimmer."
Toast and other cruisers want to emphasize that the moorings at Palmerston — typically a favorite stopover for cruisers — are fundamentally sound, and are checked frequently. "Palmerston Island still welcomes guest yachts and encourages their visits," she reports. "They stand ready to aid yachts who would like to run second lines or even anchors should the boats feel it necessary to do so. Frank wants everyone to know that the people of Palmerston Island have done everything possible to aid him in this disaster. They have been warm, welcoming and tremendously supportive."
Receive emails when 'Lectronic Latitude is updated.
SUBSCRIBE