Socrates Takes Knockdown, Still on Track for Record
Last Wednesday, Jeanne Socrates suffered a knockdown between Tasmania and New Zealand and sustained serious damage to her solar- and wind-charging units. But she is pressing on to become the oldest person to sail alone, nonstop and unassisted around the world.
"Having rounded the South East Cape of Tasmania last week, I was close to rounding Stewart Island's South West Cape — just over a day away — and was sailing southeast well in 45-knot winds and 8-meter (25-foot) seas with minimal staysail, when the knockdown occurred," Socrates wrote us in an email. "Sails, rig, most instruments (autopilot and radio) are fine. No injuries, but a lot of wet chaos down below."
"In addition to other damage, two solar panels were torn away and a wind-generator blade was broken off."
In late April, Socrates started having trouble with her self-steering vane, and had been using her mechanical autopilot. "Power becomes an issue since I no longer have a wind-steering option, after that was damaged south of Australia a fortnight
ago, and I'm forced to use the autopilot most of the time now — and that needs
power, of course."
Despite all this, the 76-year-old Socrates shows no signs of stopping, even though she's within a stone's throw of New Zealand.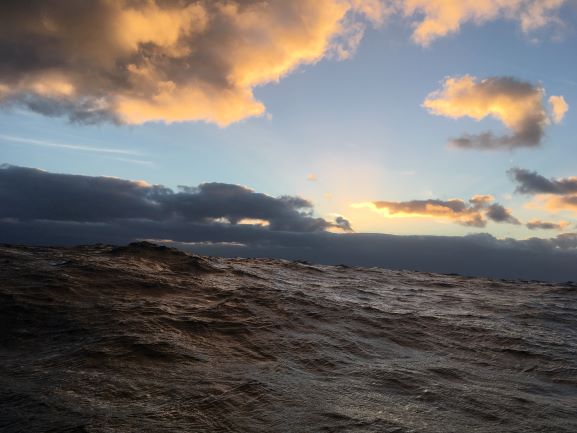 "Plan is to avoid the next imminent strong system now heading this way from the southwest by sailing north for a couple of days before turning south again. Hoping to round the South West Cape on Stewart Island next week in lighter conditions. That will be the end of a very long Southern Ocean leg (from before Cape Horn in December) and the beginning of the long final Pacific Ocean northbound leg back to Victoria, B.C., to complete my nonstop solo unassisted sail around the globe as the oldest person to do so."
Socrates said that as a wave slammed into her Najad 380 Nereida, a dorade vent was swept away "just above where I was sitting at the time, leaving a hole in the coachroof. My bunk and I got a good soaking. Everything onboard was thrown around and became soaking wet — including my bedding, bunk and
me."
Socrates also said that her drogue was automatically deployed surfing the knockdown "when the two bags containing it were also torn from their fixings and the line with its cones was clearly pulled out of the bags by the force of the sea. So we ended up lying to the drogue (for the third time in the last few weeks) — drifting north northeast at about 1.5 knots in 8- to 9-meter seas and strong winds gusting to 50 knots or more.
"Will take some time to clear up the mess but I'm hoping to retrieve the drogue Friday morning, by when conditions will be far lighter, and get underway again."
Receive emails when 'Lectronic Latitude is updated.
SUBSCRIBE