Sailor Badly Burned After Explosion
An unidentified man suffered second-degree burns over 60% of his body Saturday night after surviving a propane explosion and fire on his Columbia 26 at La Playa Cove near the San Diego YC.
The man, described as a liveaboard in his 60s who moves from anchorage to anchorage, is now in an induced coma at a San Diego hospital. He is expected to survive.
The 26-ft fiberglass sailboat was already completely engulfed by fire when San Diego fire boats arrived on the scene.
Video courtesy Jeff Spangler of Cabrillo Yacht Sales
"I was about 40 feet away when the propane exploded," Daniel McCoy of the Alameda-based Jeanneau 409 Kini Popo told Latitude. "Possibly because most of his worldly belongings were on the boat, he didn't jump off until the flames were about 15 feet high. Everybody was yelling at him to jump, and he finally did. He swam over to another boat, but the skin on his hands had been melted, so he couldn't pull himself up.
"He was in terrible pain, but a couple of other guys and I pulled him onto a dinghy and rushed him to shore," McCoy continued. "Once we got him to shore it was about 20 minutes before the land-based fire department and ambulance arrived. We could hear their sirens going back and forth for a long time, so it was clear they didn't know where we were. It was odd because the police boat had arrived on scene quite quickly."
There was an unconfirmed report that the victim had been trying to gravity transfer propane from one tank to another. Propane is extremely dangerous, of course, as it can collect in bilges and even cockpit soles. If there's a spark, there will be a powerful explosion.
Just a week before, Henry Whimbley, 32, died when a fire raged on the tugboat Chief that was tied up at Barrio Logan, which is farther south in San Diego Bay. Authorities believe the cause of that fire was a cigarette he'd left burning on a table.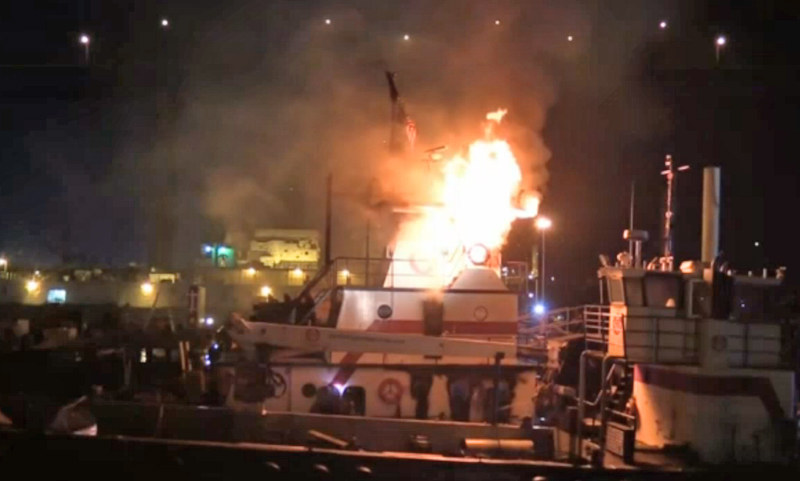 Receive emails when 'Lectronic Latitude is updated.
SUBSCRIBE