Sailing Supply/Downwind Marine in San Diego To Host Cruisers' Seminars in October
Are you sailing south across the border for the first time? Are you looking for some tips from experienced cruisers who have traveled the waters you plan to visit? Will you be in San Diego in mid-October, ready to go south with the Baja Ha-Ha fleet?
Well, we've got some good news for you.
Sailing Supply/Downwind Marine in San Diego will be holding a series of cruising seminars, with guest speakers touching on a variety of cruising-related topics, each weekday evening October 16 through 20, and again the following week, October 23 to 27. The doors will open at 5:45 p.m. at the back door of Sailing Supply/Downwind Marine; the seminars will start at 6 p.m. each night.
Downwind Marine will also hold their annual Cruisers' Welcome Party on Saturday, October 21, which will include their annual Downwind Vendor Fair and Storewide Wholesale Discount Sale. "GET THE BEST PRICES EVER on all stock on hand during regular store hours, 8:30 a.m. to 5 p.m. Meet our special vendors and other cruisers, and come help us kick off the cruising season!"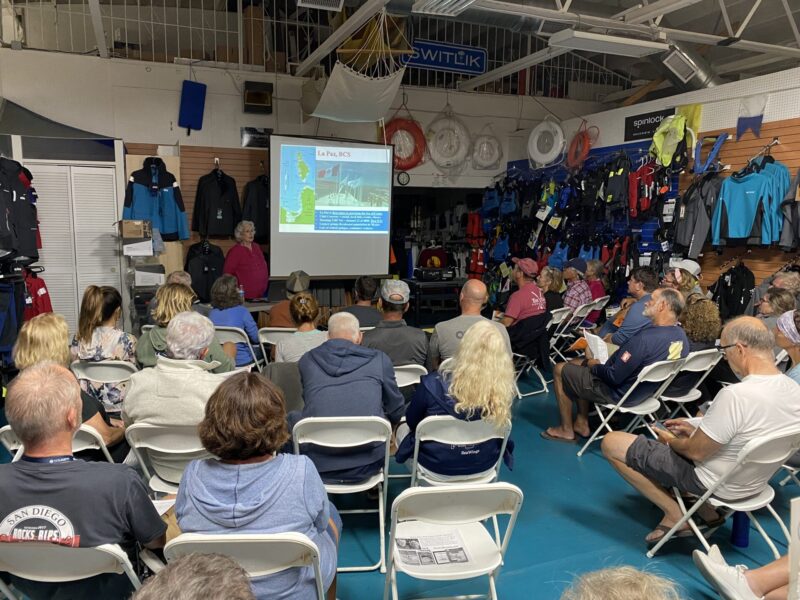 Sailing Supply/Downwind Marine is located at 2804 Cañon Street, San Diego, near Shelter Island. If you'd like to email a question to SSDM, follow this link.
Here's the seminar schedule for October:
Monday, October 16: Shea Weston — Veteran Cruiser, owner and operator of Offshore Outfitters. "Today's Offshore Communication Options for Cruisers — Stay in Touch With Everyone While Cruising."
Tuesday, October 17: Tom Teevin — Outboard mechanic and college automotive educator, emeritus. "Enjoy Your Dinghy! — Understand and Maintain Your Outboard Motor While Cruising in Mexico."
Wednesday, October 18: Arno Chrispeels — Educator, veteran cruiser and president, www.HealthIsInternational.com. "International Health and Evacuation Insurance Options for Cruisers — What To Know Before You Go."
Thursday, October 19: Captain Dietmar Petutschnig — President, Good Nautical and founder, Panama Posse. "Meet the Panama Posse: Its Story and Future in Cruising the Tropics and Inspiring Life-Changing Adventure."
Friday, October 20: Julie Xelowski-Brooker — Educator, veteran cruiser representing sailing for CEDO. "Introduction to 'Sailing for CEDO' — Finding the Cruisers' Role in Data Collection for Citizen Science!"
Monday, October 23: Captain Ann Kinner — Owner, Seabreeze Nautical Books and Charts. "Building a Cruisers' Library With an Update on Current NOAA and International Navigation Charts."
Tuesday, October 24: Tim Gaub — Sailmaker and owner, Doyle Sails, San Diego. "Downwind Sailing Tips and Sail Selection for Boat Speed, Plus Sail Repair at Sea."
Wednesday, October 25: Chef Melanie A. Cady — Certified French chef and owner, The Gourmet Galley Wench. "Maintain a Healthy Diet and Galley Without Refrigeration in the Tropics — Tips for Essential Tools and Meals."
Thursday, October 26: Captain Pat Rains — Author/publisher of Mexico Boating Guide (now in its third edition) and Cruising Ports: The Central American Route. "Cruising Mexico's Little Loop — Plus Q&A, and the Latest From Mexico and the Panama Canal."
Friday, October 27: Dick and Gina Markie — Harbormaster, Paradise Village Marina in Nuevo Vallarta, Mexico. "The Markies' Annual Update on Cruising Mexico — Everything You Need To Know and More!"
Receive emails when 'Lectronic Latitude is updated.
SUBSCRIBE