US Olympic Sailing Talent Converges on S.F. Bay
Bay Area sailors continue to grow their support for US Sailing programs and participation in the sport at all levels. On Wednesday Kilroy Realty hosted a reception at the Kilroy Innovation Center for top-tier, aspiring Olympic sailors in town for the Kilroy Realty ProAm. (That regatta is finishing up today in St. Francis Yacht Club's J/22s.) Local sailing leaders from programs such as the new FAST USA center on Treasure Island, the Olympic Development Program formed by America One, the Treasure Island Sailing Center, and the Siebel Sailors Program launching this weekend at Treasure Island Sailing Center are creating new opportunities for all sailors while fortifying the Bay Area as an important national sailing venue.
Kilroy Realty is a supporter of the US Sailing Team. Wednesday's event introduced Olympic hopefuls who are training hard with dreams of competing in Japan in 2020. Anna Weis and Erika Reineke, pictured below, grew up sailing in Florida but competed on the Charles River with Boston University and Boston College. In the course of their Olympic pursuits, they've sailed all over the world. Both claim that San Francisco is their absolute favorite place to sail anywhere.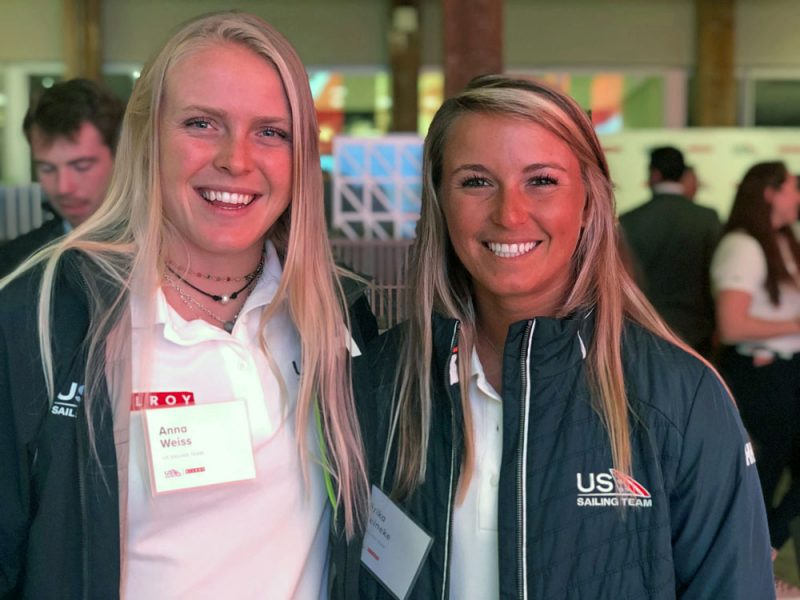 We also spoke to Leandro Spina, US Sailing's Olympic Development program director; Riley Gibbs of Long Beach, who skippers the Nacra 17 with Weis as crew (and sailed with SailGP's Team USA last summer), match-racing champion and Long Beach YC's Stars & Stripes America's Cup skipper Taylor Canfield; and Jack Gierhart, CEO of US Sailing. Also on hand were 49er FX sailors Stephanie Roble and Maggie Shea, and revered Olympic coach Luther Carpenter. For competitive sailors with an eye on gold, it was an inspiring evening.
While the US has a stellar Olympic sailing history, the last couple of decades have seen its lead falter. This is not because of a lack of talent. Rather it's a result of other countries' stepping up their game with better funding and coaching models, giving their sailors a competitive edge. That new entities are stepping in to provide much-needed support for the sport can only have a positive long-term effect.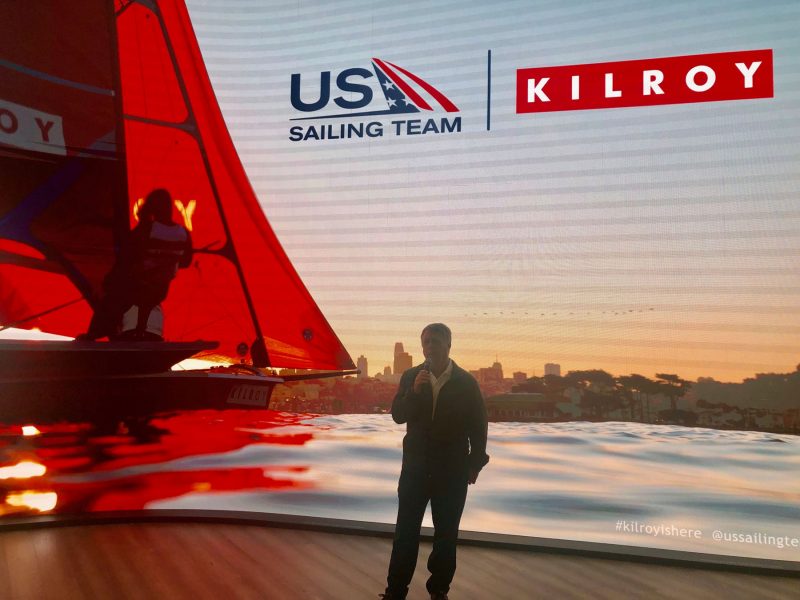 As Riley Gibbs said, "This is a national effort. Only one team will head to the Olympics, but we are all training together, looking to raise our game. It's this focus that allows the whole US team to get better and increase the nation's chances for a medal."
The 2020 Olympics are fast approaching. Hopefully, these top sailors will be in Japan representing the US next year and long into the future. Meanwhile, Bay Area sailors will enjoy many more Olympic hopefuls in our midst while they train in one of the best sailing venues in the world.
Receive emails when 'Lectronic Latitude is updated.
SUBSCRIBE